Seven challenges and trends the food industry can expect in 2021
As 2020 finally ends and the world welcomes (a hopefully brighter) 2021, Joshua Minchin of New Food outlines the major challenges and trends that the food industry can expect over the next 12 months.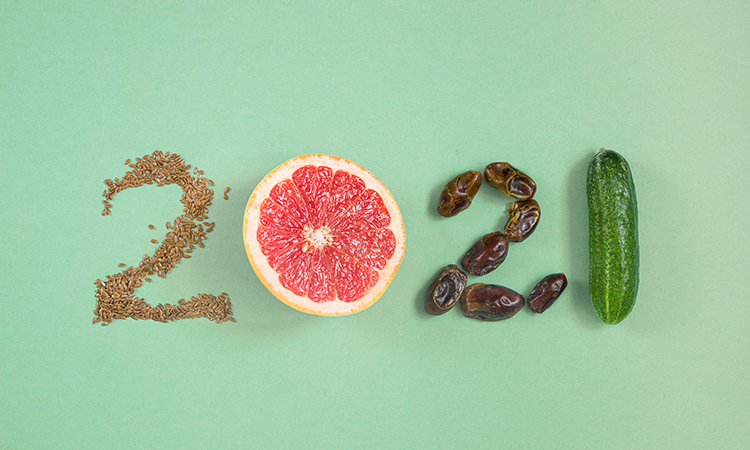 The English language is dangerously close to running out of ways to describe 2020, so let's borrow a bit of Latin: it really has been an Annus horribilis. The food industry has, of course, found it particularly tough. The combination of having to cope with increased demand, paired with restrictions on manufacturing and regulation processes has made life very difficult for everybody in the supply chain. As we enter the new year, it's time to look ahead – what will the industry have to contend with in 2021 and who can expect a better year? Here's New Food's forecast.
1. Upholding safety standards
The world has been living with Coronavirus through most of 2020, and, unfortunately, the pandemic shows little sign of abating, especially in the early months of 2021. Ensuring that safety standards are upheld in the industry is crucial to maintaining the high level of trust that consumers have in food manufacturers presently. This includes making sure that both the food on our plates is safe to eat and that the people who made it are looked after too.
Food manufacturing is one of those sectors where it is not possible to work from home – you can't package meat over Microsoft Teams, after all. Keeping workers safe and restoring confidence in the workforce that their manufacturing facility is a secure environment will continue to be key for companies throughout 2021.  
How do you make sure that food production remains at a high safety standard without physical inspections? That has been the question agencies such as the US Food and Drug Administration (FDA) and the UK Food Standards Agency (FSA) have faced all year, with little respite appearing over the brow of the new year. In guidance published for businesses in May 2020, the FSA said it would be deferring some physical inspections as a result of the pandemic. Similarly in March, the FDA announced it was "temporarily postponing all domestic and foreign routine surveillance facility inspections", though some domestic inspections did resume in July.
An enormous amount of trust has been placed in manufacturers by regulators. FDA commissioner Stephen Hahn FDA-regulated firms "understand and appreciate their shared responsibility to ensure the integrity of the supply chain".
Despite the rise in positive cases following the discovery of a new strain in the UK, the sector is now far more equipped to deal with the virus. As such, manufacturers should expect physical inspections to recommence and get prepared.
Check out the key trends and challenges for 2022 here
2. Keeping sustainability on the front burner
With the vaccine now available, it looks as though the  COVID-19 crisis will come to an end at some point during 2021. However, the climate crisis is not going anywhere. While sustainability issues within the food industry have somewhat understandably taken a back seat, it's crucial that they are brought back to the fore soon. In particular, progress made on eliminating single use plastics from the industry has taken a few steps backwards.
Reusable cups, so heralded in the fight against plastic waste, were banned from coffee shops back in March. But plastic wrapping has crept back, driven by consumer worries over virus contamination – one only has to visit the supermarket to see the sea of plastic snuggled around our fruit and veg. Even things like Perspex screens, which are now found in many restaurants around the world, contribute to the problem. It is vital that the industry puts sustainability back to the top of the priority list next year, lest years of good work be undone.
Similarly, 2021 could also be the year when the massive issue of food waste gets some much-needed light shed upon it.
The statistics around global food waste are rather startling. The UN's food and Agriculture Organization say the amount of "primary product equivalents" wasted amounts to 1.6 billion tonnes. The carbon footprint of all this wasted food is estimated to be 3.3 billion tonnes. 
Despite it being difficult for the industry to impact how much food consumers throw away, it can (and has) devised innovative ways to use materials destined for the bin. For example, Toast Ale uses surplus bread instead of virgin barley to brew its range of craft beers, saving nearly two million slices of bread from simply being tossed. The company uses the heel end of loaves from the sandwich industry which would otherwise be wasted.
With some good effort and communication, companies like Toast and the bakeries it works with have proven that it is possible to reduce waste during the manufacturing process. This demonstrates the need for more creative partnerships to continue the good work within the food industry as we move into 2021. 
3. Dealing with constant shutdowns
Restaurants have perhaps had to adapt the most during 2020, with many forced to transform from a bustling dining room into a takeaway overnight. This has raised particular concerns when it comes to providing sufficient allergen information to customers. Quite simply, there is not that safety net of physical interaction to double check that a certain dish does not contain nuts, for example. The FSA has told businesses offering a takeaway service that they must provide allergen information when taking an order. This can be done in print online, or orally over the phone. Similarly, the Chartered Institute of Environmental Health said takeaway food packaging should display all of the relevant allergen information on it.
Businesses will have to continue to ensure that their customers get the necessary allergen information to keep them safe, no matter whether they are sat at a restaurant table or in front of their television.
In the UK, pubs and restaurants in different areas have been – and still are being – forced to open and close depending on case rates, with similar scenarios likely in Germany, Italy, and other countries employing a localised response to combat the pandemic. This on/off dynamic will present new challenges to restaurants, such as working out how many staff are needed during the periods operated as a takeaway, or whether order quantities of ingredients need to change accordingly.
4. Food fraud
Aside from the fairly obvious supply and logistics issues the pandemic has presented, the conditions brewed by COVID-19 gave (and still is giving) ample opportunity for food criminals. A surge in demand coupled with economic downturn for some meant the priority was getting food on shelves and tables as cheaply as possible, opening the door for disingenuous operators to move in.
A recent report by Dr Peter Awram from the BeeHIVE Research Centre at the University of British Columbia suggested that the honey industry was in the grips of an epidemic of its own. According to Awram, a study from the Canadian government suggested that over a quarter of honey had been adulterated in 2019.
While Professor Chris Elliott of Queen's University Belfast expressed faith in the UK's food security, he admitted that he had concerns about the honesty of some global markets. Indeed, Prof Elliott only recently outlined his fears that fraud is still rife within the spice market, with sage in particular seemingly vulnerable to adulterations. Despite this, it is worth noting that some in the sector have done incredibly well at creating robust chains – McCormick for one, and you can read more about its mission for total transparency in the latest issue of New Food.
The desire for cheap food isn't going anywhere, especially as we look to be just getting started when it comes to the economic effects of the COVID-19 pandemic. While this desire remains, food crime will continue. It is up to the industry to devise methods to combat a problem which threatens to derail trust in certain products.
5. Plant-based marches on
The last few years have seen a marked increase in the amount of people opting for at least a partial plant-based diet, and this rise is showing little sign of slowing down. Mike Wystrach, Founder & CEO of Freshly (a prepared meals provider) sees a slight shift in terms of whether consumers opt to go fully plant-based in their diet or not. He said: "2020 showed us that consumers are interested in trying and buying more plant-based foods, as sales of foods like plant-based proteins and milks topped $3.3 billion over the past year.
"In 2021, I expect that consumers will continue to place more of an emphasis on maintaining a 'plant-forward' diet, instead of following a strict plant-based one. We will see more people opt for the age-old option of following plant-based eating principles, versus going completely vegetarian or vegan to fuel active lifestyles, support weight loss, or achieve other health and fitness related ambitions at home."
More household names are beginning to launch their products in vegan form, with several big releases slated for 2021. McDonald's is gearing up to release its McPlant range later this year, while KFC has brought back its vegan Imposter burger especially for Veganuary. Plant-based alternatives could soon be on the menu at all of your favourite fast food retailers.  
The food industry has a speed problem.
Plant-based progress needs to accelerate though, according to Mike Leonard, Chief Technical Officer at Motif FoodWorks. "The food industry has a speed problem. As it stands, 'urgency' often translates to two or three-year R&D timelines. That means if we want to solve key challenges in taste, texture and nutrition facing today's plant-based foods, we're already behind schedule. We simply can't wait that long with consumers and retailers alike looking for new, more, and better options.
"This year, I anticipate food players across the industry will make a concerted push to accelerate innovation timelines. We'll see more partnerships with experts outside the industry – from academic research institutions to agile and experimental start-ups – to develop plant-based food breakthroughs and demonstrate that innovation in the industry can be both revolutionary and fast."
6. Artisan products to grow from strength to strength
Last year was (well, for at least nine months) quite boring. Despite it seeming like something new was happening almost daily, most of the days blended into one. As lockdowns spill over into 2021, many of us have looked to our plates and glasses to provide small pleasures, whether that be handmade cheese as a special treat or a G&T fresh from a small distillery in the Scottish islands.
Though some people may not feel comfortable eating in any sort of restaurant setting, they'll still want to recreate these authentic food experiences at home.
With very little to do except eat and shop, artisan producers could see 2021 as their big year, as consumers seek to fill the restaurant-shaped hole in their life.
"While consumer demand for craft and artisanal foods has steadily increased over the past years, we'll see accelerated growth in this space as consumers seek to liven up their pandemic pantries with authentic ingredients and hand-crafted meals," said Wystrach.
"Though some people may not feel comfortable eating in any sort of restaurant setting, they'll still want to recreate these authentic food experiences at home. Whether this comes in the form of people buying ingredients online or placing orders for ready-made meals there, there is an opportunity for brands to increase production in this sector to meet changing consumer tastes and preferences."
7. Digital acceleration – more to come
This pandemic era has taught us many things and amidst all the negatives there have been positive change and a newfound appreciation for some things (such as our food sector) too. It has also accelerated certain trends which were undoubtedly coming to the fore…albeit much slower. As the globe continues to gripple with the challenges of Covid, and in the UK we are plunged into lockdown #3, the digital era has never been more appreciated or needed.
Businesses which have not yet adapted must do so in order to survive. At New Food, we only foresee technology becoming more important over the next few years. Whether it's an integration of virtual and physical inspections in the future, the use of blockchain to better trace supplies and prevent fraud, augmented restaurant menus, or cultured meat, we're only just on the cusp of the 'Technology Age'.