Could alternative proteins solve antimicrobial resistance?
With global concerns regarding antimicrobial resistance, find out why Martina Helmlinger thinks alternative proteins could provide a solution.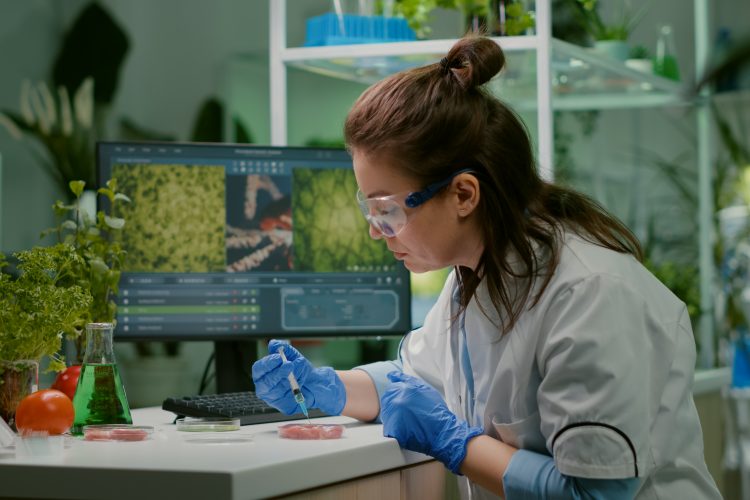 Antimicrobial resistance (AMR) is an ongoing global concern. But with the recent discovery of superbugs and antibiotic residues UK rivers near livestock farms, now might be a good time to for the food industry to put its foot on the accelerator to find a solution.
New Food has recently reported on an investigation in the US that linked beef raised with antibiotics to fast food giant McDonald's, but these concerns aren't exclusive to North America. Anxiety surrounding AMR exists worldwide and is something that the National Library of Medicine has labelled a "global multifaceted phenomenon".
But where there is a problem there is often a solution and, according to the Good Food Institute Europe, the transition to sustainable proteins such as cultivated and plant-based meat could be pivotal in the fight against AMR.
What is antimicrobial resistance?
The World Health Organization (WHO) states that AMR occurs when bacteria, viruses, fungi and parasites change over time meaning they no longer respond to medicines. This ultimately makes infections harder to treat and increases the risk of disease spread, severe illness and death.
In relation to farming, AMR proves to be problematic as although it occurs naturally when all microbes adapt to their surrounding environment, the Food and Agricultural Organization of the United Nations states that the agricultural sector "exacerbates" the issue with "inappropriate and excessive use of antimicrobials".
According to data from the UK Health Security Agency, the estimated total number of severe antibiotic resistant infections in England is on the rise. Specifically, it claims that severe antibiotic resistance infections rose by 2.2 percent in 2021 (compared to 2020). This is equivalent to 148 severe antibiotic resistant infections per day in 2021.
Concerns surrounding AMR are overt, particularly as it can cause fatalities. In 2019 alone, there were an estimated 1.27 million deaths globally in 2019 which, according to the study, were attributable to bacterial AMR.
However, speaking to New Food, Martina Helmlinger, Science and Technology Community Coordinator at the Good Food Institute Europe, said that to counteract this, there is a solution that doesn't involve omitting protein from diets altogether. In fact, it allows you to eat as much protein as you want – just as long as it's a form of alternative protein.
What are alternative proteins?
Alternative proteins are plant-based and food-technology alternatives (such as cultivated meat) to animal protein.
There are various different types of alternative proteins (some more accessible for consumers than others) however, claiming that they are all antibiotic-free, Helmlinger explained that they "could help to reduce the risk of deadly AMR".
Cultivated meat
According to Helmlinger, "cultivated meat is the same meat we eat today, but instead of farming animals, it involves taking a harmless sample of cells from an animal".
The next step in the cultivated meat making process involves growing the harvested cells in a cultivator, (something that Helmlinger likens to the fermenters used to grow beer) which "provides the warmth and nutrients needed to produce meat in a sustainable way".
Cultivated meat to the rescue?
Painting a glowing picture of cultivated meat and other sustainable proteins (such as plant-based meat), Helmlinger asserts that these farmed meat alternatives "can deliver the meat people want without reducing the effectiveness of these lifesaving medicines".
Putting it like that it seems simple, but the short-term solution to AMR isn't as easy as replacing all farmed meat with cultivated meat with the click of a finger.
Until recently, The Guardian noted that, Singapore was the only country that was allowed to legally sell lab-grown products to consumers. However, on 16 November the US Food and Drug Administration (FDA) gave the green light to UPSIDE Foods' lab-grown chicken, something that Dr Uma Valeti, CEO and Founder of UPSIDE Foods marked as a "watershed moment in the history of food".
With the FDA approving the US' first cultivated meat option in 2022, the rest of the world may be eagerly watching to gage consumer responses.
However with plant-based options already widely available globally, the addition of other alternative protein options cause shoppers to alter their shopping baskets with sustainability and health in mind.
Consumer demand – will they approve?
Suggesting that farmed meat popularity is declining, Helmlinger highlighted that recent research commissioned by the Good Food Institute Europe found that more than half of consumers in France, Germany, Spain and Italy have reduced their meat intake, with large numbers instead opting for plant-based meat.
Plant-based popularity
Helmlinger explained that consumer demand for plant-based meat is "surging", with retail sales growing by 19 percent in western Europe in 2021 reaching just under £2 billion.
However, admitting that "plant-based options still make up a tiny fraction of the overall meat market", Helmlinger notes that they" don't yet match conventional meat on taste, price or convenience", all of which are factors that she thinks drive most people's food choices.
With the aim of changing this, Helmlinger told New Food that the UK and European governments "must invest in research to make plant-based meat as delicious and affordable as conventional meat.
"This investment needs to focus on finding novel ingredients and using technology to create the flavours and textures of meat using plants, as well as on providing the infrastructure, training the workforce and optimising processing techniques that will be crucial to enabling the sector to scale up to bring down prices."
Cultivated meat concerns
However, while consumers may already be familiar with plant-based alternatives cultivated meat is significantly less accessible.
Helmlinger suggested that, although it is already available in Singapore and is now FDA approved in the US, "it is likely to be some years before Brits are able to buy cultivated meat. How soon that happens will depend on how much the government invests."
She believes that the UK Government needs to fund open-access research into scaling up production (in the same way they have invested in the development of renewable energy) so that the price of cultivated meat can reach price parity with farmed meat when it does hit widespread shelves.
"Israel, Singapore and the Netherlands have been leaders in actively supporting the development of cultivated meat. The UK must join them in the race to make cultivated meat an option for everyone, or risk being left behind."
Turning to the future
With the ongoing concerns regarding AMR, Seren Kell, Science and Technology Manager at the Good Food Institute Europe, is an advocate of the potential solutions that plant-based and cultivated meat could ensue.
"Plant-based and cultivated meat are antibiotic-free so they could deliver the meat people want, while protecting these lifesaving medicines.
Advising those in power, Kell has stated: "The UK and other governments must invest in developing sustainable proteins, as well as supporting better farming practices, to protect public health."
Similarly, Helmlinger determined that, with the right levels of investment from governments, cultivated and plant-based meat could form a significant proportion of the global meat market by the start of the next decade.
Supporting her stance, a report by Blue Horizon and BCG predicted that, in a best case scenario, sustainable proteins could make up to 22 percent of the overall meat market by 2035. 
Ultimately, AMR is a global concern that Helmlinger said is "unlikely to become a thing of the past", but through raising consumer awareness and educating farmers about its potentially fatal consequences, a much-needed reversal of this trend could occur.
Whether its through switching to sustainable protein alternatives or governments implementing stricter agricultural antimicrobial testing laws, Helmlinger reasons that making no changes would be "catastrophic".
While antimicrobial resistance is "unlikely to become a thing of the past", it is of utmost importance to take measures to reverse the trend. The consequences, in Helmlinger's words, could "lead to a situation in which the last century's medical advances are reversed and simple infections could once again kill".
Biography

Martina Helmlinger is the Good Food Institute Europe's science and technology community coordinator and works to catalyse the technical research and training community for sustainable proteins across the continent. She works with scientists, educators and students to foster a thriving research and training network across Europe. Based in Brussels, her areas of expertise are in plant-based, fermentation and cultivated meat science, and her background is in food safety and regulation, biotechnology and community building initiatives.