The Apples Awards: And the nominees are…
In this exciting update, New Food presents the nominees for our inaugural Apples – our industry awards that seek to recognise some of the greatest achievers in our sector.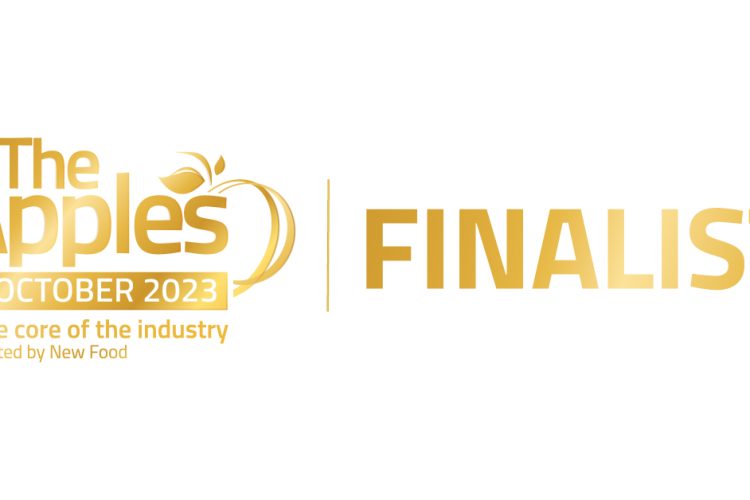 New Food is excited to announce the shortlistees for The Apples, our industry awards that have been created to recognise and celebrate some of the amazing talent in the food and beverage sector.
The Apples has six awards categories, created to celebrate excellence all across our sector. We have so many so many fantastic submissions for all six of our categories and it has been inspiring to hear tales of real brilliance from throughout the industry.
Narrowing down the submissions was a difficult task but those that have made the final shortlist will now be put to our panel of expert judges who occupy a variety of roles within the sector.
In case your missed New Food's Editor Joshua Minchin and Assistant Editor Grace Galler announcing the nominees for each award category on our LinkedIn livestream, here are the final shortlistees…
F&B Manufacturer of the Year
Brought to you in association with Merck is our first award category: F&B Manufacturer of the Year. In this category, the three nominees have been doing some fantastic work when it comes to innovation and large-scale food manufacturing.
The first shortlistee is Nourished, a company who has developed the world's first fully customised nutrient gummy.
The second is Kerry a company that has been making strides in in the field of plant-based, frozen and bakery innovation.
The final nominee for this category is Carlsberg, who has been paving the way with its low and no products as well as with its world-famous alcoholic beverages.
Defender of the Year
The second award category is Defender of the Year, an award created to recognise somebody who has embodied the spirit of Food Integrity and has consistently defended and strengthened our food system.
The first nominee is Liljia Polo-Richards, who has developed tools to rank and review hospitality venues depending on how well they manage allergens. 
Next we have Denis Treacy, who built a tool for Food Standards Scotland which businesses can use to assess their risk to food fraud. 
Thirdly there's Mark Flanagan, CEO of Shield Safety Group, who founded Safe to Trade – a clear, comprehensive, assured standard. It's the first voluntary, third-party assurance programme for the hospitality sector, designed to protect and care for the public. The initiative builds on the requirements of the FSA's Food Hygiene Rating Scheme and includes additional essential standards such as allergen safety, labelling and front-of-house operations. 
Next there is Dr Pamela Galvin-King, whose research has enabled Bia Analytical to develop portable testing tools to authenticate herbs and spices.
Finally in this category we have Dr Ramana Sundara, who has developed a stellar agri-technology programme at the University of Lincoln.
Sustainable Company of the Year
New Food's Sustainable Company of the Year award is brought to you by Quor Systems, with all of the nominees having done some inspiring work when it comes to bettering the planet.
The first nominee is Square Mile Farms, a company that has been busy installing indoor, vertical, hydroponic growing systems in urban buildings across London.
The second is Arla, a dairy cooperative that has put together an incredible Sustainability Incentive Model that the industry will undoubtedly be taking note of.
Up next is Foods Connected who has created fantastic software solutions to measure and monitor CO2 emissions.
Finally in this category we have Novolyze, a company that has been working on some ground-breaking food safety and quality solutions.
Food Scientist of the Year
New Food has had some fantastic submissions for Food Scientist of the year, with the shortlisted nominees having done some honourable research in the field of food science.
First to make the shortlist is Dr Maeve Shannon, who has worked with herb and spice producers to collect samples and improve testing accuracy at Bia Analytical. 
Next is Thiago Serafim Martins, who co-authored a study which uses paper to rapidly test for banned pesticides. 
Last but not least in this category we have a joint submission comprised of Akansha Prasad and Shadman Khan, who led a study to develop packaging which can indicate Salmonella contamination. 
Lab of the Year
Our penultimate category is Lab of the Year and the shortlisted nominees have been carrying out some excellent progressive work in the last twelve months.
The first shortlistee is SGS, a lab based in Switzerland that has some very impressive Sustainability Ambitions for 2030.
The second is Bia Analytical, a lab based in Belfast, Northern Ireland, that has been developing some cutting-edge food adulteration testing methods that can help protect the food supply chain against food fraud.
Next we have GfL (Gesellschaft für Lebensmittel-Forschung GmbH), a lab based in Germany that has been paving the way when it comes to food fraud analysis.
Lastly we have Food Authenticity Network at LGC, a lab based in the UK that has supported the Food Authenticity Network and has helped to keep our food safe and out of the hand of fraudsters, particularly since Covid-19
Innovator of the Year
Our final awards category is Innovator of the Year, Nominees in this category can be an individual or company which has demonstrated ingenuity and progress and is driving the food and beverage sector onwards in its mission to provide safe and nutritious food.
The first finalist is Vincent Shiers (RQA Group), who has applied the medical policies to food and beverage to ensure products are never packaged incorrectly. 
Next up there's Syngenta, which has developed a new insecticide which is bio-activated and ensures that accidental ingestion is not harmful. 
Then we have Sarah Knight, Founder and CEO of The Allergy Team, who has led staff allergy forums at major food and beverage retailers to protect consumers with food allergies. 
Finally there is FreshCheck, whose rapid testing technology can identify bacteria contaminated surfaces in rapid speed. 
With six awards categories comes six winners. But who will they be? All will be revealed on the 17th October at Food Integrity Global 2023….
 Book your tickets to Food Integrity Global here.