KETTLE Chip's new packaging illustrates field to factory journey
UK crisp company KETTLE® has redesigned its packaging to illustrate key ingredients and depict the brand's field to factory journey.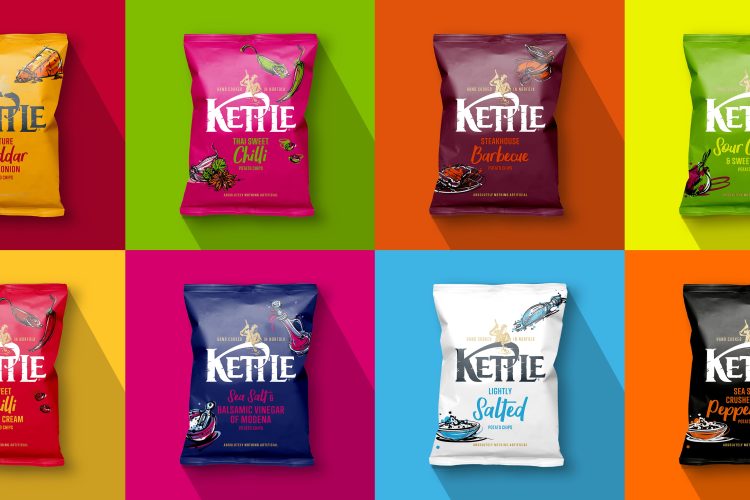 In a bid to educate consumers about its products, KETTLE®, a UK hand cooked crisp brand, has announced the redesigning of its packaging.
The newly-branded packs will be hitting stores in September and are set to showcase illustrations of key ingredients to highlight exactly what goes into the product during the production process.
In a move the brand is labelling as 'there's more to KETTLE® than you think', the packaging will feature the crisp's field to factory journey, flagging the province of the product.
Not all aspects of the packaging are set to change though, the familiar bags will keep their bold pack colours and will be available in the 130g sharing bag, 40g hand pack, 80g price marked pack, and multipack (5 x 25g) SKUs.
Russell Tanner, Marketing Director at KETTLE®'s parent company Valeo Snackfoods, commented: "It's an exciting development for the brand which helps keep our packs fresh, modern and vibrant while retaining the distinctive colour coding and logo which makes KETTLE® so easy to find on the shelves."
With sustainability in mind, the UK crisp giant has stated that the new packaging is also suitable for recycling at the front of large supermarkets, a move that the company has claimed will see 50 tonnes of plastic packaging removed. The packs will have an on-pack recycling label (OPRL) logo to highlight this.
According to the Department for Environment, Food and Rural Affairs (DEFRA), in 2020 the UK recycling rate for waste from households was 46 percent, a two percent decrease from 2019. Consequently, being able to recycle products both at home and at the supermarket could encourage consumers to make more sustainable choices when throwing their rubbish away.
"We're also pleased that our new packaging design features the OPRL logo, clearly signposting to customers that it's suitable for front of store recycling," continued Tanner.
"We know that sustainability is important to our customers and it's also really important to our business too – so it's excellent to be able to offer the great taste of KETTLE® in a format that is clearly recyclable."