Walkers invests £14 million in sustainable packaging
Walkers spends £14 million on new packaging solutions in an effort to remove 250 tonnes of virgin plastic across its supply chain annually.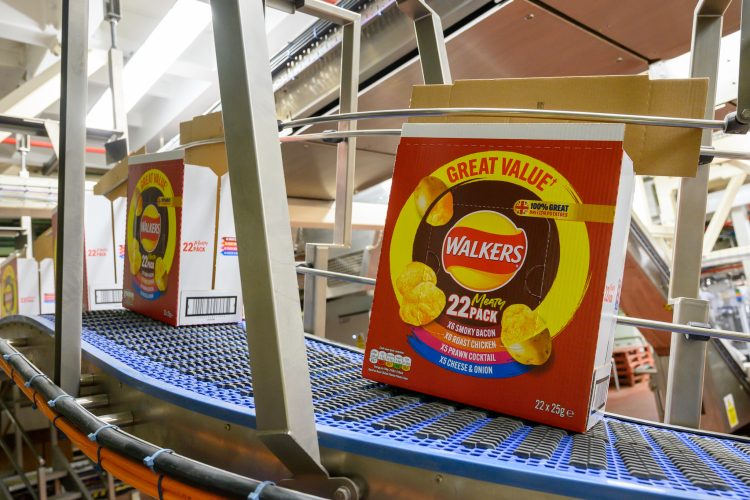 UK snack giant Walkers has announced a £14 million investment in new packaging that it claims will remove 250 tonnes of virgin plastic from its supply chain per year.
The familiar outer plastic packaging will be replaced with a new cardboard design for 22- and 24-bag multipacks.
Millions of Walkers 22 and 24 bag multipacks are getting a makeover 🙌♻️

We're investing £14m to swap plastic outer wrapping with a new cardboard design – which will save 250 tonnes of virgin plastic.

Find out more about our packaging innovation: https://t.co/ZYWVK2JUgB pic.twitter.com/emaAFEjrT4

— PepsiCo UK News (@pepsico_uk) October 13, 2022
This decision follows a successful trial with Tesco, with the new sustainably packaged crisps to be available in all major UK supermarkets in the coming weeks.
"We are constantly exploring new scalable solutions and this investment marks an important step forward, delivering a huge reduction in virgin plastic across some of our best-selling ranges, while also helping to tackle our carbon footprint," said Simon Devaney, Sustainable Packaging Director, PepsiCo UK & Ireland.
Additionally, Walkers has invested in a new stretch film to wrap around pallets before they are distributed to retailers. The new film was produced using nanotechnology which emits tiny air bubbles into the film to reduce the amount of plastic used, while simultaneously retaining the strength and stretch needed to protect the crisps during transit.
The use of this film should lead to a 40 percent reduction in virgin plastic annually compared to the previous film, according to the snack giant. What's more, Walkers annual company carbon emissions could be reduced by 465 tonnes by switching from fossil-fuel-based virgin plastic.
The above changes are part of PepsiCo's (which owns Walkers) ongoing goal to eliminate virgin fossil-plastic from its crisp and snack bags across Europe by 2030.
Future sustainability plans from PepsiCo involve trialling packaging made from recycled plastics for snack bags. This is part of the company's health and sustainability transformation plan: PepsiCo Positive, which also seeks to reach Net Zero emissions in eight years' time.