Sports beverages: "Finding your niche"
What does it take to succeed in the arguably saturated sports beverage market? Find out what strategy consultant Maria Pavlidou told New Food's Grace Galler….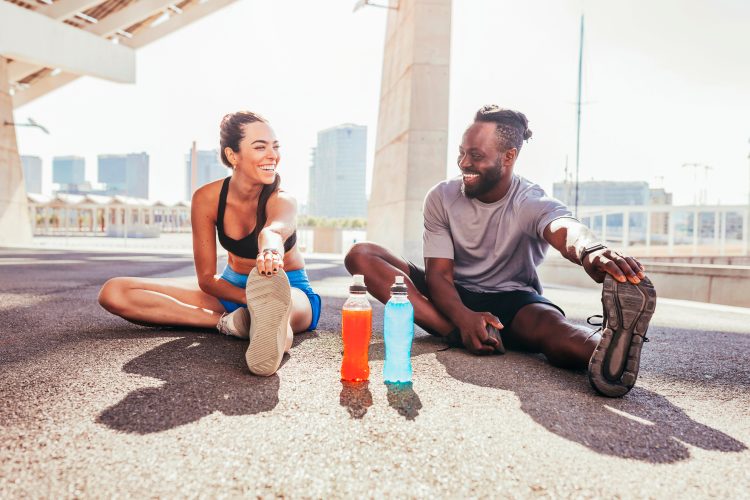 Nowadays, functional beverages take many different forms, but with the energy and sports drink market being valued at $3.98 billion in 2022, many companies may be keen to innovate within this in-demand sector.
But with the likes of Gatorade and Lucozade being household names, is there space for sports beverage start-ups? According to Maria Pavlidou, Partner & Senior Strategy Consultant at the Healthy Marketing Team (HMT), for them to succeed, it's all about "finding your niche".
What are functional beverages?
Functional beverages are non-alcoholic drinks that serve a purpose. According to an academic study, they typically contain ingredients such as minerals, vitamins, amino acids, dietary fibres, probiotics and added raw fruits.
Though there are many different types of functional beverages (including functional water and nutraceutical drinks), a trend report has suggested that the up and coming type appears to be sports beverages.
Sports beverages
Typically, sports beverages contain water, sodium and calories (in different proportions). According to Precision Hydration, these are the essential ingredients that a sports drink must contain to address your body's needs when you're sweating from training.
Sports beverages are now commonplace at the side lines of major sporting events, with professional athletes drinking them to regain energy. However, sports beverages are now sold everywhere. You don't have to go to a specialist shop to find one, simply by walking through your local supermarket you are likely be to be met with numerous sports beverage options to choose from.
Pavlidou suggested that the scale of distribution is part of the reason that sports drinks are so popular. However, weighing up the popularity of the beverages, Pavlidou reasoned that "of course distribution of course has a lot to do with it,  but distribution is also reflecting the demand, right?"
The rise of sports beverages
The earliest traceable ancestor of the well-known sports drink Lucozade dates back to 1927. Created by chemist William Owen with the original name 'Glucozade', the drink was originally innovated to provide quick, digestible energy and fluids people who were sick due to a variety of common illnesses.
Following that, Gatorade launched its novel sports drink niche in 1967, with Lucozade following suit in 1990 under the branding 'Lucozade Sport'. Claiming that its beverages provide "carbohydrates and electrolytes that keep people hydrated and help maintain performance during exercise", Lucozade Sport is now one of many sports brands on the global market that promise effective rehydration.
But with big promises come high consumer expectations. Even though sports beverages have become "normalised over time" according to Pavlidou, they still serve a purpose, albeit a variable one depending on each brands' consumer audience.
Who are sports beverages made for?
When the popular sports drink Gatorade was first invented at the University of Florida in 1965, it was developed by a team of scientists on the university's campus to rehydrate student athletes whose performance was negatively affected by the heat.
However, Pavlidou noted that in 2022 "it's not just the really heavy lifters or people doing some sort of heavy sports that are taking them. Sports beverages are now just a form of enhanced hydration."
Pavlidou separated the twenty-first century sports beverage consumer sector into two categories: the athletes and the "lifestyle people". She was keen to emphasise that sports beverages in today's world appeal to a wide range of consumers for a variety of reasons but "the key is that it cannot be one brand who is addressing the entire market at the same time" as "it will just not be believable."
Transparency in the sports beverage market
During the interview, Pavlidou was asked whether she thinks the sports drink market can be problematic when it comes to the claims companies make on labels and in their campaigns.
Pavlidou told New Food that, in order for total transparency, "companies need to be clear on how to communicate the health benefits" of their sports drinks so as to make sure consumers know understand exactly what they are drinking instead of relying on sensationalism to generate sales.
In recent years, sports beverage companies have been subject to lawsuits due to misleading advertising. A key example of this is when Gatorade was forced to pay a $300,000 fine as a result of a marketing campaign over "allegedly misleading, anti-water statements", according to the State of California Department of Justice.
For this reason, Pavlidou believes that it is paramount that, when innovating, companies "know what they stand for as a brand", meaning that they believe in their product but more importantly, have the scientific data to back up their nutritional claims.
How to be successful in the saturated sports beverage market
With the "unprecedented and staggering" rise in popularity of sports beverages, Pavlidou believes that the Covid-19 pandemic caused more consumers to become "conscious about taking care of their health".
With this in mind, she observed that "there are more consumers doing some sort of physical activity" which has resulted in the "sports nutrition market expanding beyond its original scope".
For start-ups to be successful in the arguably saturated market, Pavlidou emphasised repeatedly: "it's all about finding your niche".
"There are many opportunities [for start-ups to succeed], but the brands venturing in this direction have to be very clear with their proposition and highlight what makes them unique and what benefits they bringing."
Raising a bottle to the future
Looking five years into the future, Pavlidou predicted that sports beverages will become "more and more normalised".
What's more, she forecasted that there will be more discipline specific drinks and supplements, whereby these types of beverages appeal to specific sports activities, with Pavlidou explaining "if you are a runner, you have different needs and will need the different nutrition compared to if you are practicing yoga or cycling.
"I think that we will see more brands actually tapping into that more discipline specific nutrition to focus on the different needs."
With sports drinks rising in popularity and a wide range of consumers (rather than just athletes) opting for a nutritional functional beverage the demand is apparent.
However, with 80 percent of product launches in this sector reportedly failing in the last 12 months, Pavlidou may be right in thinking that is essential for start-ups to find their products' unique selling point to stand out on the shelves across the globe.
Biography

Maria Pavlidou is a Partner & Senior Strategy Consultant at the Healthy Marketing Team (HMT). She is a marketing leader with more than 14 years of experience in marketing and communications in both multinational and local companies, always in the area of health and nutrition, in B2C and B2B space.
She is currently a partner and senior strategy consultant at the HMT, a leading international specialist agency for food and health innovation, marketing and branding. Prior to joining HMT, Maria held key marketing and leadership roles at Danone, Novartis Consumer Health and DSM.