Poo-powered biofuel – Arla's innovative sustainability efforts
Arla's Graham Wilkinson explains how the dairy cooperative has progressed towards its ambitious sustainability targets during the most challenging of periods.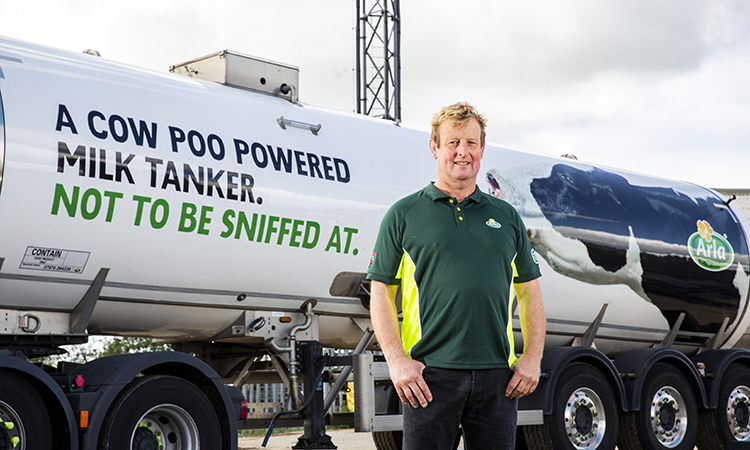 Arla has been busy implementing sustainability policies, including powering some of its tankers on an unlikely fuel source. Credit James Robinson
2020 marked a year of sustainability innovation, trial and activation for us at one of the UK's leading dairy cooperatives; helping to drive us towards our pledge to become carbon net zero by 2050.
This goal hasn't changed since it was announced in 2018 – it's a major priority. The reality is, doing nothing is not an option when it comes to supporting the environment within which our farmer owners manage their herds. But our efforts reach farther than merely what happens in a barn or field. Every part of our business has a role to play in helping to address our sustainability goal: from switching to energy-efficient LED bulbs in our processing facilities and using recycled packaging for our products, to installing wind turbines on our sites and conducting a trial with some of our milk delivery tankers on biofuel made from cow poo.
Through our sustainability efforts so far, we've managed to reduce our total CO2 emissions from processing, transport and packaging by 24 percent and our sustainable dairy farming strategy has also helped our farmers collectively reduce their carbon footprint by 24 percent compared to 30 years ago. This is despite producing 50 percent more milk than in 2005.
Making progress in a challenging year
It would have been easy to take our eye off the sustainability ball during the COVID-19 pandemic, especially as we had to adapt our ways of working and put several contingencies in place to ensure milk was still collected daily from our farmers, taken to our dairies and then on to stores for consumers to buy. 
However, due to our cooperative model, we were able to ensure we could stay focused on the bigger picture and continue to work towards our sustainability goals, both at the farm level and through our supply chain.
We have already proven that we are capable of making a positive impact with our results so far. Our farmers and colleagues throughout the business have worked tirelessly to keep the wheels turning and the milk flowing during an extraordinarily challenging year, but the fact we've still managed to deliver a number of sustainability initiatives is testament to our commitment to this ambition.
We're doing a lot to drive sustainability across our business and we're continually measuring the impact of the changes we've made. However, much of this happens behind the scenes, so we're keen to share our initiatives with those outside of the business and sector. We know that many of our customers care about sustainability as much as we do, so we love to share information about the steps we are taking to be a more sustainable organisation.  
As a cooperative owned by dairy farmers, Arla's farmers own the whole supply chain – from the farms producing the milk, the sites producing the products and the products sold in stores. Consequently, Arla has a unique approach to sustainability. Our elected farmer owners have been involved in the process of setting the vision from the start, and they have shown real willingness to be part of building a sustainable future. Every farmer and colleague has a role to play in supporting our vision and working towards our commitment to be carbon net zero by 2050.
All 2,400 UK farmers within our cooperative run regular Climate Checks on their farm to determine their carbon footprint and we work with them to identify areas that can be improved across the board, including herd management, soil and slurry management and renewable energy options. Much of what farmers do to help the environment is not measured, but we make a real effort to track the positive impact our farmers make on the world around them.
In addition to major initiatives such as our biofuel trial using cow poo, and our first ever children's book educating kids on the farm-to-fridge journey, our farmers are part of an ongoing effort to look after the wildlife and environment around us. They protect and take care of vital hedgerows and grazing meadows and plant trees to support diverse wildlife. Britain's farmers also maintain footpaths and bridleways, meaning more of us can get out and enjoy our beautiful countryside. 
Dealing with food waste
Combatting food waste is another key area within our sustainability work. It's always a shame when good, nutritious food goes to waste, so we're working hard to reduce this; whether it's during the production process or when our products reach consumers' fridges.
To cut food waste in our dairies and other processing sites, we work with the charity FareShare to redistribute products through its network to frontline charities who prepare meals for vulnerable people.  The events of 2020 put more demand on charities like this than ever before and we're proud to have continued with this key relationship and provide enough for two million meals for people in need.
In addition to these ongoing donations, when COVID-19 struck, we were able to donate products originally destined for food service outlets to charities including FareShare and Food4Heroes. Arla's products provided dairy for four million slices of buttery toast and 1.4 million slices of cheesy pizza, as well as milk for 4.8 million bowls of cereal, ensuring those children most at risk of missing out on a nutritious start to the day could access the food they need. 
We're also helping consumers to reduce the food they waste in their homes by means of producing Arla Cravendale, for example, which is fresh milk filtered to remove the natural impurities, so it lasts longer in people's fridges. Data from waste organisation WRAP suggests that nearly 500 million pints of milk are thrown away by British households every year because it turned before it could be used. Switching to a longer lasting product like Cravendale would save up to around 80 percent from being poured down the drain.
An unlikely fuel source…
Last year, we worked to redefine the smell of 'fresh country air' by introducing more environmentally friendly muck-spreading methods, meaning the familiar and notable smell of a trip to the countryside has started to smell quite different. These environmentally friendly techniques avoid leaving ammonia and other smelly gasses suspended in the air, as is the case with the traditional 'spreading' method. We even bottled the smell in a room fragrance to recreate the sweet yet earthy aroma of country meadows in homes around the country.
Next, we looked at the one source of energy we'll never run low on: cow poo. We launched a three-month trial, taking manure from 500 cows to turn it into 27,000kg of biofuel, which equates to a reduction in vehicle emissions of 80 tonnes. It also provides those Arla farmers taking part with naturally rich fertiliser as a by-product of the process, thus closing the loop.
But aside from those outcomes, our cow poo-powered transport trial will help us to understand and demonstrate the benefits of changing how we approach transportation to help reduce our impact on the environment. Can we have a logistics network run by poo? That is absolutely the vision; if this trial is successful and can be scaled up, it could play a significant part in making our business and dairy products carbon net zero.
By exploring new ways of approaching some of the sustainability challenges within agriculture, we hope our forward-thinking approach will help inspire others to join us on our journey to carbon net zero. We hope too that it will identify the measures we still need to take – and that Government may need to adopt – to ensure this approach to generating power can be used far more widely.
Education is key
Our latest initiative was born from the insight that many children don't understand where their food comes from – with as many as one in ten having never visited a farm. We felt that this gap in knowledge wouldn't support children to make informed and nutritious choices as they grow up. We therefore wanted to develop an initiative to share what happens on a farm; how dairy is made, and how sustainability is central to Arla farmers.
Based on a real farmer-cow duo, Jonny and Jelly, we launched a children's story book which sees Jelly venture around her farm asking Jonny about various elements of sustainability she sees: from biodiversity, to muck spreading and recycling. This book was published digitally, with every free download generating a donation to our charity partner, Magic Breakfast, to help ensure no child starts the school day hungry.
2020 was a busy year for us and our work in sustainability and we're looking forward to continuing with this in 2021; taking the next step towards our commitment to becoming carbon net zero by 2050.