PepsiCo Europe to eliminate virgin fossil-based plastics in crisp packets
PepsiCo Europe has announced that it aims to eliminate virgin fossil-based plastic in all of its crisp and chip packets by 2030. The packaging will be replaced with recycled or renewable plastic.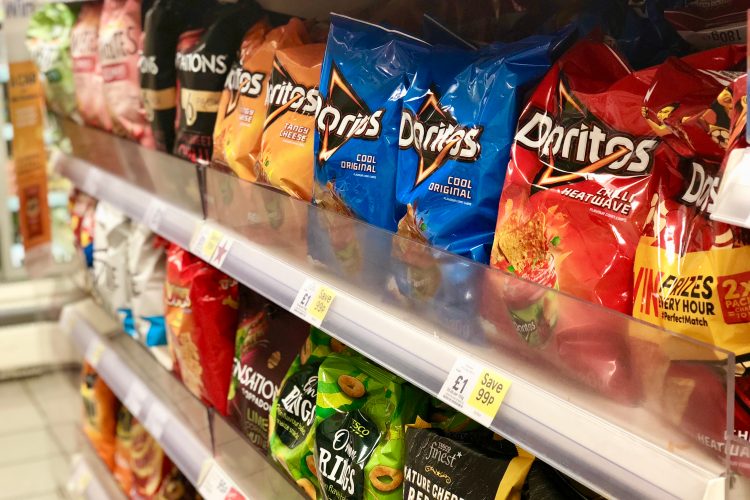 Doritos is one of the brands that will trial recycled packaging
PepsiCo Europe has announced that by 2030, it plans to eliminate virgin fossil-based plastic in all its crisp and chip bags. This will apply to brands including Walkers, Doritos, and Lay's and will be delivered by using 100 percent recycled or renewable plastic in its packets.
Consumer trials of the packaging will begin in European markets in 2022, starting with renewable plastic in a Lay's range in France during the first half of the year. Later in the year, a range from the Walkers brand in the UK will trial recycled content. The recycled content in the packs will be derived from previously used plastic, while the renewable content will come from by-products of plants, such as used cooking oil or waste from paper pulp. PepsiCo estimates it may achieve up to 40 percent greenhouse gas emissions reduction per ton of packaging material by switching to virgin fossil-free material.
"Flexible packaging recycling should be the norm across Europe. We see a future where our bags will be free of virgin fossil-based plastic", said Silviu Popovici, Chief Executive Officer, PepsiCo Europe.
"They will be part of a thriving circular economy where flexible packaging is valued and can be recycled as a new packet. We're investing with our partners to build technological capacity to do that. We now need an appropriate regulatory landscape in place so that packaging never becomes waste."
Currently, PepsiCo uses flexible plastic for its snack packaging. The company says this is because it is lightweight compared to alternative packaging, and therefore has a low carbon footprint, and is also highly effective at keeping food fresh thereby reducing food waste.
However, PepsiCo says it recognises that change is needed to reduce the amount of virgin fossil-based plastic that is used and to drive circularity in flexible packaging. The company will focus its work on three strategic pillars: the right design; the right infrastructure and the right new life for flexible packaging.
In addition to the switch to renewable and recycled content, PepsiCo has developed its "Making Bags Better" programme, that will focus on a series of investments and innovations so that more flexible plastics will be recycled and reused in Europe.