Unhealthy eating habits driven by stress, anxiety, tiredness and boredom
A British Nutrition Foundation survey explores how COVID-19 has impacted our eating habits and activity levels since UK lockdown commenced.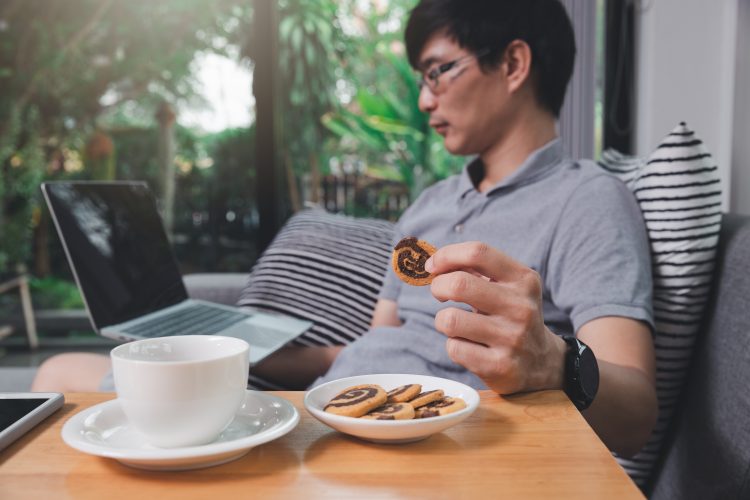 Prior to lockdown, the healthy eating trend was on the up. However, a survey from the British Nutrition Foundation (BNF) has discovered the pandemic is encouraging the opposite – a worrying statistic as experts claim healthy eating is important in the fight against COVID-19.
According to Brits, the main drivers for this unhealthy diet, are boredom (63 percent), stress, anxiety and tiredness (45 percent). Moreover, nearly half of people (48 percent) say 'not feeling motivated enough to eat well' is one of their key reasons.*
The survey aimed to explore how the changes to our daily lives – as a result of COVID-19 – have impacted our eating habits and activity levels since lockdown (in the UK) began. It collated responses from 2,067 adults from across Britain. and revealed that 27 percent feel they have been eating less healthily during lockdown, while 22 percent said they have been eating better. Of the respondents, half stated their habits have not changed.
Thirty percent of people believe that not being able to go to the supermarket as often as usual is making it difficult for them to eat healthily.
Analysing how our cooking and eating habits have changed since the lockdown began, the research suggests that 17 percent of people have been enjoying cooking more, 19 percent have been getting better at using store cupboard ingredients, and 23 percent have been trying new recipes. Just seven percent of people claim they have been getting more takeaways, and nearly three in 10 say they have been planning their food shopping in advance so they know what to buy and can waste less food.
"While the coronavirus outbreak has brought the importance of health to the forefront, the measures we've had to take as a nation to control the spread of the virus have made it challenging for many of us to eat well and keep active," said Sara Stanner, Science Director at the BNF. "With lots of us still at home more than normal, it's easy to spend a lot of time sitting and to feel less motivated to eat healthily."
However, the survey did show that a quarter of respondents have started going for regular walks, and almost one in 10 people have taken up running or cycling.
When asked about their priorities for health and wellbeing as the coronavirus restrictions are gradually lifted, 47 percent say they want to become more active and exercise more, 43 percent say they want to lose weight, and 29 percent say they want to eat more healthily.
Commenting on this, Stanner said it was "encouraging" and that society is "clearly looking to improve" their health as the lockdown begins to ease.
The research has been conducted in parallel with the launch of BNF Healthy Eating Week @ Home, a virtual event, taking place this week (22-28 June), which promotes and celebrates healthy lifestyles in education establishments and workplaces.
Roy Ballam, Managing Director and Head of Education at the BNF said: "In light of all the challenges we're facing, this year we've launched BNF Healthy Eating Week @ Home, which comprises seven daily health challenges that people can take part in at home, and in schools and workplaces – where social distancing measures allow. Each challenge builds on a different area of health, fitness and wellbeing, and a variety of supporting resources and materials are freely available on the BNF website. We'll also be running daily cook-a-longs to share some ideas for how to put together new healthy meals and snacks.
"We've been dealing with the fallout from the COVID-19 outbreak for some months now and it may be getting to the point where we need a bit of encouragement and inspiration. Our aim is to provide everyone with support – from parents at home looking for activities to do with their children, to those who are working from home and need some new ideas to incorporate healthy eating into their day."
*The research was conducted by YouGov on behalf of the BNF. A total of 2,067 adults from across Britain were surveyed between 3-4 June 2020.