FSA's Emily Miles asks "Why do we need transparency?"
In a keynote speech as part of Food Integrity, Chief Executive of the Food Standards Agency Emily Miles explains why transparency is such a crucial part of food regulation, and issues some stark reminders of what can happen when transparency is eroded.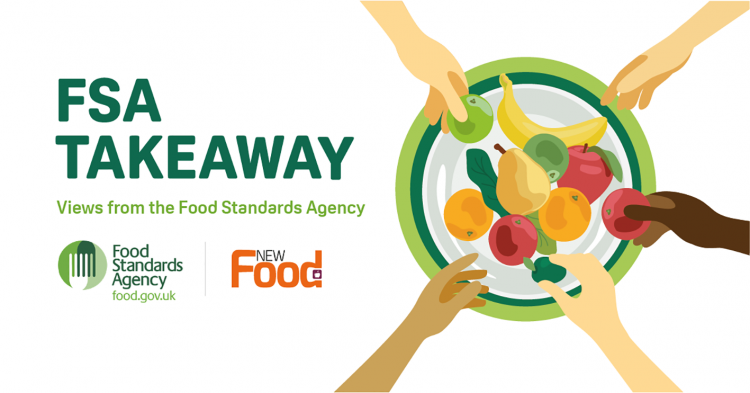 Food integrity continues to be a high-profile topic of discussion. Over the last year, the food industry and its regulators have had to meet the challenges of COVID-19 to help the UK maintain a safe supply of food. Since January, we have also had to manage the impact of the end of the Transition Period and navigate our new relationship with the EU.
Why do we need transparency? There are two aspects of this that I want to explore: transparency in the way we make policy decisions and transparency about what is in our food. Across both of these areas we can see the importance of openness and the inherent dangers of working without it. My argument is that transparency and truth are necessary prerequisites of trust; and trust is so valuable it is almost invaluable.
Transparency in policy making
Transparency in policy making, which is something the Food Standards Agency (FSA) cares about a lot, is about openness, communication, and accountability. For the FSA, transparency has never been an optional add on. It underpins everything we do, and it's enshrined in our founding principles.
I have been the Chief Executive of the FSA for 18 months and during my previous 20 years in Government, whether it be dealing with Brexit preparedness for the Department for Environment, Food, and Rural Affairs (Defra), policing for the Home Office, or asylum and immigration in the Home Office, and working at No.10, I have never seen such a determined commitment to openness as I have at the FSA.
The FSA ensures that evidence can be debated in public, which is why our board meetings are live-streamed – the public can ask questions, and all discussion papers are published two weeks in advance. There isn't another board of a government department in Whitehall I believe that works in this way.
This can cause discomfort to other parts of Government when our issues touch on theirs. For example, we consistently reported in public on our EU exit preparation work, long before other parts of government did so – while always being mindful not to jeopardise the UK's negotiating position.
At the FSA, we seek to be honest about the risks to the food chain, whether this is in our guidance to consumers or in our advice to ministers. We are willing to communicate a degree of honest uncertainty if necessary, we're open about where there are gaps in our knowledge.
This approach brings with it reputational risk, but we think it's worth it. It means mistakes are out in the open, if something we have tried doesn't quite work, everyone gets to see it.
So why is this important? To answer this, we have to look back to the 1980s and 1990s when a series of food scandals shook consumer confidence in UK food and the Government's ability to protect consumers.
Fears about Salmonella in UK eggs during the late 1980s led to a crisis that saw four million hens culled, 400 million eggs destroyed, and plummeting sales for the UK egg industry.
The Government's lead department, the Ministry of Agriculture Fisheries and Food, was criticised for being more concerned with protecting industry than consumers. The response to the crisis involved vaccinating flocks, but it also included greater transparency from the industry around quality and risk, with the introduction of the British Lion Mark, so that eggs could be traced back to the farm of origin, and best-before dates.
Unfortunately, worse was to come. Across the 1980s and 1990s an outbreak of BSE, or "mad cow disease", in the UK caused the deaths of 177 people after contracting Variant Creutzfeldt–Jakob disease (vCJD) through eating infected beef. During the resulting political and public health crisis, British beef was banned from export to numerous countries around the world. The damage to the economy and the reputation of the UK beef industry took years, indeed decades, to recover from.
There was also a perception that government and the food industry had not been honest about the risks to the public, indeed the inquiry into crisis found that: "Confidence in government pronouncements about risk was a further casualty of BSE".
The reports into these two crises, and others including Hugh Pennington's 1997 report into a deadly E.coli outbreak in Scotland, showed the need for a fully transparent arm's-length government department that would regulate food safety in the interests of the consumer. That department would be the Food Standards Agency.
The then Prime Minister, Tony Blair, said of our creation: "The public has the right to expect the very highest standards of food safety. Confidence in the safety of the food we eat has been severely undermined in recent years and I am determined to rebuild that trust… We need to create a structure that is open and transparent, and which acts and is seen to act in the interests of consumers."
I think that as we look back over the last two decades, we can confidently say we have delivered on that commitment to transparency. The public has been able to see how our policies and advice have been developed, contribute to the conversation, and understand how we are working in the interests of the consumer. Within two years of the FSA's creation, research showed the British public was exhibiting greater levels of confidence in food than elsewhere in Europe. According to research, the UK had the lowest level of distrust in beef safety, and higher levels of trust in food safety generally than any of the other countries surveyed.
20 years later and the most recent findings in our Food and You survey show us that more than nine in 10 respondents (91 percent) had heard of the FSA and three quarters (75 percent) of respondents, who had at least some knowledge about the FSA, trust us to make sure food is safe and what it says it is.
Transparency about what's in food
If transparency in policy making is aimed at restoring public confidence in how food is regulated, it has also been important to restore trust in food itself and here again transparency continues to be vital.
Being open and honest about the risks in food is a big part of our mission and a priority that is shared with the vast majority of responsible food businesses.
Every year we work with the food industry to respond to a range of food incidents where concerns around the safety or quality of food may require action to protect consumers. Many incidents result in alerts to consumers, with publicly issued advice on what action they need to take to protect themselves.
We rely on food companies to report incidents to us where they believe unsafe food may have reached consumers, though we also hear about possible food incidents from many other sources.  Our incidents team work closely with local authorities, other government departments to ascertain distribution and shelf life of the affected product. We will undertake a risk assessment where appropriate so that action can be taken to withdraw the product and alert consumers if necessary.
This work is an on-going and highly visible example of how risk is communicated openly. It should give the public confidence that, where problems are found in the food chain, they will be warned about them.
Honesty about the risks in food goes beyond responding to individual food incidents. The FSA also uses the latest science to help consumers understand more about risk in food.
Last year for example, we published research which provided new estimates of the burden caused by foodborne illnesses in the UK. This extensive programme of work was conducted over five-years and provided a more detailed understanding of the wider impacts of foodborne diseases such as norovirus, campylobacter and listeria.  For the first time we were able to show that the burden arising from the main foodborne pathogens is around £3bn. Knowing the cost of illness, and how it varies between different germs, will help the FSA set our own priorities.
The food industry is of course responsible for transparency in food and sometimes it is necessary for us to regulate to ensure this happens. A good example of this recently is around better labelling for food hypersensitive consumers.
Following advice from the FSA, Ministers have introduced the requirement for full ingredient labelling with allergens information on prepacked for direct sale, or 'PPDS', food following the death of teenager Natasha Ednan-Laperouse from an allergic reaction caused by a prepacked baguette which, at the time, did not require allergen labelling.
Businesses that produce PPDS food need to have accurate information from their suppliers in order to label their products correctly. Everyone in the supply chain should meet their responsibility.
There's a lot that government and industry can do collaboratively to improve transparency. One example is in data-sharing.
This is an important aspect of transparency, particularly given the reduced resources there are in the UK's local authority enforcement. So, recently the FSA has been discussing controlled data sharing between the regulator and industry, exploring the potential of data trusts, which are safe places to allow that sharing.
I hope that Henry Dimbleby's National Food Strategy will reflect that important area of data-sharing. It is really important for us to understand consumer behaviour and to regulate better, that there is more open flow of data between businesses and the regulator.
What does the regulator do when there is loss of authority?
We have made great strides to improve transparency in food and food policy, but one of the challenges we are up against is a loss of trust in authority amongst certain groups in society. It is an irony that, on occasion, openness and transparency can itself generate distrust.
We do encounter this sometimes in our own work. For example, we advise that raw or unpasteurised milk may contain harmful bacteria that can cause food poisoning, so people with weaker immune systems should not consume it. We also control how it is sold to the consumer. People who drink raw milk however are often passionate about its properties and sometimes sceptical about the risks and our advice. As a regulator, it shows us that we need to be proactive with the facts and open with the latest science and evidence; while also being attentive to whether we are trusted.
With the challenges of misinformation, the proliferation of conspiracy theories, and the increasing reliance on "echo chambers" to interpret the world around us, being on the front foot with the facts is really important, but we also have to understand how people make sense of facts. Facts aren't neutral, they come loaded with presumption and levels of trust in the speaker.
So, one of the ways we have addressed this is in the FSA's new Risk Communications Toolkit, which we are soon to publish. In this we emphasise the need to know as much about where a consumer is coming from as we do about the risk itself.
Conclusion
When we look back at the history of food safety regulation in the UK, regulation has often been more concerned with protecting trade than consumers.
The first law to regulate food production and sale was passed in 1266 and this sought to regulate the price, weight and quality of bread and beer. Prior to the 19th century, British law was relatively scarce on the subject of food safety and focussed a lot more on adulteration.
It wasn't until the 1930s that a review of local authorities recommended the passing of a Food and Drugs Act with an explicit commitment to highlighting and dealing with foodborne illness. This included the statistical record keeping of food poisoning outbreaks within local authorities.
So, transparency around food integrity has taken many years, many centuries, to evolve, and the food scandals of the 80s and 90s showed that there was still lots of work to do. But I think since then, transparency has improved, both in the way food policy is developed and in our improved knowledge about what is in our food and risks it sometimes poses.
History has shown us the potentially horrific consequences for people's health if we hide things. The food industry is worth billions to the UK economy and any collapse in trust from UK consumers, or our trading partners, can have far-reaching economic consequences. For example, the global cost of the melamine milk scandal of 2008 was around £7.7bn. The estimated cost to industry of the 2013 horsemeat scandal was £850m.
Consumer interest is best served when consumers have food they can trust, and transparency and truth are prerequisites for this. If companies and governments are not truthful, the public lose trust – and loss of trust has extremely expensive and unappealing consequences. Transparency isn't just something that the FSA requires of businesses. It is something that businesses do and should want to do for themselves.
About the author
Emily Miles is the Chief Executive Officer of the FSA. She took up the role on 23 September 2019 after moving from Defra. Emily has worked largely on home affairs issues at the Home Office, Downing Street and Cabinet Office. She was political advisor of home affairs to former Prime Minister Tony Blair between 2002-2005. She holds a Masters in the international law of armed conflict and international criminal justice from the University of Nottingham, and her first degree was from the University of Cambridge in English.