How has the COVID-19 pandemic affected the world's great food markets?
New Food's Junior Editor spoke to the heads of three world-famous food markets to understand the impact the coronavirus crisis has had on them; we also hear their views on what needs to be done to encourage more people into the halls and stalls of these historic locations.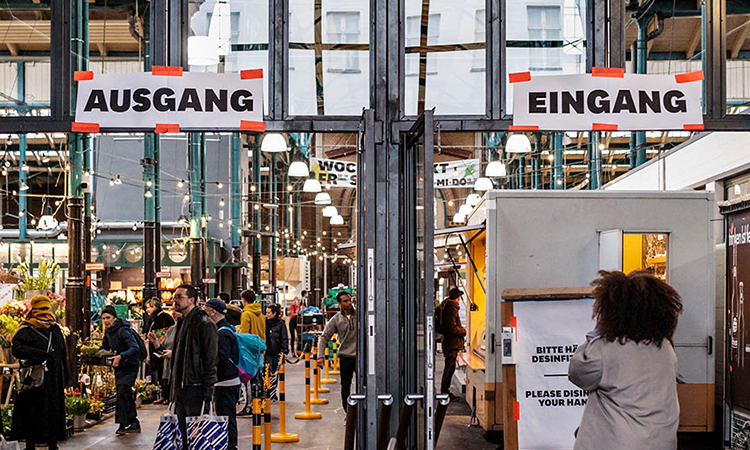 Markthalle Neun, like so many other retailers, has had to get creative to ensure it remains a safe environment for shoppers.
All sectors of the global food industry have been hit hard by COVID-19, with a unique mixture of increased demand for some and a cliff-edge drop in demand for others, particularly bars and restaurants.
An area of the industry that perhaps sits somewhere in the middle is the food market sector, which despite facing repeated closures in countries around the world, has also arguably benefited from the wind of localism that has swept the globe as a result of the pandemic.
And it's certainly something that Darren Henaghan, Managing Director of the world-famous Borough Market in London, has witnessed. "While the pandemic has led to a significant decline in overall footfall at Borough Market, we have definitely seen a resurgence in Londoners coming here for essential ingredients: fruit and veg, meat and fish, bread and cheese, condiments and spices," he told New Food.
"Although fewer visitors have passed through the market, those that do, have often been buying more produce. Much of this is down to people doing more cooking at home, for which the range and quality of our traders' produce has been a major draw.
"With opportunities for social interaction significantly curtailed, doing your shopping at a food market has also been something to savour – much more so than a trip to a soulless supermarket."
This view was echoed by Lea Ligat of Markthalle Neun, a food and drink market in Berlin's hip Kreuzberg neighbourhood: "We feel very lucky to have experienced immense support and solidarity from our customers. All our vendors are independent small businesses, and while it has been a very tough year for our gastronomic stands, our customers really supported all the farmers, cheesemongers, butchers and greengrocers in our market.
"We also experienced an increase of market visitors during the week, with people cooking, baking and fermenting at home."
Of course, a food market is about far more than shopping – it's a community.
The newfound sense of localism hasn't played into the hands of everybody, though. Stan Liacos, CEO of Queen Victoria Market in Melbourne (the largest open-air market in the Southern Hemisphere), observed the opposite trend in Australia. "There's probably been a shift to supermarkets, because in our case, there's been a very strong shift to localism," he said.
"It's [the market] in the middle of town; we have noticed that people have retreated away from the major markets and stayed local with places like supermarkets."
This can perhaps be attributed to the 5km travel rule that the state of Victoria (in which Melbourne is situated) had in place for much of the year. "We draw on a 40-50 kilometre radius, so the call to stay local has hurt our market and has very much hurt the central city of Melbourne," said Liacos. "It's been quite extraordinary to see." He reported that Queen Victoria Market saw visitation levels of around 10-20 percent at some points in the year; even now they are only back at between 50 and 60 percent, despite Australia recording relatively few COVID-19 cases. 
With the market waiving rent for traders since the beginning of the pandemic, and in light of the reduced footfall, income is quite clearly a problem at the moment. Yet Stan is convinced this was the right course of action. "We had to step in and give a lot of support to keep them [the traders] viable," he said. "It's hardly moralistic to charge someone's rent when they're not allowed to trade. We had to give extraordinary degrees of rental support."
Finding a way to survive
Food markets are all about theatre; they thrive on the sights, smells and noises that come with shopping in the open with traders that hail from your locale – so it's no wonder that food markets are not conducive to online sales. Yet, this is what markets have had to do in order to stay afloat, despite the difficulties of pivoting a business based around hundreds of independent traders onto a single platform.
Borough Market has, for some time, offered delivery of some of its traders' products nationwide and a click and collect service still operates from the market.
"In normal times, we would actively promote the idea that a visit to a market is much more rewarding than an impersonal digital transaction, but right now it is vitally important that as many people as possible have access to high quality, sustainably-produced ingredients, so home delivery has become a much bigger part of what we do" said Henaghan.
"Of course, a food market is about far more than shopping – it's a community, it's a source of ideas and inspiration, it's a place where knowledge is shared – so we've moved a lot of those conversations about food online too."
Queen Victoria Market reacted quickly as well, developing an online platform from which its traders could sell. Now, the market delivers to 150 suburbs in Melbourne, but as Liacos pointed out, that does not cover the market's entire customer base. "It doesn't mean we can pick up all of our core loyal customers, but it's picking up the bulk. Melbourne is a massive city in the sprawl sense…we're covering the inner suburbs and the middle suburbs, not the entire metropolitan area. In population terms, we'd be barely covering 40 percent."
Ensuring safety and restoring confidence
While online sales can cover some of the deficit caused by the lack of footfall, enticing customers back to the stalls and shops is clearly what will restore revenue in the long term. For Borough Market and Markthalle Neun, both of which are located in countries still in the throes of a bitter wave of the pandemic, maintaining the safety of shoppers and staying open are paramount.
"We have put up disinfectants at the entrances, as well as various signs. We are constantly airing, and our janitors are cleaning and disinfecting surfaces," said Ligat.
"We removed all tables and benches and on weekends, our security staff make sure all visitors are wearing masks and only a certain number of visitors are permitted in the hall at the same time."
This image seems to be mirrored on both sides of the globe. Queen Victoria Market has been undertaking "significant cleaning" according to Liacos. "Normally, our customer service team are always there with a smiley presentation, helping people in a positive way. We've had to become more adherent to rules, so politely asking people to wear masks, to step back, etc.," he explained.
Perhaps uniquely, the problem Queen Victoria has had is convincing Melbourne residents that the market is safe. Despite a low case count, Liacos said that many 'Victorians' were apprehensive about venturing out. "The easiest thing in the world here is just to say, 'Well, come on, we should get back to normal. The interests of business, employment – all that is so important'. But generally, the vast majority of the community, I think, likes the toughness [of Covid restrictions]."
Liacos explained that efforts to assuage this apprehension include administering significant resources to a click and collect service at Queen Victoria Market. An area of the car park has been dedicated to this service, wherein traders bring out food orders and place them directly into customers' cars without the need for any contact at all. Innovative approaches such as this are accompanying the now all-too-common cleaning regimes and social distancing regulations seen across the globe.
Although at very different stages of the pandemic, all three markets have shown that maintaining confidence among consumers in their ability to shop safely is proving to be a challenge, but it's one they must overcome if they are to thrive once again.
Interestingly, the experience of Queen Victoria Market perhaps serves as a warning to both Borough Market and Markthalle Neun that the removal of Covid restriction shackles does not necessarily guarantee an immediate return to pre-pandemic levels of footfall.
Who should lead the shop local charge?
Shopping at food markets is not just a fun experience, it's a valuable one. The independent traders operating from the likes of Borough Market and Markthalle Neun possess some of the highest levels of skill and knowledge accessible to consumers, often providing some of the more sustainable goods available in their sectors.
Ligat insisted that it's up to governments to encourage more consumers to shop at their local markets. "There is definitely lots to be done on a political level. Subsidies have to be divided differently in order to support organic and sustainable farming and for good food to be affordable for all parts of society.
"We believe in 'good food for all' – food should be good and sustainable on all levels: good for the environment, nature, the farmers, suppliers and consumers. The way our system is structured today means a lot of people simply can't afford to shop in local markets where the prices are calculated fairly and realistically [for farmers]. That needs to change."
Henaghan reinforced this view and explained why buying from independent traders is far more sustainable than some other retailers: "At government level, there seems to be very little appetite for doing anything that doesn't benefit the oligopoly of supermarket chains that dominate the nation's food supply.
"There are, however, consumers out there who care about the impact their purchasing decisions can have on the wider world, and we need to help them better understand the hidden environmental and societal costs racked up by the industrialised production and retail of foods, and why buying through food markets with short, transparent supply chains is in everyone's interests.
"We also need to promote the significant economic and social benefits of markets within local communities. Far more of the money spent at a market goes to the people who work hard to produce and source the food, and the personal nature of the shopping experience can be hugely beneficial at a time when isolation is a growing problem."
The 'big end of town' will know where to chase the dollar.
Liacos, however, places the consumer at the heart of the decision-making process. "The consumer will always win out," he said. "The consumer will determine what they'll do and then economic systems usually follow."
Interestingly, he questioned whether the campaign to 'shop local' was being framed in the right way. "Localism doesn't necessarily translate to local retailing and small artisans, because you can also get a perpetuation of the 'big end of town' that can then dominate local areas."
Queen Victoria Market, just like Borough Market and Markthalle Neun, is located in the city centre. Retail habits have, of course, shifted with urbanisation – in developed countries there is a supermarket in every suburb, when previously Londoners would have had to travel to somewhere like Borough Market or Smithfield for their produce.
"I say to anybody, if you think that narrative means we're all going to live little hippie lifestyles in our own little community, remember: supermarkets and big chains are everywhere," Liacos added.  
"The 'big end of town' will know where to chase the dollar."
Perhaps then, the advice to 'shop local' is not in fact the ideal. Instead, perhaps 'shop independent' should be the message. Supermarkets have undoubtedly played a key role in keeping countries around the world fed throughout the crisis, and they will no doubt continue to be an important part of the food supply in most countries for the foreseeable future. Yet without the expertise and knowledge that is accessible to thousands of consumers every day at places like Borough Market, Queen Victoria Market and Markthalle Neun, the food industry and consumer experience would no doubt be poorer.
Biographies
Darren Heneghan

Born and raised on a beef farm in Staffordshire, Darren is rooted in the world of food production. He has worked as a trustee of Waste Watch, an environmental charity, and held a series of government advisory roles, covering food safety and other regulatory matters.
Darren joined Borough Market in October 2016; navigating the huge impact of the terrorist attack in June 2017 and leading the market to the next stage in its evolution, focusing on sustainability, seasonality and innovation.
Stan Liacos

Stan Liacos assumed the role of CEO of Queen Victoria Market in January 2018. Immediately prior to joining QVM, Stan was Regional Director for the Victorian Government for the State's Loddon Mallee region, covering some 26 percent of the State and including the regional Cities of Bendigo and Mildura.
Stan has a Bachelor of Applied Science (Planning and Urban Design) from RMIT and Postgraduate qualifications in Business Management and a Masters of Marketing from Melbourne University.
Lea Ligat 

Lea Ligat graduated from the University of Gastronomic Sciences with a Bachelor's degree in Gastronomic Sciences in 2016. She went on to secure a permanent role at Markthalle Neun in 2017, before moving into the communications team in May 2020.