Stepping up to the plate: Joanna Trewern
In this series, we speak to dynamic voices in the food industry, showcasing individuals who are embracing new responsibilities and unveiling their visions for the sector.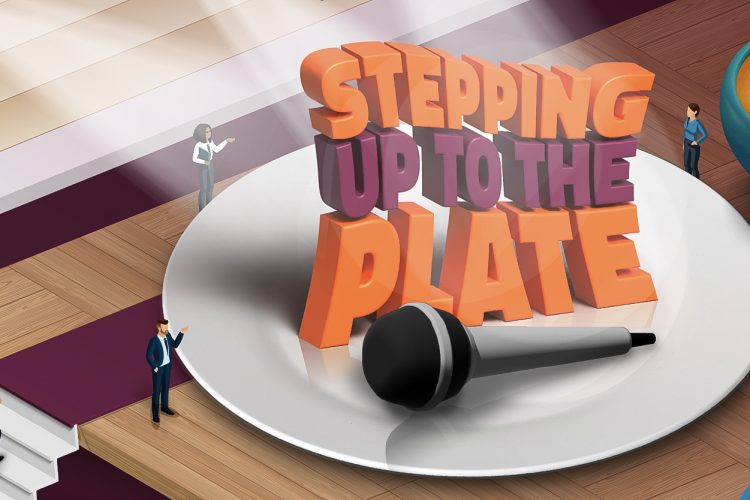 In early October, Joanna Trewern stepped up to the plate by taking on the role of Head of Research at ProVeg International, a food awareness organisation that is hoping to transform the global food system by replacing 50 percent of animal products globally with plant-based and cultivated foods by 2040.
To understand her journey so far in the food and beverage sector and her visions for her role at ProVeg International, New Food spoke to Trewern to understand exactly how her expertise in diets, sustainability, nature and animals makes her the perfect fit for the job.
Who are you and what is your new job role?
Joanna Trewern (JT): My name is Joanna Trewern and I've just started as Head of Research at ProVeg International. I'm a sustainability specialist focused on healthy, sustainable diets and food systems transformation.
Where did you previously work and how will you carry knowledge from this role to your new position?
JT: Before joining ProVeg I worked at WWF-UK, leading the organisation's work on healthy, sustainable diets. This involved influencing UK policy on food and environment; guiding, informing and challenging food companies on their sustainability and health strategies; and conducting research on sustainable food systems. I've learned so much from working across these different areas, and bring a data-driven open-minded approach to my work and stakeholder engagement.
I've seen first-hand the value good research brings to the table. We need it to influence policy and business decisions, and that's a core mantra I'm bringing with me to ProVeg. Perhaps most importantly I've learned not to overwhelm your audience with data and complexity – make the complex compelling and simple if you want to influence decisions.
Why are you passionate about your current field of research?
JT: I haven't always dreamed of working in food, but I have always loved animals and valued nature. I wanted a job that somehow involved protecting nature from a young age. It wasn't until I got accepted to study a masters in conservation, biodiversity and management at Oxford that I started to understand what that could look like. Here I realised the enormous impact our food system has on nature, and also learned that there were jobs to help fix it. Soon after graduating I was lucky to land my first job at WWF as a communications intern, and the rest is history!
What is it about ProVeg makes you excited to be taking on the role of Head of Research?
JT: It is a privilege to be joining an organisation with a mission solely centred on food. ProVeg plays an active role in global food systems transformation, aiming for 50 percent of animal-sourced foods to be replaced with plant-based foods by 2040.
Not only is this addressing a critical issue that impacts people, planet and animals (the scale of industrial animal agriculture) but it also encompasses all the solutions out there: from beans and pulses, to tofu, seitan, plant-based sausages and burgers, mycoprotein and fungi, and fermented, cultivated and cell-based proteins. It's not about the world going vegan, it's about diversifying our protein sources so we can sustainably feed ourselves now and in the future.
The other thing that excites me about ProVeg is its global reach. The organisation operates in some fascinating places including China, Malaysia, Nigeria and South Africa. Designing and implementing solutions across these markets has huge potential to deliver impact at scale. 
What does a sustainable food system mean to you?
JT: Ultimately we need to be able to nourish (not just feed) a growing global population without trashing the planet. This means working with the resources we have while maintaining Earth's critical processes that we rely on for a stable, secure supply of food – including a stable climate, functioning ecosystems on land and in the water, abundant freshwater and nutrient-rich soils. We should always pursue solutions that minimise harm to people and animals, and ensure food producers get a fair income too.
How can the food sector work together to benefit the people, the planet and animals?
JT: For me the most important job for the industry to collaborate on right now is to figure out how to create and sell tasty, healthy and sustainable alternatives to industrial meat and dairy. We're already starting to see some great products on the market, but I've not seen evidence of displacement at scale yet.
This can't be delivered by any one company or organisation alone, it needs us all to work together, from manufacturers, retailers and foodservice companies, to policymakers, NGOs and journalists. We also need a clear understanding of progress on protein diversification, which is not always possible as the data isn't available (particularly when it comes to foodservice). We need industry to feel comfortable sharing and publishing data in a way that respects competition law.
If you could wave a magic wand and change one thing in the food industry overnight, what would it be?
JT: I would love to change the incentives across the value chain to better reward sustainable production and consumption. Imagine if everyone, from farmers to consumers, was rewarded in some way for growing, developing, marketing and buying food products that are good for people, planet and animals. Right now the biggest profits reward the exploitation of our planet, our health and animals, and that's got to change.
To read our previous instalment of Stepping up to the plate where we speak to Dr Rhian Hayward, the Food Standards Agency's Board Member for Wales and Chair of the Welsh Food Advisory Committee, click here. 
Biography

Joanna Trewern is the Head of Research at ProVeg International. Previously, she was Head of Consumption at WWF-UK (World Wide Fund For Nature), where she identified and tested policy solutions that aim to deliver a shift toward more sustainable consumption at scale.