Rainbow trout farmers increase digital health monitoring for improved safety
In a bid to sustain production of rainbow trout numbers, farmers are shifting towards digital health monitoring in line with important seafood safety regulations.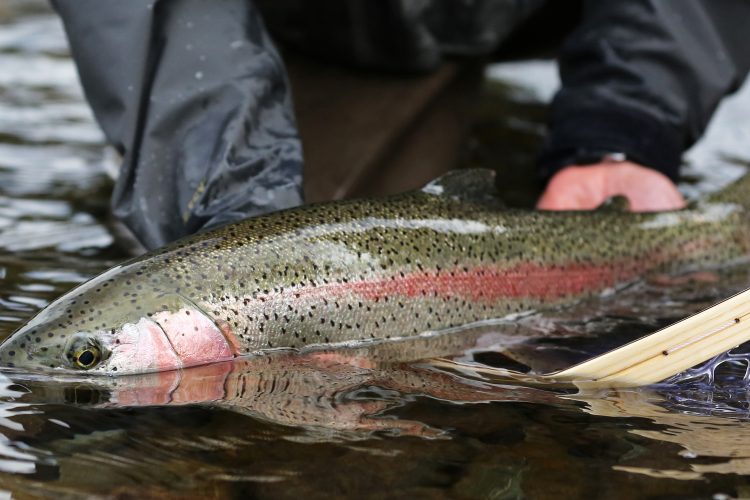 With a projection of 950 thousand tons marking global consumption volume by the end of 2019, rainbow trout continues to witness healthy demand as a high-protein low-cholesterol fish variety. Characterised by its excellent omega-3 fatty acid profile, rainbow trout is likely to see sustained sales, strongly backed by a relatively cheaper price point.
The healthier and good-for-you trend has been adding to the market attractiveness of protein-rich foods, particularly seafood, and rainbow trout is being increasingly touted one such ingredient, thus driving its demand from the seafood-processing sector. Once overshadowed by salmon, this variety is now demonstrating clear signs of entering the mainstream as a low-cost fish for consumption. The cheaper price point remains an added advantage and is likely to be the pivotal factor for expanding its existing consumer base.
A recent study suggests that the increasing consumer concerns surrounding high mercury levels in wild captured rainbow trout are accounting for falling sales of this variety. On the flipside, this scenario is favouring the sales of aqua-cultured fish in the global market, with global sales volume estimated to reach ~834 thousand tons towards the end of 2019.
Digital health monitoring for rainbow trout
Seafood quality has been a serious concern among food processors and consumers in recent years, causing fish farming organisations and vendors to shift to the digital health monitoring of fish. Vendors of aqua-cultured rainbow trout have been behind this digitalisation trend in a bid assure the health and quality of the fish. In addition, tightening regulatory guidelines for safe transportation and hygiene in case of consumption of fresh rainbow trout will continue to play a pivotal role in assuring absence of any contamination, which will further help vendors comply with the concerned food agency directives.
'Small-sized' remains preference
 According to the report, small sizes of the fish are likely to witness impressive sales in 2019 and beyond, with the volume likely to reach almost 660 thousand tons by the end of 2019. The study indicates that the demand for small rainbow trout has grown considerably in recent years, in line with the shifting preference of chefs and caterers for whole intact fillets that constitute a single portion.
According to the study, seafood consumers have been showing marked preferences for fresh rainbow trout over frozen and canned variants.  
These insights are based on a report on the Rainbow Trout Market by Fact.MR