Fish Processing: JCS Fish – a family firm making waves
Posted: 22 February 2016 | Andrew Coulbeck, Managing Director, JCS Fish | No comments yet
Founded in 2000 by Louise and Andrew Coulbeck, Grimsby-based JCS Fish is an independent seafood company built on many years of fish experience. It is also rapidly becoming famous as producer of the 'BigFish Brand' of salmon products.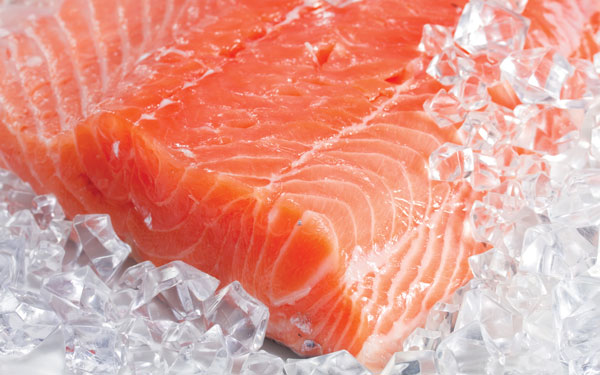 Although Grimsby is a fishing town that's now largely without a fishing fleet, in recent decades it has reinvented itself to become the world's biggest seafood production hub. Overall, some 80% of all the seafood products eaten in the UK are made within the Grimsby area.
JCS founders, Louise and Andrew Coulbeck, were born and bred in the Grimsby area and both come from families with a strong background in trawling and fish processing. Andrew began his career in the family firm, Richard Coulbeck Ltd (RC Ltd), which initially specialised in buying and selling dogfish. RC later purchased Jack Smith's Limited, a local firm renowned for sourcing and supplying premium wild salmon from Scotland and Ireland. Founder, Jack Carlisle Smith, wanted to retire but stayed with the business for five years, passing on his 50 years' of knowledge and his fish handling skills to Andrew Coulbeck.
When the market for dogfish collapsed due to sustainability concerns, RC Limited was closed. Andrew wanted to continue in the family fish tradition and – with Jack's help and training – had himself become one of Grimsby's most well-known salmon experts. He therefore decided to set up a new business, JCS Fish, focusing on farmed salmon.
Farmed salmon had started to appear in the market in the early 1980s, but both supply and demand were growing rapidly and JCS took advantage of increased availability to supply farmed salmon to the foodservice trade. It sourced and bought whole fish direct from Scottish and Norwegian producers, freezing and cutting convenient fillet formats for the restaurant and catering trade. The business grew rapidly through word of mouth, trading on a growing reputation for top quality and an ability to fulfil orders in small quantities that also made salmon accessible to smaller customers.
Small beginnings
JCS Fish's first factory was in Wharncliffe Road, Grimsby, and employed just five with an office staff of two. As it took off, it became clear that new premises were needed and the business moved to its current location in Grimsby Fish Docks in 2003.
Investment in new technology followed rapidly, a key development being Andrew's investment in new filleting and portioning equipment five years after start-up. This enabled JCS Fish to move from salmon steaks to premium fillets which were cut fresh before rapid freezing, greatly enhancing the quality and consistency of the finished product.
As the business hit a turnover of around £2 million, it had grown to around 15 people, including a sales team to boost further development. Fortunately, given its location, JCS Fish did not find it difficult to recruit the right people.
Andrew Coulbeck says, "As the home of seafood processing in the UK, Grimsby has a strong pool of fish production talent so it hasn't been difficult to employ people with the right skills.   Many of our team now have been with us since we started and their experience and expertise helps fuel a tremendous sense of energy and purpose in our company. We've a real family atmosphere and hopefully will keep it that way."
Birth of a brand
Although the business was doing well, Andrew was keen to make farmed salmon more accessible to a wider consumer audience. He says, "Whilst wild caught salmon is a seasonal, luxury food, farmed fish is available all year round at an affordable price. With our buying and processing expertise we could see the opportunity for a brand which would help make it more accessible to everyone every day."
The company was first named JCS Fish in honour of Andrew's mentor, Jack Carlisle Smith but at the outset Andrew and Louise had also registered the name 'BigFish Seafoods'. "Whilst we both loved the name 'BigFish' and thought it had great potential, I felt that a more neutral name was right for the trading company," explained Andrew. "But we still wanted to also develop the equity in a brand that was uniquely ours, one which would allow us to communicate directly with consumers and give us complete control over the products we wanted to make and the way they were presented to the market."
In 2009, BigFish Brand had its first outing for consumers when it was presented as a concept at the Speciality and Fine Foods Fair at Olympia.  
The idea was to offer frozen salmon fillets in an ultra-convenient format, one which would also eliminate three of the key consumer barriers to eating fish: smell, fiddliness of preparation and waste. The new brand offered highly convenient, individually wrapped and portioned fillets of top quality frozen salmon.
When the plain fillets found a ready market, Andrew saw the potential to add value, and the first flavoured products, Garden Mint, Maple and Lemon & Black Pepper were introduced in 2000. Further flavours soon followed, with organic fillets also joining the portfolio in 2005.
BigFish Brand grew distribution through a network of specialist independent grocers, small retailers and farm shops, for which it proved perfect for helping such retailers to boost their seafood offering. In 2014, the brand gained its first national listing with Ocado, the online shopping giant.
Andrew says, "with these products we have answered a clear consumer need – for the many people who want to eat more fish but are put off either by the preparation or lack of time. We've created a product which is consistently good, readily available in the freezer so it doesn't get wasted and is fast to prepare straight from frozen."
Moving forward to 2016 and JCS Fish have expanded the range further – there are nine products in the BigFish Brand salmon range: seven marinade flavours plus plain and organic. The company also introduced a new range of fishcakes in 2015.
Andrew says, "Salmon is a fantastic fish in the diet – it's quick to cook, tastes great and consumers are well aware of its health benefits. By developing a variety of flavour options we've tapped into a latent consumer appetite for salmon and given people more reasons to eat it more often – which is also a perfect fit with the latest research about what people are looking for in seafood."
Recent shopper insight research from Seafish1 suggested that consumers were seeking more "recipe and meal inspiration" in seafood and that this could mean a potential for £5.4 million for growth in the frozen natural seafood category.
Andrew Coulbeck says, "People love fish, but even in our so-called 'foodie' era many are still put off by handling and preparing it from fresh – as such our products are a great standby for time poor cooks who are looking for something healthy and delicious."
The range has been boosted with a number of award wins, including Deliciously Yorkshire, being a finalist in the Grocer New Product Awards twice (2014 and 2015) and achieving six Great Taste Awards (2014 and 2015).
JCS Fish now employs 40 people in Grimsby and in 2015 completed a factory investment project of £700,000, installing a new spiral freezer and packing line which together doubled production capacity. The company also reported 10% sales growth for BigFish Brand last year.
Andrew says, "I'm proud of our team and the process we've developed, which allows us to turn a fresh whole salmon into a delicious packed and frozen product in just 90 minutes. Quality and convenience is the key to our success and we're excited about what the future holds for our business."
With the twin consumer demands of healthy eating and convenience showing no sign of decline, the omens are good for the future of JCS Fish and its BigFish Brand.
About the author
Andrew was born in Cleethorpes (right next door to Grimsby) and spent the first 20 years of his working life in the family business, five of them working with Jack Carlisle Smith to learn the salmon industry inside out. In 2009 he set up JCS Fish with his wife Louise.
To find out more about JCS Fish and BigFish Brand, follow the links:
Or contact Chris Solloway at Wordbird Communications: tel. 07974 232015 email [email protected]
Reference
Seafish – seafish.org/media-room/press-releases/new-shopper-research-reveals-big-potential-for-natural-and-smoked-seafood-products. Last accessed: 21 October 2015.