Food inflation makes significant 2.1 percent drop
Data from the Office for National Statistics has revealed that food and non alcoholic beverage inflation has made a sharp drop down to 10.1 percent in October 2023.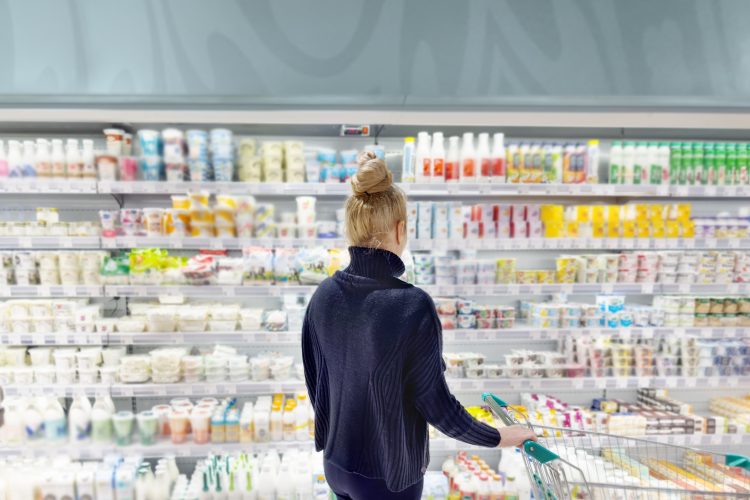 Food inflation has undoubtedly been on the minds of both the industry and consumers over the course of the last year, with New Food consistently reporting on how the figure has been changing each month.
Now, data from the Officer For National Statistics (ONS) has revealed that food inflation in October 2023 made a significant drop to 10.1. percent down from 12.2 percent in September 2023.
This 2.1 percent drop is significant as in March earlier this year, annual food and non-alcoholic beverage inflation hit a 45 year high when it reached 19.2 percent – something that caused widespread concern and even saw consumers altering their shopping habits amid the cost of living crisis.
In October 2023, ONS found that food and non-alcoholic beverage prices rose by 0.1 percent between September and October 2023 which occurred after a 0.1 percent decline the previous month. This compares with a rise of 2.0 percent between the same two months in 2022.
UK food inflation continues to break records at 45-year high
Highlighting specific categories where there were notable price movements, ONS revealed that nine of the 11 detailed classes provided a downward contribution during October 2023. The largest downward contributions came from the milk, cheese and eggs category as well as from the vegetables category.
Key downwards effects came from yoghurt, where the prices in this category fell by 2.9 percent between September and October, compared with the same months in 2022 when the prices rose by 5.8 percent. ONS has shared that within the milk, cheese and eggs category, the annual rate eased to 7.9 percent in the twelve months leading up to October 2023, marking a 4.4 percent drop from September's 12.3 percent rate.
Meanwhile the vegetables category witnessed downwards effects from six subclasses. This included crisps which had prices falling by 3.4 percent between September and October. Overall the annual rate for vegetables was down from 14.4 percent in September and eased to 10.8 percent in the year to October 2023.
Turning to oils and fats, and coffee, tea and cocoa, ONS pointed out that there had been "no change in contribution to the 12-month rate".
"Although the annual rate at which food prices have been increasing has been slowing, the food price index is still at a high level in comparison to recent years. The price of food in October 2023 was around 30 percent higher than it was in October 2021," commented ONS.
Sharing that food inflation is "headed in the right direction helped by the seventh consecutive month of falling food inflation, Helen Dickinson, Chief Executive of the British Retail Consortium (BRC), said:
"Prices for rice, butter and yoghurt all fell on the month, as well for adult footwear, while higher commodity prices and the weaker pound fed through into higher inflation rates for chocolate and olive oil. There remains upcoming challenges: oil prices have been slowly climbing, consumer demand is weakening, and higher wage bills are pushing up business costs. Such pressures would be exacerbated by the planned rise in business rates next year."
Dickinson said that retailers in the UK are "working hard to keep prices down for hard pressed customers" but believes these efforts will be "tested" by a "£480m-a-year increase in business rates from Spring 2024. Unless the Chancellor takes action and freezes business rates at the Autumn Budget, we could see added cost pressures filtering through to consumer prices."
With wider inflation having fallen sharply to 4.6 percent in October, rates falling in the food and non-alcoholic beverage category may have members of the sector and consumers across the UK looking up as as the festive season approaches. However as Dickinson, emphasises, despite the positive trajectory, challenges may loom ahead, with rising oil prices, weakening consumer demand, and increasing wage bills posing as ongoing concerns for retailers.
As the industry navigates these challenges, the focus on maintaining affordability for consumers seems to be a top priority. New Food will keep its readers updated with any developments.