Why Kellogg's is not happy with HFSS regulations
Kellogg's is challenging the UK Government over upcoming HFSS regulations which would limit where some of its most popular cereals can be displayed in shops – and it's all to do with added milk…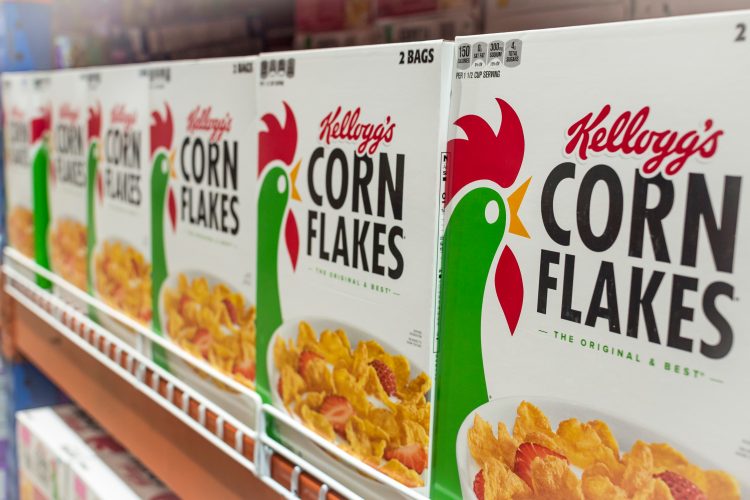 Famous food manufacturing company Kellogg's is challenging the UK Government in a legal battle, over a dispute around how the nutritional value of cereal is measured. 
Rules are set to come into force in England this October which aim to regulate food and drink that is high in fat, salt and sugar (HFSS). The regulations — part of a government drive to tackle childhood obesity — will restrict where certain types of food are displayed within supermarkets or on their websites, and will also ban multibuy promotions of foods deemed HFSS. However, Kellogg's argues that the regulations are unlawful because the nutritional value of breakfast cereals will be assessed by dry weight as sold, rather than how they are eaten. The brand is contending that the sugar content of its cereals should be measured after milk is added.
In a written summary of the legal case, Kellogg's stated that it shares "the government's commitment to helping people live healthier lives" but "believe[s] the formula used to measure the nutritional value of food is wrong when it comes to breakfast cereals".
The company states that cereals are eaten with milk or yoghurt in 92 percent of cases, and this affects the overall nutritional value of the popular breakfast food, adding that 28.4 percent of all milk consumed in the UK is with breakfast cereal.
"Kellogg support the Government's work to tackle obesity and help people live healthier lives," said Chris Silcock, Kellogg's UK Managing Director. "In 2021, the former Public Health Minister Jo Churchill MP commended Kellogg for our work to reduce sugar and salt in our cereals. We believe the formula being used by the Government to measure the nutritional value of breakfast cereals is wrong and not implemented legally. It measures cereals dry when they are almost always eaten with milk. All of this matters because, unless you take account of the nutritional elements added when cereal is eaten with milk, the full nutritional value of the meal is not measured.
"So, we now find ourselves doing something which we really didn't want to have to do which is to go to Court to get the formula changed so that it reflects how people eat our food in real life. We've always been open and honest with people about what's in our food and that's why we feel we need to take this step," he said. 
How many calories in a bowl of Kellogg's?
The MailOnline analysed the nutritional content of 36 Kellogg's cereals available in UK supermarkets. In the investigation, variations of Crunchy Nut were found to be the most calorific, with one serving of caramelised granola containing 230 calories, followed by nut and chocolate granola (224) and chocolate honeycomb granola (217). This is around a tenth of an adult's daily intake and similar to a Mars bar (228), according to the outlet.
It added that Crunchy Nut options also topped the table on sugar, with the chocolate clusters variation containing 14g in one serving. It was followed by the chocolate honeycomb granola version (12g), fruit and nut granola (12g), and honey and nut clusters (12g). MailOnline compared this to an original-glazed Krispy Kreme doughnut, which contains 12.6g. 
In addition to this, it found that Kellogg's saltiest cereal is Crunchy Nut honey and nut clusters (0.43g), followed by Fruit and Fibre (0.4g), All-Bran (0.38g), Crunchy Nut chocolate clusters (0.37g), and All Bran golden crunch (0.37g). The MailOnline reports that the products found to have the highest levels of salt are around seven percent of an adult's daily recommended intake and contain more salt than a packet of Walkers ready salted crisps (0.34g).
Weighing in on this, Katharine Jenner, Director and Registered Nutritionist at Action on Sugar and Action on Salt told New Food that "Crunchy Nut Cornflakes still have 2.5 teaspoons of sugar in them per portion, whether you add milk or not. If Kellogg's would like to be able to promote its products, then instead of trying to convince us that adding milk makes their products healthier, it should try removing some of the salt and sugar – that will do the trick!"
She added that the company has "already managed to improve the healthfulness of some of their products by doing just that, so they know it is possible".
Eating an excessive amount of sugar can contribute to people consuming too many calories, which can lead to weight gain, increasing the risk of health problems such as heart disease, some cancers and type two diabetes. Similarly, high salt intake can also lead to a higher risk of many health problems, including heart disease and strokes.
Will HFSS make a difference to obesity rates?
While some believe that the UK Government's new regulations will help curb Britain's obesity crisis and reduce the burden on the NHS, others question whether the tighter restrictions are worth the negative impact they will likely impose on the sector for the sake of such a small reduction in calories (approximately five kcal per day for the advertising restrictions, according to the Government's own assessment).
Commenting on the upcoming regulation, Food and Drink Federation (FDF) told New Food that it is "disappointed [that] the UK Government is pressing ahead with this regulation when it is not expected to impact obesity rates". It added that "for years families have taken advantage of promotions on everyday food and drink such as breakfast cereals".
Indeed, with the cost-of-living crisis looming, one could question whether such a ban – that arguably will make little difference – is good timing…
"They [promotions] have helped cut the price of shopping bills and encouraged people to try new and different products, many of which have been reformulated to meet government guidance," stated the FDF.
Kellogg's – which produces popular cereals such as Cornflakes and Coco Pops, to name a few – will begin its legal action against the Department of Health and Social Care this week after it "tried on a number of occasions to have a discussion with the UK Government over the past 12 months about this" without success.