Oat drink gets on Britain's milk floats
Oato says its oat drink will be delivered before 7am around the UK in reusable glass bottles to prevent excess waste.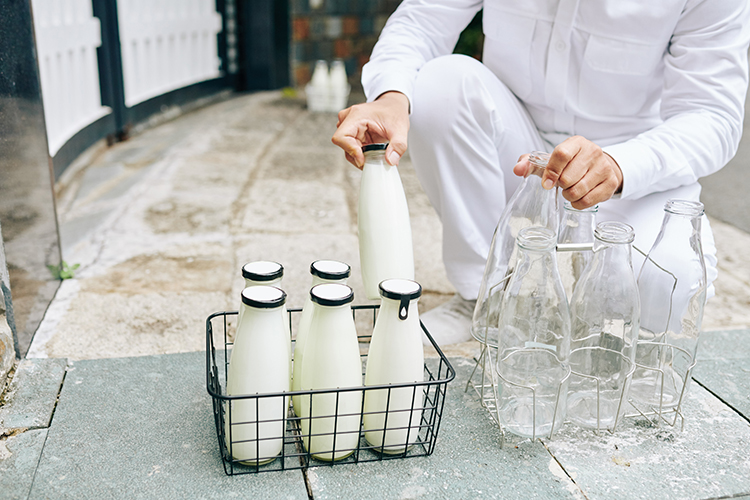 Oato says its glass bottles will be reused 25 times before they are recycled.
Oato, a Lancashire based oat drink producer has struck a national deal that will see its drink distributed in reusable pint glass bottles nationally on milk floats, alongside traditional dairy milk.
Plant-based drinks with your tea?
According to data from Nielsen Scantrack, sales of products made from oat, almond and soya increased by 239 percent between February 2010 and February 2020.  Moreover, The Vegan Society says the plant-based food market in the UK has a value approaching £0.5 billion. 
The shift towards plant-based is – generally speaking – motivated by sustainability concerns; a 2018 Oxford University study found that oat drink has a third of the environmental impact than that of cows' milk.  
Conversely, since its consumption heyday in the 1950s, 60s and 70s, per-capita consumption of milk in the UK has fallen by a third. Polling indicates that a third of under-35s are cutting back on consuming dairy.
Reusable bottles
The milk pint bottle has been an iconic doorstep delivery symbol for more than 100 years, and Oato says it is committed to the pint bottle and to distribution via local milkmen and women. According to the company, each bottle is used on average 25 times before the glass is then recycled.
The 'milkman' first appeared in Britain around 1860, when the railways enabled fresh milk to arrive in cities from the countryside.  By 1880, the milk was delivered in bottles, and by 1975, 94 percent of milk was in glass bottles. It wasn't until 1990 that supermarkets started offering plastic and carton containers, reducing bottled milk from 94 percent to three percent by 2016. 
Currently, Tetrapaks are widely used for dairy alternatives; and most are UHT processed, meaning they're months old by the time the consumer actually drinks them.
Tetrapaks are made up of many layers of cardboard, plastic and aluminium, making them difficult to recycle. According to Oato, even when recycled, they are actually downcycled in an energy and water insensitive process to become filler for materials like concrete and roofing sheets.
The national distribution deal with Milk & More means the fresh oat drink will now be delivered in reusable glass pint bottles to doorsteps before 7am across most of England. Oato is hopeful that its green delivery process will dovetail with its sustainable milk alternative to make a real difference to carbon emission caused by the dairy industry.