Marks and Spencer issue warning over Northern Ireland food shortages
NI politicians across the floor unite as they express fear over Northern Ireland food supply following new regulations.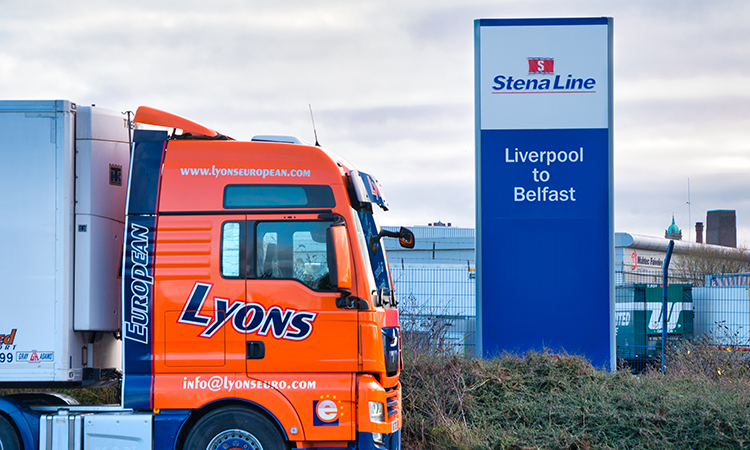 Lorries heading onto the Liverpool-Belfast ferry could be missing key products come January 1.
Marks and Spencer has warned that up to 15 percent of its product lines might not be available in its Northern Ireland branches in January.
From 1 January, the UK will leave the EU single market, yet Northern Irelands will remain within it to protect cross-border trade with the Republic of Ireland, with which it shares a land border. Certain foods which are deemed to be 'high risk' require an Export Health Certificate (EHC) in order to enter the European Union. This must be signed off by an approved vet and can be a very expensive piece of legislation.
As of the new year, products such as eggs, meat and fish will need an EHC to enter Northern Ireland, which has led to retailers such as Marks and Spencer to question whether they can continue to run certain product lines.
This is an unacceptable situation for us to be in, especially so late in the process.
Marks & Spencer told BBC's Good Morning Ulster programme that it was committed to Northern Ireland and wanted to provide the same range of products.
The retailing giant added a caveat though: "To keep this promise, retailers need urgent answers from Government on several aspects of the NI protocol – particularly on certification processes and labelling.
"Whist we have extensive contingency plans in place, if clarity is not given soon, there is a risk to supply from the UK mainland, which could limit customer choice in Northern Ireland."
Marks and Spencer is not the only retailer to express trepidation over what the future might hold in terms of food supply chains. Simon Roberts, Chief Executive of Sainsbury's, told The Guardian in early November that "If we don't get greater clarity on the Northern Irish situation then we will see a restriction on the ranges of products we can sell. This is not one or two products in stores I am talking about, it is a substantial number of products and quite key, everyday products too."
There is serious concern among politicians in Northern Ireland that its food supply will suffer as a result of the new regulations and what they see as a last-minute approach to them. In an open letter to the EU's representative on the Joint Committee, European Commission Vice President Maroš Šefčovič, Arlene Foster of the Democratic Unionist Party (DUP) and Michelle O'Neill of Sinn Fein, wrote: "Last week, there was a meeting that included representatives from our main supermarkets here.
"These representatives have emphasised how critical the current situation is, with a real threat to the continuity of the supply of existing food and other products to our market unless these issues are urgently addressed and solutions found.
"This is an unacceptable situation for us to be in, especially so late in the process."          
A spokesperson from the commission said it was "aware, of course, of the concerns raised regarding supermarkets and the import of food products into Northern Ireland".
They added: "We take this issue very seriously – in the same way that we are taking very seriously every single issue regarding Northern Ireland."