A plant-based revolution
Mark Driscoll considers the shift away from carnivorous diets – what's driving it, what are consumers looking for and how can the food industry rise to the challenge of catering for their fast-evolving tastes?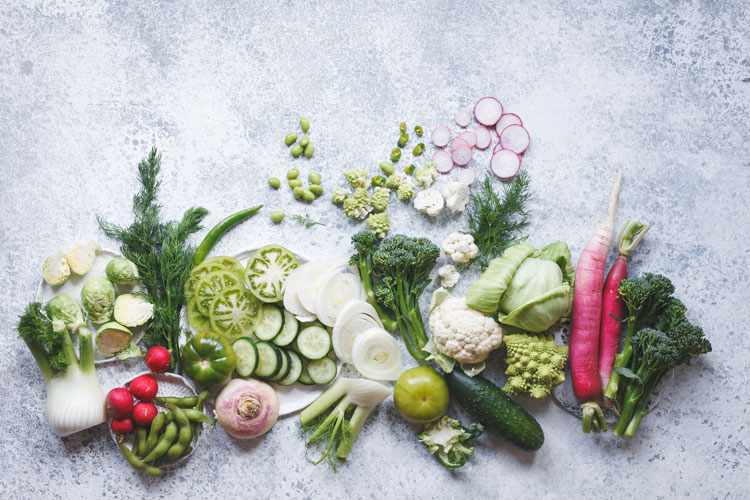 What do Richard Branson, Bill Gates, Li Ka-shing and Google Founder Sergey Brin have in common? Apart from being some of the world's richest men, they have all invested heavily in plant-based and 'clean meat' startups over the last 12 months. Why are they doing this? They have recognised that we are in the midst of a plant-based food revolution, driven by consumer concerns around health, sustainability and animal welfare that will have a significant impact on our plates, palate and planet in the years to come. The days of meat being the star of our plates are coming to an end. Plant-based diets have skyrocketed in popularity over the last couple of years, with the numbers of vegans, vegetarians and flexitarians (those wanting to increase their intake of plant-based meals without completely eliminating meat) increasing rapidly since 2016, in the UK and Europe.
In the UK, more than 3.5 million British people – over five per cent of the population – now identify themselves as vegan. According to Mintel, over a quarter of consumers (28 percent) reduced or limited their meat consumption in the first six months of 2017. While health and ethical concerns have been the biggest driver of behavioural change, particularly among digital-savvy millennials and Generation Z, 39 percent of those consciously reducing their meat intake say that meat reduction campaigns (National Vegetarian Week, Veganuary etc) have made them aware of the impacts of meat consumption. In addition, meat-free choices have become more widely available within the market place, as retailers and food brands innovate to develop new products for a growing market.
The upshot of this trend is that eating more plants for ethical, environmental or health reasons is no longer a habit of a niche of consumers – and that a more sustainable food culture, driven by plant-based eating, continues to accelerate beyond millennials in the UK and beyond.
Opportunities for the food sector
The demand for plant-based foods is expected to show continued rapid growth over the next five years and provides a real opportunity for the food sector to grow and innovate. According to Nestlé, the plant-based food market is expected to reach $5.2 billion worldwide by 2020. While there are potentially significant financial rewards there are also huge opportunities to tackle some of the most prescient global health and sustainability challenges – biodiversity loss, climate change, obesity and hunger, all of which are likely to become increasingly important issues on political agendas in the coming decade. The UN Decade of Action on Nutrition (2016-2025) and the global commitments on the Sustainable Development Goals and Climate Paris Agreement offer an unprecedented opportunity for universal and integrated change. Fostering greater innovation to encourage more plant-based eating patterns will be crucial to the success of this. Already we have seen the Chinese Government commit to reducing their meat consumption by 50 percent in 2050 and a series of measures by governments in parts of Europe to reduce meat and increase the proportions of nuts, pulses, fruit and vegetables within national dietary and procurement guidelines.
Trends in plant-based innovation
Driven by changing expectations of citizens, customers, governments and increasing interest from the investor community, I have highlighted six trends that I predict will continue to drive plant-based innovation and the global marketplace over the next few years.
1) Buying into the plant product market
Some of the world's largest players in traditional meat-based proteins now recognise that the plant-protein market could prove disruptive to them. Maple Leaf Foods, Canada's leading retailer of packaged meat, is bringing nine new plant-based proteins to the country as a result of recently acquiring the meat-free brand Lightlife Foods. This is in addition to the vegan brand Field Roast Grain Meat Co, which it brought for $120 million earlier in the year. The company president, Dan Curtin, recently said that their target market is now 'flexitarians and 'reducetarians' and that they aim to be the most sustainable protein company in the world and become a global leader in plant-based products. Tyson Foods, the largest U.S. meat processor, better known for chicken than chickpeas, has recently invested vast sums in two alternative protein start-ups – Beyond Meat and Memphis Meats. Later this year, it plans to launch 'Green Street', a brand that will offer plant-based meal bowls featuring ingredients such as quinoa, lentils and chickpeas.
Despite some critics who argue that the trend of buying plant-based brands devalues the ethics of these brands, these are smart moves for Maple Leaf and Tyson. By diversifying into plant-based proteins they're hedging their bets for the future and taking a leadership position that they anticipate will bring long-term financial returns on their investments.
2) Alternative plant proteins
Algae soup or hemp flour anyone? Whilst this may seem far fetched we could see a plethora of new plant-based products made from a wide variety of unusual ingredients – Spirulina (and various other algae), seaweed, hemp, spelt, teff and water lentils are all likely to adopt a more dominant position on our supermarket shelves in the years to come. Impact investors and accelerators, particularly those based in the U.S. and Israel, are investing millions of dollars in dozens of plant-based start-ups looking to scale up production of these ingredients.
The water lentil (also known as Duckweed) is now being grown on massive aquafarms by companies such as Parabel. Tasting slightly sweeter than normal lentils, they are highly nutritious and packed with Omega 3 fatty acid fibres and other micronutrients. They can double their biomass every 24 hours and can be harvested daily, so have the potential to provide both a healthy and sustainable form of protein.
3) Orphan crops
There are over 20,000 species of edible plants in the world, yet fewer than 20 species now provide 90 per cent of our food – the most dominant of which are rice, maize, wheat and soybean. With 800 million people still hungry and a further two billion people lacking key micronutrients, increasing attention will be given to those forgotten or orphan crops. These include such crops as teff, finger millet, yam, roots and tubers that tend to be regionally important, often highly nutritional and adaptable, yet are not traded around the world and receive no attention by research networks.
One such example is Amaranth – a plant from Central America where it was an important food for the Aztec, Mayan and Incan civilisations. It's starting to attract significant attention from researchers and food brands, mainly due to the high nutritional value of the seeds, their resistance to drought and the fact that its grains can be produced in a relatively short time.
4) Meatless meat dishes
Over the past few years faux burger brands such as Beyond Meat and Impossible Burger, which replicate the way meats cook and taste, have attracted millions in investor dollars and have penetrated the mainstream market. Impossible Foods, with investment of $400 million, has created the Impossible Burger. Created purely from plants, its unique ingredient is heme – a molecule derived from soy leghemoglobin – which, says the company, makes the burger smell, sizzle, bleed, and taste just like meat. Unlike the Beyond Burger, which was launched on Tesco's supermarket shelves in August, the Impossible Burger contains a genetically altered ingredient from soy, which is a barrier to the adoption of the burger within UK/European markets.
Over the last couple of years there have been dozens of start-ups entering the market producing plant-based foods that mimic meat favourites. Expect to see chicken-free chicken chunks, meatless meatballs and fishless fish fingers on supermarket shelves over the coming years.
5) Ready meals and composite food products
To date there have been surprisingly few signs of the market looking to reduce meat in ready meals or other composite food stuffs. In 2017 British consumers spent £4.7 billion on this food category and yet, according to recent research by the Eating Better Coalition, meat still dominates the ready meal aisles, with only three per cent being plant based. As the spotlight continues on the ready meal market, I expect to see significant changes in this sector in the years to come. Not only will we see more vegan and vegetarian options, but also certain products like pizzas, lasagnes and pies will replace a proportion of their meat with plants.
Waitrose has already recently announced it has teamed up with the Vegetarian Butcher to supply the meat alternatives for its new plant-based range of ready meals. With a unique approach to branding, the vegetarian butcher aims to appeal to health conscious meat enthusiasts and has a number of restaurants in continental Europe.
6) Branding and messaging
Companies have an important role and a responsibility, from a planetary and human health perspective, to nudge consumers towards certain behaviours. More evidence is emerging on how the language surrounding plant-based foods can encourage more plant-based eating and sustainable diets. A report recently published by the World Resource Institute suggested many plant-based dishes have names that are not appealing to people who normally eat meat. Marketing organisations are now suggesting that labelling products as vegan or vegetarian is the worst thing you can do if your aim is to tap into the flexitarian market – using terms like 'plant based' may be a much smarter marketing strategy. Expect far more innovative branding in the years to come.
Plants for profits, people and planet
There is a real opportunity for forward thinking food companies to capitalise on a plant-based food revolution that is here to stay. To do this, businesses need ensure they are aware of future trends that will impact on their operations today and well into the future. They need to ensure their sustainability, brands and marketing teams are aligned with a single strategy that embeds sustainability at the heart of their business DNA. For many, a strategy based on capitalising on the trends around sustainability and health will mean that plant-based eating will need to be part of their strategy. This will keep them ahead of the curve, giving access to new markets and benefitting the health of people as well as the planet.
About the author
MARK DRISCOLL is a sustainable food systems consultant and Founder and Director of Tasting the Future.