Arla Foods explores fibre-based caps for milk cartons
Dairy cooperative Arla Foods has teamed up with Blue Ocean Closures to create a fibre-based cap for milk cartons.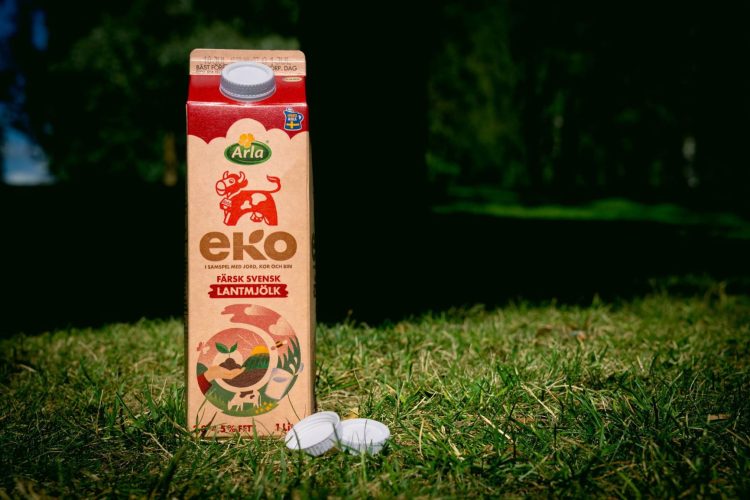 Arla Foods and Blue Ocean Closures have entered a formal partnership  to create a fibre-based cap for milk cartons.
Arla Foods has said that this "could be a first in the dairy industry" and explains it claims it "would reduce Arla's plastic consumption by more than 500 tonnes annually if implemented".
Explaining how milk packaging has evolved over the years, Arla Foods has pointed out that the cardboard milk carton is now used in several countries. It even defined it as a "near-optimal choice in terms of food safety and sustainability".
But now "the time has come to completely rethink a small yet significant part; the cap", according to Arla.
Currently, the plastic caps used by Arla make up for around 23 percent of the plastic used in its cartons. Hoping to make changes, the farmer-owned dairy cooperative has now set its sights on the caps as part of its sustainable packaging strategy so it can "eliminate use of fossil based virgin plastic in its packaging by 2030".
Partnering with Swedish start-up Blue Ocean Closures, Arla hopes in an effort to create a solution that Arla claims "could see the dairy cooperative introduce the first fibre-based cap on milk cartons in the industry".
"Improving our packaging, including reducing our use of plastic, is imperative to us and we know that consumers are also very invested in this area. This project to explore what could very well be the first fibre-based cap on milk cartons is very exciting and shows that we at Arla are constantly looking to improve and lead the transformation of sustainable packaging", says Chief Commercial Officer at Arla Foods, Peter Giørtz-Carlsen.
With Blue Ocean Closures knowledge of fibre-based closures and its portfolio of sustainable packaging initiatives, Arla has revealed that the cap has a body made of "sustainably sourced FSC fibre material" combined with a thin barrier coating. Using advanced, proprietary vacuum press forming, the dairy cooperative has said that this allows for a cap that is "biobased, ocean biodegradable and recyclable as paper".
"We are delighted to work with Arla, acting as a frontrunner to create a real difference in packaging sustainability," said Lars Sandberg, CEO at Blue Ocean Closures.
"With increased fibre content, the solution will increase recyclability, starting in Scandinavia and paving the way for global change".
Now with funding from Arla Foods, Ocean Blue Closures has confirmed that the plan is now to develop a fully functional prototype and complete the testing phase by start of 2024.