One quarter of Brits "struggling" with grocery price inflation
A new survey by Kantar has found that one quarter of British shoppers say that they're struggling financially with food inflation.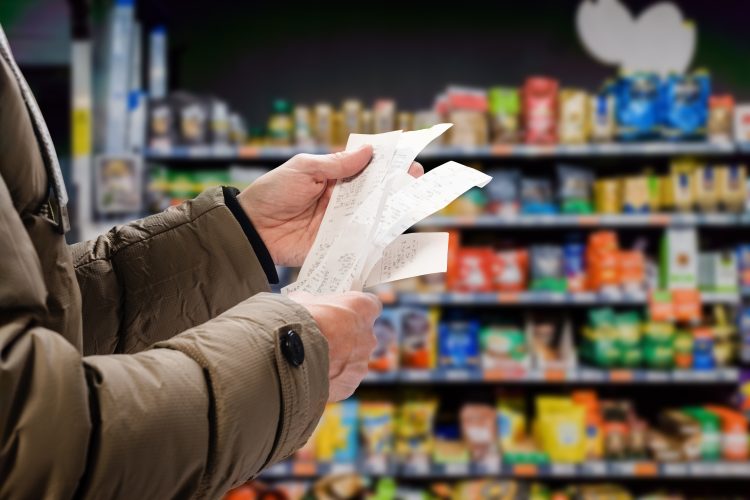 Facing ongoing food price rises, one quarter of British consumers have said that they are "struggling" with grocery price inflation, a Kantar survey reveals.
Using a sample of 9,762 people between 20-30 January 2023, research firm Kantar also found that two thirds of Brits are concerned by food and drink prices, above public sector strikes and climate change.
Noting that February 2023 marks a full year since monthly grocery inflation climbed above 4 percent, Kantar has highlighted that price increases have had a "big impact on people's lives".
With grocery price inflation reportedly rising to reach 17.1 percent in the four weeks to 19 February 2023, the research firm has said that this was the "highest level" it has ever recorded.
Overall take-home grocery sales were said to have increased by 8.8 percent during the same four weeks and by 8.1 percent over the 12-week period.
Proving popular with consumers, own label ranges have been "one obvious focus", with shoppers consistently opting for them over brands since February 2022. In fact, sales of these lines are reportedly up by 13.2 percent this February, ahead of branded products at 4.6 percent, according to Kantar.
Additionally, the research firm acknowledged that shoppers have had to contend with fruit and vegetable shortages recently. Although they did not investigate this in the survey specifically, they did reveal that 43 percent of all grocery baskets contain at least one fresh produce item, meaning many are likely to be taking not of the purchase limits put in place by retailers. 
However, Kantar researchers reasoned that "pack limits are unlikely to drastically effect consumers as we usually buy fruit and veg in smaller quantities. For instance, only one percent of tomato purchases last year involved more than three packs."
Discount stores do well
Even with Brits "struggling" with grocery price inflation, discount food retail stores Lidl and Aldi have collectively increased their market share by 2.4 percent, according to Kantar.
Taking top spot, Aldi pushed its market share to 9.4 percent this period. Kantar highlights that "it remains the fastest growing grocer", with sales up by 26.7 percent. Meanwhile, Lidl reportedly increased its sales by 25.4 percent, with its share of the market now standing at 7.1 percent.
Iceland also won share, taking 2.4 percent of market sales, and increase from 2.3 percent last year as in store purchases allegedly increased by 10.8 percent.
Meanwhile, Tesco creeped forward in the battle between Britain's biggest retailers, with sales up by 6.6 percent. Sainsbury's and Asda were just behind with sales rising by 6.2 percent and 5.9 percent respectively. Kantar also said that Morrisons' sales decline of 0.9 percent was its "best performance since May 2021".
Independent food stores were also found to be attracting shoppers, with sales up by 1.8 percent, suggesting that though Brits are opting for discount retailers, they are also supporting smaller businesses even in times of economic struggle.
Related organisations
Related regions