70 percent of high street meal deals would count as HFSS, study claims
To mark Salt Awareness Week (14th – 20th March), Action on Salt has presented research showing how high the salt content in meal deals is.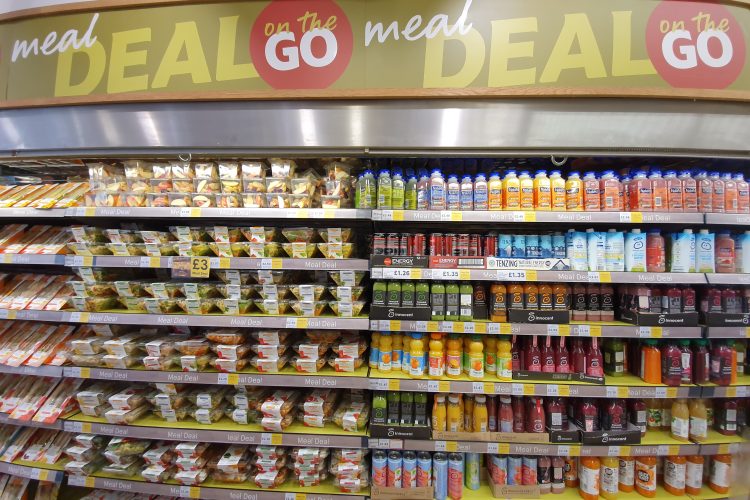 Meal deals are a quick and convenient lunch option, but are they too high in salt?
New research from Action on Salt has revealed a whopping 70 percent of 'meal deals' sold on the high street are high in saturated fat, salt and sugar, with some contributing to a third of an adult's maximum daily recommended salt intake. Action on Salt says one in three people buy a meal deal at least twice a week, and describes these findings as "deeply concerning".
'Meal deals' are sold by many UK supermarkets and usually consist of a sandwich or wrap, drink, and a snack for between £3-5. 
But Action on Salt is asking the Government to enforce stronger measures to improve the nutritional quality of food by introducing mandatory comprehensive salt reduction targets with penalties for those food companies who fail to comply. Furthermore, the group of experts is calling on retailers to only offer healthier snacks as part of all meal deals.
"Reducing salt is the most cost-effective measure for lowering blood pressure and reducing the number of people suffering and dying from strokes, heart disease and life changing disabilities associated with this – all of which is completely avoidable," said Graham MacGregor, Professor of Cardiovascular Medicine at Queen Mary University of London, and Chairman of Action on Salt.
"Given the fact that food companies have the very simple option to reformulate with less salt and help prevent the many thousands of people who currently die unnecessarily, it's remarkable that very few companies choose this option. This is why the Government must enforce its comprehensive salt reduction targets without delay."
The research by Action on Salt looked at eight different stores that sell meal deals, including Tesco, Subway, Boots, Co-op, Sainsbury's, Morrisons, Asda and Shell.
The research found that a third (30 percent) of meal deal snacks exceed their maximum salt target, in particular meat products and biscuits. According to the study, snacks bought in a meal deal in Morrisons are more likely to fail to meet their salt target (46 percent) compared to snacks sold at Sainsbury's (19 percent).
Action on Salt also claimed that each of the eight stores surveyed selling a chicken sandwich, wrap or 'sub' as part of their 'meal deal combo' had more salt in the meal than a McDonald's Big Mac and fries.
The organisation added that despite nearly two thirds (63 percent) of snacks having some form of perceived nutrition or health-based message on the pack or in the product description, 70 percent of them would count as a HFSS food under the new legislation. 
"Without doubt, meal deals are hugely popular especially amongst the nation's workforce looking for a convenient and 'value for money' lunch. Yet unbeknown to many consumers, these meal combos and snacks are often exceedingly high in salt which means an adult can consume their maximum daily recommended salt intake in just one meal without even knowing it," said Sheena Bhageerutty, Assistant Nutritionist at Action on Salt.
"Rather than trying to 'upsell' us on salt, saturated fat and sugar, CEOs of food retailers must act more responsibly by setting strict internal standards including only healthier snack options as part of the 'deal'."