British Nutrition Foundation survey reveals empty shelf concerns
The BNF survey suggests concerns among consumers over empty supermarket shelves this Christmas and highlights a rise in plant-based festive feasts.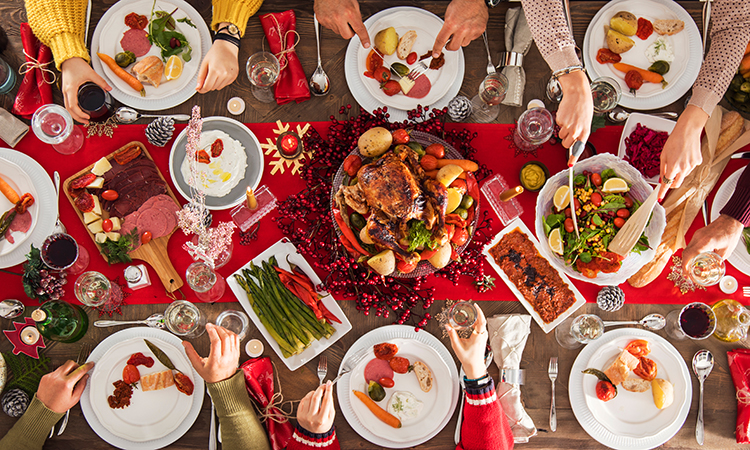 According to the survey, 31 percent of people are planning something different for their Christmas dinner this year
One in six people across Britain are worried about not being able to find all the food they need in supermarkets this Christmas, according to research conducted by YouGov on behalf of the British Nutrition Foundation (BNF). A total of17 percent of British adults stated they are concerned over this, while 18 percent said they're anxious about getting online deliveries.
The survey of 2,002 adults across Britain explores the nation's attitudes to health, wellbeing and food in the run up to Christmas and the New Year, amidst the COVID-19 pandemic.
One too many mince pies? 
When asked about diet and fitness concerns, over half (52 percent) of females across Britain said they are worried about weight gain during the Christmas period, along with over a third (39 percent) of males. Almost half (46 percent) of 18-34-year-olds revealed they are worried about eating too many unhealthy snacks, and 23 percent of the same age group are concerned about eating too many takeaways.
Becoming more active, losing weight and eating more healthily overall are what the majority of people will be prioritising in the New Year when it comes to health and wellbeing (49 percent, 45 percent and 38 percent respectively). The environment was not as high up on the priority list for many adults, with just 21 percent of those aged 18-34 saying that eating more sustainably is a priority in the 2021, compared to 16 percent of respondents overall.
"The COVID-19 pandemic has had a huge impact on many aspects of our lives, especially finances, health and wellbeing, and many people cited concerns about their weight, diet and activity over the Christmas period," said  Sara Stanner, the BNF's Science Director.
"However, it's heartening to see many positive priorities for the New Year, with getting more active coming out on top. Different aspects of healthy eating are also high on people's list of priorities, including eating well to support immunity."
Increasing fruit and veg consumption 
COVID-19 has also, according to the research, inspired more adults to think about their fruit and vegetable consumption. As many as 31 percent of the Brits surveyed cited this as a priority for the New Year.  Alongside this, 26 percent said they wanted to eat more foods to keep their immune system healthy.
Stanner commented: "We've seen a lot of misleading information about nutrition and immunity this year – there's no magic bullet in the diet that can prevent us from getting COVID-19. But there are many nutrients that support our immune system to work normally, and a healthy diet, alongside vitamin D supplements in the winter months, can provide us with all the vitamins and minerals we need for good health."
Plant-based Christmas dinners on the rise 
The survey also looked at what people are considering preparing for their Christmas meals this year. While over half (54 percent) of respondents are not planning anything different to previous years, 31 percent are planning alternatives, including opting for different meats or plant-based meals.
Respondents were also asked if they might need to prepare alternative options for family and friends for the Christmas meal. One in five (20 percent) said they will need to offer a vegetarian option, while nine percent said they will require a vegan option.
Stanner added: "We are aware of the growing popularity of plant-based diets due to environmental and health concerns and it's interesting to see that, while more than half of those surveyed are sticking to their traditional Christmas dinner, a significant proportion of people are planning something different."