Study demonstrates functional skin benefits of almonds
In a first of its kind study, researchers in the US have demonstrated the significant skin anti-ageing benefits of regular almond consumption.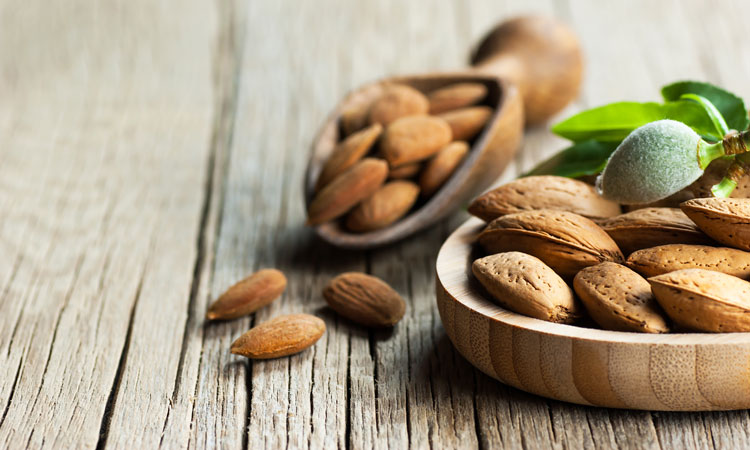 Almonds are continuing to enjoy their collective moment in the sunshine, featuring heavily in both the popular low-carb, clean label and vegan diets. However, their arsenal of nutritional and taste benefits has just been augmented after new research reveals potential skin anti-ageing properties too.
A study conducted at the University of California-Davis (USA) analysed the skin of postmenopausal women using high-resolution imaging; they found a reduced measure of wrinkle width and severity in those postmenopausal women who consumed almonds as a daily snack.
Almonds' nutritional resume
These findings add a welcome facet to the nut's already extensive health profile; given that they are known to contain energising protein, fibre and healthy fats. They are also high in B vitamins (riboflavin and niacin) and zinc, which contribute to the maintenance of healthy skin, and are rich in vitamin E – an antioxidant nutrient that may help neutralise damaging free radicals in the body and is often used in skin health products.
Lu Ann Williams, Director of Innovation at Innova Market Insights, comments: "This research is really interesting in light of established health food trends. There has already been a surge in new almond product introductions in response to increased consumer demand for healthy, clean-label and plant-based foods, but this study plays into an ever developing trend towards functional nutrition. With snacking now a part of daily life, it's a central focus for innovation and almonds can help manufacturers respond to consumers looking for definitive benefits, including beauty benefits, from their snacks and food."
Study details
The new pilot study1 found that a daily snack of almonds in place of other nut-free snacks improved measures of wrinkle width and severity in postmenopausal women. The study was funded by the Almond Board of California and is the first of its kind to examine almonds' effects on skin health. A larger and longer-term follow-up study is underway. In this 16-week randomised controlled trial, 28 healthy postmenopausal women with Fitzpatrick skin type 1 or 2 (characterised by increased tendency to burn with sun exposure) were randomly assigned to one of two groups. In the intervention group, women ate almonds as a snack, which accounted for 20 percent of their total daily calorie intake, or 340 calories per day on average (approximately two 30-gram servings). The control group ate a nut-free snack that also accounted for 20 percent of calories: a cereal bar, granola bar or pretzels. Aside from these snacks, study participants ate their regular diets and did not eat any nuts or nut-containing products.
Skin assessments were made at the start of the study, and again at four weeks, eight weeks, 12 weeks and 16 weeks. At each visit, facial wrinkles were assessed using high-resolution facial imaging and validated 3D facial modelling and measurement. "These high-resolution cameras allow for 3D reconstruction of any wrinkles so that they can be mapped for their key characteristics of width and severity. The severity score is a calculation of the depth and length of a wrinkle," explains Raja Sivamani, MD MS AP, integrative dermatologist and lead researcher on the study.
By the end of the study at 16 weeks, photographic image analysis showed statistically significant improvements for participants in the almond snack group compared to the control group (P<0.02):
Wrinkle width decreased by 10 percent

Wrinkle severity decreased by 9 percent
"Food as a means of promoting skin health – the 'health from the inside out' idea – is of growing interest to those looking for options for healthy ageing," says Dr Sivamani. "It's also a growing area of scientific research. Almonds are a rich source of the antioxidant vitamin E and deliver essential fatty acids and polyphenols. They're a smart choice for overall good nutrition. And, as seen in this study, almonds may hold promise as a food to include as part of a healthy aging diet, especially for post-menopausal women."
Reference
Foolad N, Vaughn AR, Rybak I, Burney WA, Chodur GM, Newman JW, Steinberg FM, Sivamani RK. Prospective randomized controlled pilot study on the effects of almond consumption on skin lipids and wrinkles. Phytotherapy Research. 2019;1–6. https://doi.org/10.1002/ptr.6495