The American restaurants are coming: but who does this benefit?
Over the last few years, numerous US food chains have set up shop across the UK, but what could this mean for the already struggling hospitality industry? New Food's Grace Galler investigates.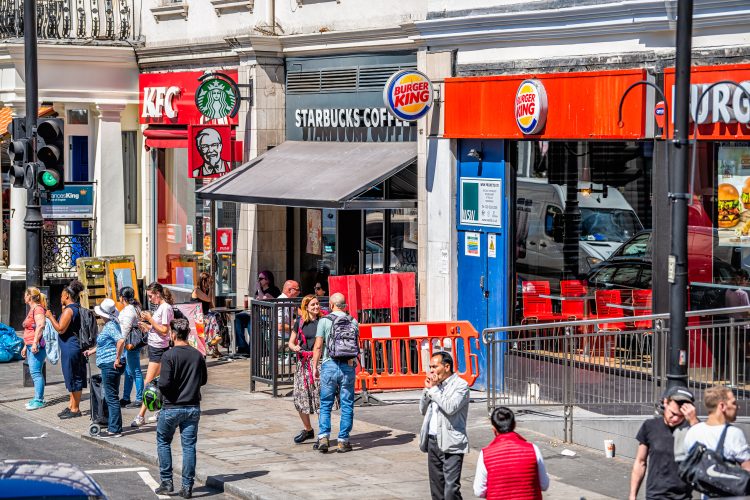 If you take a walk down most British highstreets, you are now likely to come across big name US food chains that weren't there just a few years ago. It isn't a mirage, it's a sign the fast-food industry is adapting. But with Brits forecasted to have 4.3 percent less disposable income in the 2022/23 fiscal year, is now the right time for US food chains to set up shop?
Although fast food giant McDonald's was first established in California in the US, it now has over 40,000 restaurants globally and more than 1,270 of those are in the UK.
However, McDonald's isn't the only US food chain now available in the UK, in fact, many other chains have opened in recent years. These include (but are not limited to) the likes of Wendy's, DUNKIN, Popeyes, Taco Bell, Wingstop and Shake Shack.
Spotlight on DUNKIN'
Founded in 1948 in Massachusetts under the name Open Kettle, DUNKIN' Donuts first branched out to the UK in 1965 however The Economist reportedly labelled this attempt a "flop".
DUNKIN' returned to the UK in 2013 opening a store in Harrow, London. Since then, the chain has opened a total of 26 stores in the UK spanning across 16 cities, giving Brits a taste of the American coffee shop experience.
When asked how the British public have responded to various DUNKIN' stores opening across the UK, Alan O'Brien, International Field Marketing Manager at Inspire Brands, told New Food: "It's been great overall, lots of positive feedback from customers who visit our stores, and excitement around our new store openings with a swell of anticipation around where DUNKIN' will open next in the UK."
However, according to O'Brien, DUNKIN' had to make a few changes to its recipes to meet UK nutritional guidelines. He said: "We had to change to be compliant to local standards, especially around GMO and food contact in packaging."
"There are local differences to make sure we're selling products to the highest standard and that meet with local tastes and needs."
With this in mind, some consumers may wonder whether they are getting the same "beverage and donut experience", as O'Brien put it, as American customers if recipes have been changed.
O'Brien told New Food that, so far, "UK customers are loving the DUNKIN' brand" as, in his opinion, US brands "offer customers a different, unique experience" to those offered by British eateries.
DUNKIN' branches have been popping up all over the UK since 2013 but the company allegedly has plans to open additional branches in the future. O'Brien disclosed: "The plan over the next 3-5 years is to expand the DUNKIN' footprint extensively". However, this could mean that UK coffee shops, whether they are chains or independent businesses, will have to compete in an already popular market.
Are US food chains stealing the limelight?
It isn't just US coffee shops that establishing a British clientele, fast food chains are also proving popular amongst Brits.
Hamburger chain Wendy's has now found a home in nine UK locations including Reading, Stratford, Oxford, Croydon, Brighton, Ilford, Camden, Romford and Maidstone.
What's more, Popeyes Louisiana Kitchen (Popeyes) now has branches in 13 UK locations and, according to its website, has eight more restaurants "coming soon".
One of these locations is in Nottingham, England, a city that is already home to many fast-food chains including Annie's Burger Shack, an eatery that brands itself as an "authentic burger restaurant".
Speaking to New Food about the US competition that now exists in Nottingham, Anmarie Spaziano, owner of Annie's, said: "I think Fast Food chains have always been synonymously linked with American style" but noted that "it's interesting how Southern Fried Chicken has come into popularity similar to the burger rise 15 years ago".
However, even with new US competitors close by, Spaziano said: "I think all restaurants would benefit with people visiting", regardless of their origin.
"I never had anything against fast food. I think [US chains} have made a space within British Culture."
What's in it for US companies?
With a population of over 338 million in the US, some may wonder why US food chains want to branch out and conquer the UK food market too.
A Statista survey highlighted the most popular dining brands in the UK in the first quarter of 2022, revealing that, although British company Greggs took top spot with 74 percent of those surveyed having a positive opinion of the brand, seven of the 10 most popular brands were of US origin.
The survey claimed that Brits' favourite dining brands included the likes of KFC (58 percent), Pizza Hut (58 percent), Subway (57 percent), McDonald's (54 percent), Domino's Pizza (52 percent), Burger King (51 percent) and Pizza Hut Delivery (51 percent).
Thus, with so many Brits reportedly loving American food brands, even more US companies could be inspired to take the leap and set up shop in the UK.
What's more, social media may help to drive UK consumers into an American cuisine frenzy with the aid of online marketing and influencer advertisements causing a stir and helping to make these restaurants 'trendy'.
Google Trends statistics have revealed that between 13 and 19 November 2022, the search term "Popeyes" reached a value of 100, meaning the search term reached peak popularity. 
What's more, following numerous stores opening across the Britain, a UK TikTok user with 13.9 million followers uploaded a video trying the entire Popeyes menu. The video currently has 505.7k views and over 57k likes, promoting (perhaps inadvertently) the US fast food chain and generating over 300 comments-worth of interest.
Is the timing right?
New Food previously reported on how the cost-of-living crisis is affecting the food industry following a survey revealing that a third of UK hospitality businesses could go bust by 2023.
With restaurants reportedly having a difficult time achieving enough footfall to keep businesses afloat, US chains may have to carefully consider the impacts of the cost-of-living crisis on British consumers when opening up even more US eateries in the future.
Even with reported "steady growth" for the quick service food industry over the last decade, Statista has noted that in 2021 the market size of the fast food and takeaway industry in the UK decreased to £18.9 billion as a result of the COVID-19 pandemic. What's more, in 2020, Statista claimed that 2,067 UK restaurants were forced to close as a result of lockdown.
Though the time may be right for US food chains to open in the UK due to consumer demand, it could negatively impact local food brands as well as divert Brits from spending their money on more nutritious options due to the cheap and convenient nature of fast food. Keep an eye on your high street.