How to stay competitive in the meal kit market
HelloFresh Head Chef Andre Dupin reveals how one of the meal kit sector's leading brands stays ahead in a very competitive market.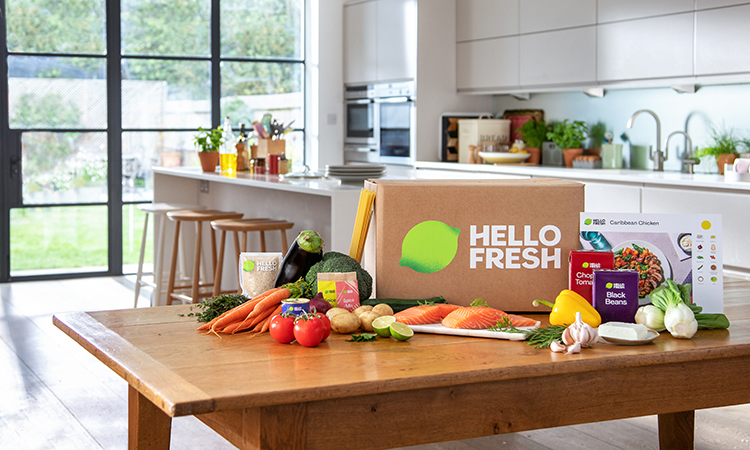 The COVID-19 pandemic has changed the way many of us lead our daily lives, including the way we eat. Queues for the supermarket became commonplace and demand for grocery delivery services soared as lockdowns swept the globe.
One sector of the food industry which has arguably benefitted from the change in circumstance is the meal kit business, which has seen demand sky-rocket over the past 18 months.
New Food spoke to HelloFresh Head Chef, Andre Dupin, to ask how one of the sector's leading names has kept up with the increased demand and distinguished itself in what is becoming a very competitive marketplace.
Q: How did HelloFresh get to where it is today?
Andre Dupin (AD): HelloFresh is a meal-kit company that was founded in November 2011 in Berlin, Germany. We began delivering meal kits in 2012 and quickly expanded to the UK, US, Netherlands, France and Australia. Today, HelloFresh is the global meal kit category leader, operating in 14 markets worldwide, and in the first quarter of 2021 alone, we served a record 7.3 million customers.
Most recently, we launched Green Chef, our specialty diet brand, in the UK – one of HelloFresh's most mature international markets – after acquiring the US-founded company in 2018. HelloFresh is changing the way people eat with healthy and convenient meals at great value.
Q: It seems that meal kits have found a new lease of life in lockdown, was this trend accelerated or just a consequence?
AD: The global pandemic accelerated certain trends that were underway pre-pandemic and transformed the way we think about meals. Even before the pandemic, the way consumers shop for food has been changing. Meal kits and other delivery options play a larger role than ever before in solving the 'what's for dinner?' equation. This was always anticipated, but the pandemic accelerated the shift to e-commerce, condensing years of adoption into months. Even in a post-pandemic environment, we expect the demand for fresh food at home is here to stay.
Q: How do you distinguish yourself?
AD: The world was first introduced to meal kits over a decade ago, and as an early player, HelloFresh has spent the past 10 years perfecting the model. HelloFresh is a leader in the meal kit category because it excels where others have failed. We will continue to lead by investing in long-term growth via technology, service, new product offerings and infrastructure to better serve our new and existing customers and change the way people eat around the world. As a global company, we can leverage the learnings and best practices across our 14 markets globally, which is unique in the meal kit sector and a competitive advantage for HelloFresh.
Q: What's HelloFresh's USP and how do you make sure your message stands out?
AD: HelloFresh will continue to thrive by delivering quality, taste and a variety of meals to its customers. For example, our Green Chef brand provides customers in the UK and the US with vegan, keto, paleo and other diet specific options; EveryPlate and Chefs Plate are our value offerings for meal kits at a lower price point, available in the US, Australia and Canada; and Factor provides fully prepared meals, reaching a different customer segment looking for ready-to-eat options that fit into their lifestyle. Today we offer our customers in the UK up to 36 meals to choose from every week.
Our global footprint provides us with the unique advantage to apply key learnings from each of our 14 markets and enhance the meal kit experience for our customers. We believe this is a key differentiator between HelloFresh and the rest of the meal kit market. We also see our proprietary data-driven technology platform as a competitive advantage, providing a more personalised customer experience. At the same time, we are positively impacting the environment as we have fundamentally changed how the food supply chain works, with an outcome of lower food waste and reduced packaging through the value chain. That is a key differentiator that sets HelloFresh apart from the pack.
Q: How do you stay ahead of the curve and keep up with new trends?
AD: The culinary team at HelloFresh in the UK stays ahead of food trends by using various sources of industry data and insights. We also undertake regular food excursions (Covid permitting) to restaurants and supermarkets, and hold innovation sessions for concept and product development to immerse ourselves into the world of food. Our wide network of suppliers is also a great source of innovation for us – they understand our product and logistical requirements and are quick to share knowledge of their own ingredients to support our innovative approach to meal and recipe creation.
Moreover, we include customers in our recipe creation and menu selection. By gathering feedback on our recipes on a weekly basis, our customers always help us to identify food trends and demand. In the last year we have seen that customers want a more relaxed eating experience and one that allows them to explore food from around the world. Based on this data our 'Streetfood' range of recipes were born and are now a constant feature on our menu. Cuisines range from Tex Mex and Americana to Korean and Japanese influenced dishes.
Q: Have there been any particular challenges you've recently overcome, and if so, how did you overcome them?
AD: One of the biggest challenges for us has been to consistently evolve and develop our product while satisfying an increased demand. We relish a challenge and have seen the last year as a massive opportunity to hone and refine our product offerings to meet new customer demands. With more customers working and spending more time at home we have ventured into new meal time opportunities like lunch and brunch, while also offering meal kits that replace a restaurant or celebratory occasion. This includes our premium two course recipes with a main dish and dessert. The challenge, as always, is to develop the highest quality product in a very fast paced and rapidly changing landscape.
Q: What's next for HelloFresh?
AD: New meal time occasions are the next big thing for HelloFresh UK – lunch options will be available from the end of May and the HelloFresh summer menus will be full of exciting al fresco meals and accompaniments, like our Honey Baked Oregano and Chilli Feta with Garlicky Flatbread Fingers, or our Roasted Tomato Bruschetta. As the nights draw in, our customers can expect easy roasts, winter warmers and then our ever popular Christmas box. Convenience is a big area of focus for us and you will see our product evolve to make cooking delicious meals even easier and achievable!
Most recently, we opened a new distribution centre in Nuneaton, Warwickshire. The 230,384ft2 facility is our second and largest distribution centre in the UK and will support growing demand for meal kits; enable HelloFresh to bring to market new menu features, meal options and offer more recipe selections; strengthen our capabilities to better serve new and existing customers; and provide more than 800 new jobs for the Nuneaton community.
Biography 

Head of Culinary at HelloFresh UK, Andre Dupin has been with HelloFresh since 2016. With more than twenty years' experience in the food industry, Andre has worked at a series of accredited high-end London restaurants and later transferred his culinary expertise to teaching and recipe / product development.