Holy Cow: turning cattle hides into beef snacks
Javon Bangs, Co-founder of Holy Snacks, explains how his business is reducing waste within the beef sector by repurposing cow hides into a nutritious snack.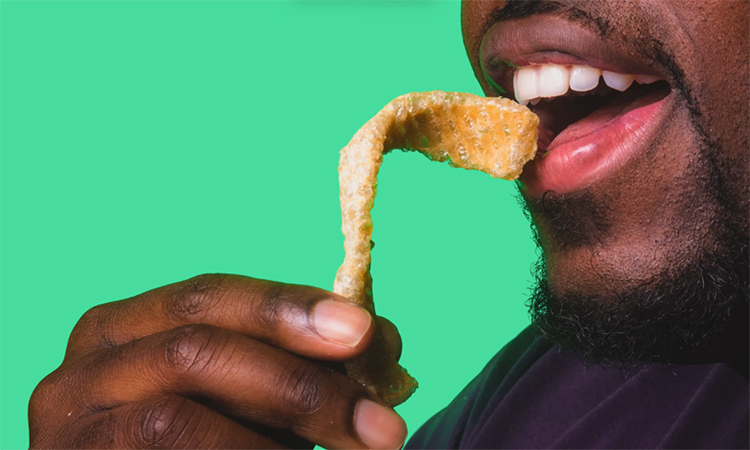 Holy Cow's snack makes use of cow hides which might otherwise be thrown away
Beef remains one of the most popular meats in the world, especially in the US. Every year millions of cattle are slaughtered, with the majority of the animal utilised in some shape or form. The prime cuts may make their way to a steak restaurant and bones can be used as fertiliser – even keratin can be extracted from the hooves and used in fire extinguisher foam. But cow hides appear to have seen a decline in usage.
Going against the tide, Holy Cow is using this by-product to create a nutritious snack, which co-founder Javon Bangs believes will not only reduce waste, but has the potential to help many smaller, independent farms in the US maximise their returns.
Indonesian inspiration
Founded in 2021 by two childhood friends, Holy Cow takes inspiration from Indonesian cuisine, where beef rinds are commonly eaten as a snack.
Bangs explained that before his business partner came across beef rinds during his visit to Indonesia, he'd "never heard of such a thing" and it piqued his interest.
"I started asking my local farmers here in Washington State what they do with the cow skins after slaughter," said Bangs. "Ninety percent of them said they either threw them away or sold them for pennies on the dollar, since there was no longer a market for them."
Cow hide is used to make leather goods, but with US consumers now much less interested in such a material, with cheaper, synthetic alternatives available on the market, hides once destined for the tanners are piling up and are often destroyed.
"There are some hides with no value – farmers end up throwing a natural product in the garbage," confirmed Bangs. "We decided to spearhead this mission by transforming cow hides (or 'beef skin' as we like to call it) into a tasty, nutrient-dense snack. We've established a food category that has yet to be explored in the western world.
"By taking beef skins off farmers' hands, which would otherwise be discarded, we are reducing waste, CO2 emissions, and therefore, pressure on our environment. So far we've upcycled and prevented 50,000 lbs of waste (500 hides) – and we're just getting started."
It is one thing having a product dedicated to reducing food waste, but the supply chain itself must also be sustainable to boast true 'green' credentials. Bangs says Holy Cow has taken that into consideration too. "We source from small farms that are geographically as close to us as possible. This allows us to properly vet them by visiting their facilities, whilst also ensuring that we're reducing pressure on the environment by avoiding long supply chains.
"These farms also meet our strict standards: cows that are grass-fed and finished (meaning the cattle ate nothing but grass and forage), away from pollution sources (major highways, industrial runoff), clean grass and living quarters, and of course— happy cows."
Empowering local businesses
Local farmers are at the heart of Holy Cow's business model; with the brand collaborating predominately with struggling farms.
"Chapter 12 family farm bankruptcies (a special type of bankruptcy law designed for struggling farmers and fishermen) for the 12-month period ending March 2020 saw a 23 percent year on year increase," said Bangs. "These filings have increased for five consecutive years now. Caused by high unemployment, low commodity prices, retaliatory tariffs, natural disasters and simply being beat out by larger, factory farms. COVID-19 will likely push bankruptcies higher.
"The Northwest region of the United States saw the largest year-on-year increase, at 109 percent. Since my co-founder and I are located in the Northwest, we started there; setting out to help cattle farms generate more revenue and gain their economic independence back. Through public records searches we decided to target farms that have filed for bankruptcy recently as our first candidates."
Health and quality
Bangs believes the company's beef rind snacks will be popular with health-conscious consumers too, on account of its low carbohydrate content. He revealed that the beef skin snack pack contains 8g of protein, 7g of collagen and is only 80 calories.
"This largely appeals to the Keto/Paleo community and anyone just looking for a tasty snack that's low-carb, energy sustaining and isn't ultra-processed," Bangs said.
"Also, we're striving to include four ingredients or less for each flavour combination. We believe it's important to keep ingredients as simple as possible and not have anything in there that isn't absolutely needed."
The biggest challenge facing Holy Cow has been ensuring the quality of its product with respect to scaling, according to Bangs. "As we're bringing in more and more product it's been challenging to ensure we keep consistent quality.
"We're so stringent about quality control because the two of us are extremely health conscious, we don't eat food that isn't organic, clean and well sourced. We do a lot of research because we want to give our customers the level of quality that would make us happy, because there isn't a class of consumers that are pickier than us," said Bangs.
"We are overcoming this by hand picking as many farms around our geographical location as possible that meet our strict standards and who are able to supply the amount of hides we need to meet demand. From farm to bag, we keep a close eye on each and every skin that comes through our facility and have standardised our process to ensure each rind we produce is going to give the customer the best snacking experience possible."
Biography

Born and raised in rural Washington State, Javon Bangs worked on several small farms growing up and built a strong relationship within this community. After graduating with a degree in accounting and subsequently accepting a position in the industry, he co-founded Holy Snacks with a childhood friend.