Tweakd: Bringing elite sports nutrition to your dining table
After spending many years as a chef to some of the world's top sports stars, Omar Meziane has partnered up with Michael Naylor, the Head of Nutrition at the English Institute for Sport to try and prove that frozen food can be healthy and tasty.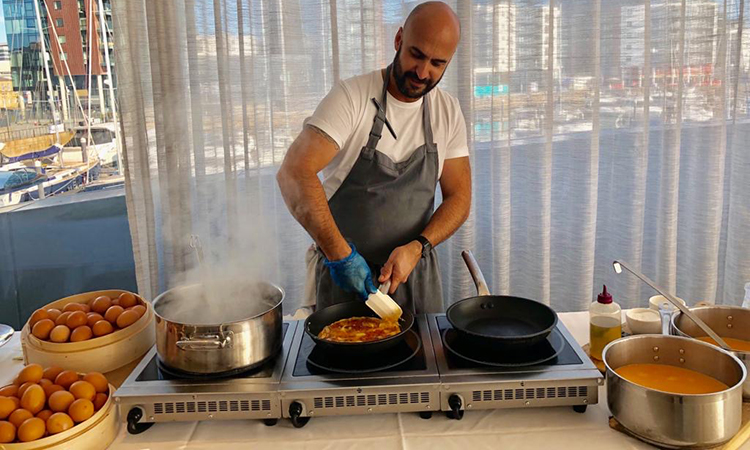 Omar Meziane has cooked for the some of the best athletes on the planet
The prepared meals market is nothing new. In fact, meal kit and prepared meal companies have seen a rise in demand as a result of the COVID-19 pandemic. Some would say this is a competitive market to enter, yet that's exactly what Michael Naylor and Omar Meziane have their eyes set on.
Their new venture, Tweakd, is a frozen prepared meal service. Its USP: years of combined experience delivering food and nutritional advice to the world's top athletes.
Meziane is one of the world's most celebrated sports chefs – he has cooked for England's football and cricket teams, as well as London Wasps Rugby Club. This is where he met co-founder Naylor, who has held a long and distinguished career as the Head of Nutrition at the English Institute for Sport.
"My background was in restaurants and hotels for the first 10 years of my career," said Omar, "but I came to the conclusion that it wasn't right for me and made the leap into sport.
"I was fortunate enough to go and work for London Wasps at their old training ground in Acton, and after being there for a couple of weeks, the wonderful Michael Naylor turned up as our performance nutritionist and we hit it off from day one. He was the first person within the sport to give me free rein to cook the food that I loved."
Tweakd is a partnership that relies on each individual's skillset – or as Omar puts it: "Mike does all the science stuff and then relays that science to me, and I turn that into really delicious food."
Eating like a rugby player
At the core of the business is the principle of top-level sports nutrition. If it's good enough for England's rugby union players, then why not its bus drivers and bankers? "One of the first things that we want to do is convey the idea that healthy food can actually taste incredible," said Naylor.
"When we look at our own performance, the number of days that people miss work due to sickness is the same as elite athletes. There's a lot of research into the number of training sessions athletes miss during the year. The more they miss, the less likely they're going to be successful when they come to major competitions.
"It's the same when we started working in the corporate world. A lot of people can't afford to get ill, the coughs and colds, the days that they miss off work, and all the days they feel like they can't optimise at their peak. So even though they might not be elite athletes running around the rugby pitch, we still hope that a lot of people aim to be elite in whatever role of work they do.
One of the first things that we want to do is convey the idea that healthy food can actually taste incredible.
"Food can contribute towards that, so helping people to use food to help support their basic health and immune function is just an example of how we can transfer that expertise across."
Naylor expanded further into the kind of technical knowledge that has gone into some of Tweakd's meals: "We know that many people don't eat enough fruit and vegetables in their diet. Even by just incorporating more of this vitamin- and mineral-dense food into our diets we can make a difference. That's why we've created our juices (each Tweakd meal kit comes with a prepared juice too) to go alongside the food and help people easily increase their fruit and veg."
Launching with a vegan range
Interestingly, the duo decided to launch Tweakd with a vegan range and told New Food that taste was of paramount importance – its alternative version had to be just as good as their meat-based one.
"We knew if we were going to do this, we had to find the best tasting vegan food – something that could really stand up," Meziane said.  
"One of our dishes is a vegan chicken, nut-free satay, and I kid you not, it's my favourite thing in the world to eat now! The work that's gone into that dish is phenomenal, and I know that as a chef, it stands up against any chicken satay out there.
"Some evidence suggests that mass consumption of meat is not good for the environment; if we can help in any way, shape, or form by making our business a really sustainable, environmentally friendly model, then that's absolutely what we want to do."
Naylor revealed that the trickiest part of developing the vegan range was making sure there was sufficient protein in the dishes. "We have focused where people struggle, and a lot of the time that is their protein intake. Getting the right protein is possible, but it's hard work."
He revealed some initial concerns he had had around delivering against their nutritional content targets, adding that it has been "an absolute delight" to succeed in this area. "I thought we were going really struggle," he admitted, "so to actually hit these aims and create something tasty was a fantastic achievement."
Perhaps some years ago it may have been unusual to begin a business venture with a vegan range, but it is evident that this booming trend has longevity. In fact, according to Naylor, many of the world's top athletes are moving towards a vegan lifestyle.
"One of the female world cup winners from the women's 2014 Rugby World Cup is vegan and remains one of the best players in the world. So you can perform at the absolute top being a vegan.
"It takes more attention to your nutrition and meal prep takes more time, but hopefully this is a product that can actually help make that easier."
Changing the narrative on frozen food 
With some of the most popular names in the market basing their business around fresh produce, the pair's decision to enter this category could be considered unusual. Yet Meziane is confident that his food will taste just as good frozen as fresh, and is hoping that Tweakd can break the unhealthy label that sometimes hangs around the neck of frozen food.
We want to revolutionise the idea of frozen food in its entirety by using science.
"Because it's frozen so quickly, it tastes as fresh as if I had just cooked it for you. So essentially, I suppose the overall idea behind freezing is that we want people to be able to eat my food as if I am there in your kitchen at home, cooking it for you," Meziane said.
"I would get in the way at home, I would make all sorts of mess, and there would be an awful lot of washing up," he added jokily.
While Meziane did not dispute the negative connotations that surround some pre-prepared frozen foods, he did explain some of the technology that makes Tweakd a bit different.
"Normally, if you were to cook a piece of frozen fish at home, allow it to cool and then freeze it, it takes a very long time. Then what happens is the water molecules within the flesh of the fish crystallise and freeze within it, and so as it defrosts it becomes waterlogged, tough and stringy.
"Because our process is done under pressure and incredibly quickly, it allows us to avoid all the downfalls that come with the traditional freezing process. This is why we make bold claims that we want to transform this marketplace; we want to revolutionise the idea of frozen food in its entirety by using science, by using technology to be able to deliver food that will blow everyone's minds."
The duo appreciates the hurdles of shifting mindsets but are confident in their product and their approach.
"The fact that our food is arguably better than most fresh food out there, we find ourselves wanting to make positive change," he said boldly. 
Of course, there are plenty of food manufacturers that employ nutritionists to advise them when developing a product, but this pair are hoping that their unique careers will be enough to draw in customers in.
"We know that an average person will eat around 3,500 times a year – every time you eat is an opportunity to change the biochemistry in your body," said Naylor. "Sometimes that's happens in a very subtle way and sometimes it's more significant. So, if you're looking at every one of those feeds as an opportunity to help better yourself in some way, then hopefully we can provide the ingredients to do that."
"We want to create change – in people and their attitude to the way they eat, we want to enhance their lifestyles," Meziane said.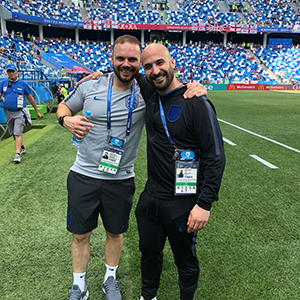 Biographies
Omar Meziane has 12 years of experience working with some of the UK's most elite from the England Football Team, England Cricket Team, England Rugby Team, Harlequins RFC, Wasps RFC as well as the Head Chef for multi-national hotel chains and event caterers. During Omar's career he has built a reputation as one of the world's most respected elite performance chefs.
Michael Naylor has been providing performance nutrition support to England Rugby for nine years, including working with the 2014 women's world cup winning team and the senior men's team that reached the final in Japan 2019. Michael has also an extensive experience in football, working with Southampton FC for over six seasons. He now works with the England Football Team and was part of the support team that travelled to the 2018 World Cup. He is currently Head of Performance Nutrition at English Institute of Sport.