Why has vegan protein become so popular and is it here to stay?
The Protein Works has long been offering vegan proteins, here, Laura Keir, CMO, looks at the drivers behind its recent surge in popularity.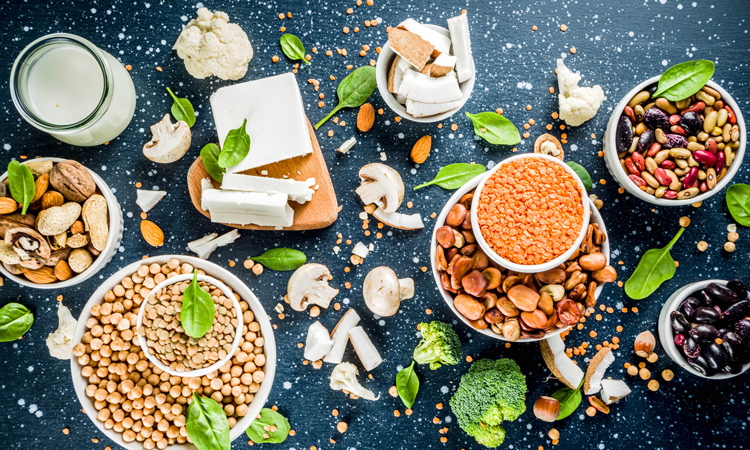 The Protein Works CMO Laura Keir is confident that vegan proteins are here to stay
Since the arrival of the word 'Covid' in our everyday vocabulary, our daily routines have seen a seismic shift. 
One of the only consistencies between 2019 and 2020 is the rise of veganism, with plant-based diets seeing a continued rise in popularity.
A survey carried out by finder.com found that over two percent of the UK population are currently vegan – a statistic that is expected to double over the coming months.
While 87 percent stated that they have 'no specific diet plan', the survey predicts that this number will see a 11 percent decline over the same time period.  
In short, people are more focused than ever on what they're eating.
The 'you are what you eat' trend
There are several potential drivers behind this movement, many of which are specifically aligned with the pandemic and our reliance on social media for information.
When the UK went into lockdown in March, screen time rose by more than a third; many people stuck were inside with only their phones for company.
Image and health are also becoming more important to the public. The Mental Health Foundation discovered that one in five UK adults "felt shame" because of their body image last year. Moreover, half of the UK population believes they have put weight on since lockdown was announced.1
The result is an increase in the number of people looking at ways to stay healthy via social media. Two of the most popular searched phrases during lockdown were 'home workouts' and 'recipes' on Google. While some people retreating to their sofas during the first wave, others went to their workout mats as gyms across the country shut their doors. It was a rather divided reaction from the nation.
The rise of veganism
With its perceived health benefits, veganism, which was already seeing a rise due to sustainability concerns, has become ever-more popular.  
Seeing the rise in demand for such products, and with the pressure mounting on industries to become more eco-friendly, many brands have started to offer plant-based alternatives.
The Protein Works has picked up on this trend and tried to cater for the needs of an increasing vegan market. We started with shakes, offering alternatives alongside our traditional whey-based products. Reviews were positive, with customers saying they enjoyed the taste and found them to be just as effective as whey shakes. When the demand started to surge, we were poised to meet it.
The range now focuses on two core areas, shakes and food. This includes nutritionally 'complete' food in powder form, which can be transformed into one (or more) plant-based meals a day. And there's also snacks – both cold pressed and baked.
Cold pressed plant-based snacks like our Superfood Bites are targeted at the wholefoods market and are flavoursome, nutrient-dense snacks. These have been designed to give consumers a natural boost of energy, protein and fibre with no hidden nasties. There are made in the UK, using nuts, fruits and seeds, and are sweetened with pure date paste and supercharged with premium superfood ingredients. Each 'bite' (one snack) contains as little as 0.6g of saturated fat and 3.9g of carbs.
On the baked side of the range we offer the Ridiculous Vegan Protein Bar, which is fully plant-based and purposefully palm oil free. It's also low in sugar, high in protein and high in fibre.
Flying the plant-based flag
We're excited to see a mainstream market lean into plant-based nutrition and foods in the way they are. The stigma of 'veganism' is definitely a thing of the past; we see it as our mission to ensure that going plant-based (be that fully or flexible) doesn't mean you have to compromise on taste.
We think it's important to work with some of the best flavour creators in the world, because if vegan proteins, vegan snacks and vegan protein bars can taste incredible, then we're more likely as consumers to keep on choosing them. The more we choose them, the more we impact the journey from 'field to fork' – lessening negative effects on the environment and increasing the health of our population at the same time.
According to Mike Berners-Lee (the English English researcher and writer on carbon footprinting), humans need around 2,350 kcal per day to power our bodies. However, research shows that we actually eat about 180 kcal more than that. What's more, we manufacture 5,940 kcals per person globally, per day. That's almost 2.5 times what we need!
So why does anyone go hungry? The answer lies in the journey from 'field to fork'; 1,320 kcal are lost or wasted. While 810 kals go to biofuels and 1,740 are fed to animals. It's just one of the reasons switching to a plant-based diet can help reduce the waste in energy and food that we're seeing in global manufacturing. For us, creating great, plant-based products, that taste incredible is a people and planet win-win that'll we'll continue to innovate for.
The rise of veganism was here pre-Covid and, in our opinion, is here to stay. It's good for us individually and, just as importantly, good for our planet.
References
1.  www.ipsos.com/sites/default/files/ct/news/documents/2020-05/kings_charts_28.5.20.pdf
About the author
Laura Keir is the CMO at The Protein Works, with over 15 years' experience in marketing and five years in nutrition, she's spearheading the charge for plant based innovation within what is already a very compelling range.