New $80 million food tech facility opened in Singapore
According to the National University of Singapore, the research facility will deepen knowledge of good macronutrients and micronutrients, food products and ingredients, as well as design eco-friendly 'bio-factories' to produce industrial biochemicals.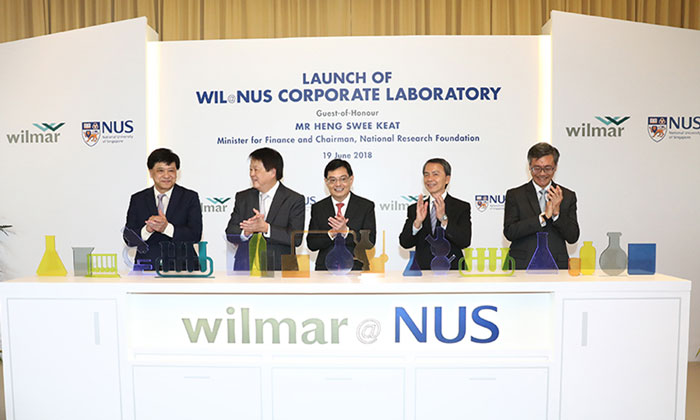 OPEN FOR BUSINESS: The [email protected] Corporate Laboratory was officially launched by Mr Heng Swee Keat, Minister for Finance and Chairman of the National Research Foundation Singapore (centre)
Asia's leading agribusiness group Wilmar International Limited (Wilmar) and the National University of Singapore (NUS) have established a new joint research laboratory to conduct cutting-edge clinical nutrition and synthetic biology research to create healthier food products as well as to devise green production technologies for industrial enzymes and biochemicals.
The new [email protected] Corporate Laboratory was officially launched on June 19 by Heng Swee Keat, Minister for Finance and Chairman of the National Research Foundation Singapore (NRF).
Based at the NUS Yong Loo Lin School of Medicine, the S$110 million (US$80 million) research facility is jointly set up by Wilmar, NUS and NRF.
NUS President Professor Tan Eng Chye said: "This win-win partnership combines NUS' strong expertise in biomedical sciences and translational medicine with Wilmar's rich industry experience and global networks to address two pressing real-world challenges – lifestyle-related diseases and sustainable production of industrial chemicals.
"We look forward to working closely with Wilmar to create and commercialise scientific innovations to improve health outcomes as well as generate societal and economic benefits for Singapore, Asia and beyond."
Wilmar's Chairman and Chief Executive Officer, Mr Kuok Khoon Hong, said: "As a Singapore-headquartered company, Wilmar is very honoured to be able to leverage the world-class clinical research capabilities of NUS in this academic-industry collaboration.
"We hope that this gathering of great minds will result in the development of new technologies that can enhance the quality of our food products and at the same time reduce our carbon footprint. This way, consumers worldwide will benefit."
The [email protected] Corporate Laboratory is helmed by Associate Professor Matthew Chang, Director of the NUS Synthetic Biology for Clinical and Technological Innovation programme, and Dr Rebecca Lian, Distinguished Fellow at Wilmar. Research activities at the 2,000 square metre laboratory will focus on two key thrusts: firstly, to address major public health issues through the development of healthier foods and ingredients; and secondly, to design cost-effective and sustainable methods of producing chemical compounds using natural sources.
Researchers at the [email protected] Corporate Laboratory will study how different combinations of food can alter absorption and metabolism in Asians, and ultimately prevent diseases or promote health and well-being.
For example, researchers will formulate healthier cooking oils that could reduce cholesterol levels in the elderly, and in turn lower the risk of chronic diseases, increase muscle mass and improve taste perception.
In addition, they will develop food products (such as ready-to-eat meals and beverages) that could control weight gain, blood glucose and lipids to help individuals manage diabetes and obesity.
Wilmar is the world's largest manufacturer of oleochemicals, which are used in the production of everyday consumer products.
Currently, plant-based feedstock is utilised for the production of high value oleochemicals that are subsequently used in a number of industry sectors in Singapore and beyond.
Scientists at the [email protected] Corporate Laboratory will capitalise on recent advances in the field of synthetic biology to engineer microbes and enzymes – to function as 'bio-factories' – to produce biochemicals from natural sources in a more sustainable and cost-effective way. These biochemicals can then be used in industries such as food and nutrition, flavours and fragrances, as well as therapeutics.
Over the next five years, the [email protected] Corporate Laboratory expects to train more than 60 researchers and PhD students, who will play a critical role in supporting the growth of the food and nutrition, as well as synthetic biology-related industries in Singapore and Asia.