Pies and pastries in need of a plant-based makeover say consumers
Pies and pastries were deemed most in need of a plant-based overhaul according to respondents to a survey intended to shed light on the boom in plant-based purchases,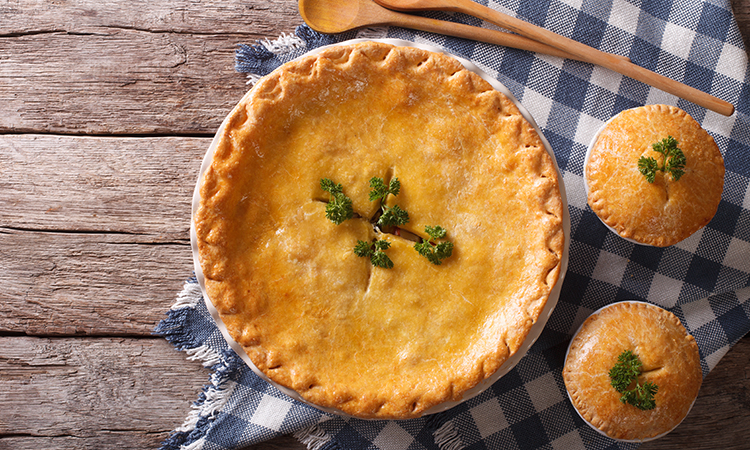 Consumers said they wanted to see pies and pastry products get a veggie makeover the most
With 76 percent of consumers having an interest in plant-based foods1 and the market more than doubling (+243 percent2) following the COVID-19 pandemic, new research has revealed pies and pasties are in the most need of attention when it comes to providing plant-based alternatives.
Independent research from Gold&Green Foods has delved into what consumers think when it comes to ready prepared snacks, pastry products and ready-meals – as well as the vegetarian and vegan options on offer.
The survey revealed that over half (59 percent) want clean ingredients and clear packaging (51 percent) in the foods they buy. Meanwhile, 41 percent said they were looking for planet friendly options and over a third (35 percent) want innovation when it comes to the taste and cuisines available.3
Pies and pastry products were deemed most in need of a veggie makeover (35 percent) by consumers, followed by Italian options including pasta and pizzas  and the takeaway curries.
The results have been unveiled following half a million people taking part in Veganuary 2021.  
"More than one in four people buy ready meals once a month but this could be so much higher as there is a very real demand from tired home-chefs who are looking for exciting food solutions," said Simon Solway, Country Manager, OOH and Retail, Gold&Green Foods.
"When asked why they wouldn't buy more meals, over processed (56 percent), calorific (44 percent) and low in nutrition (35 percent) were the top three answers.
"The reality is consumers are actively reducing their meat intake to better their health (64 percent), do their bit for the planet (48 percent) and support animal welfare. By reflecting these post-Covid values with some plant-based power, manufacturers can very easily give their ready meals real appeal!"
References
Toluna 500 consumers September 2020
Toluna 500 consumers September 2020