Potential appointment of Tom Vilsack divides food and drink industry
The potential appointment of Tom Vilsack to Biden's administration has sparked debate over the ambition of the President-elect's agricultural policy.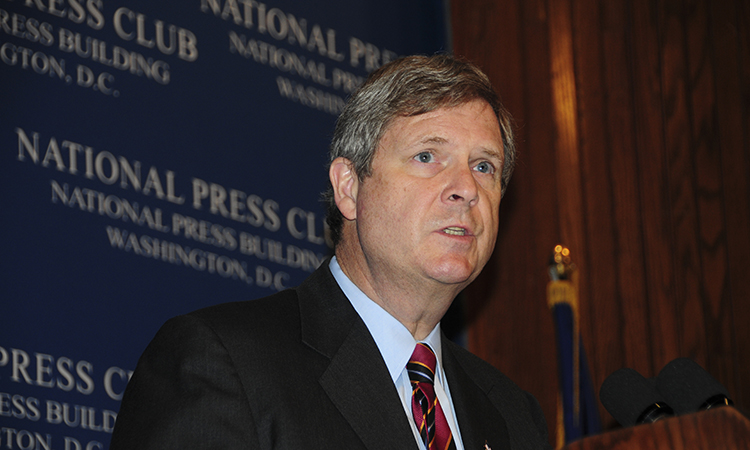 Tom Vilsack was the former Secretary of Agriculture during Barack Obama's presidency.
Former Iowa Governor and Agriculture Secretary Tom Vilsack is leading the race to head up the US Department of Agriculture (USDA) under President-elect Joe Biden's administration, according to Politico. 
Vilsack served as Secretary of Agriculture under President Barack Obama between 2008 and 2016, and is regarded by many in Washington DC as a safe pair of hands right out of Biden's inner-circle. Agriculture is expected to be a crucial sector for Biden's plans to rejuvenate the American economy in the wake of Covid.
The USDA does not just deal with America's farmers and farmworkers, but it also leads on issues such as public health and school nutrition – an area in which Vilsack succeeded in raising standards alongside First Lady Michelle Obama.
However, his reported lead over other candidates for the role has sparked upset among some food and drink NGOs, who see Vilsack as an uninspiring choice. His support of artificial agricultural methods and general openness to big farming corporations has concerned some, with the Food & Water Watch even giving him the moniker of "a friend of Big Ag".
"Tom Vilsack has a long and detailed record on food and agriculture – a record that clearly demonstrates why he would be a very bad pick to lead the USDA. Much like Senator Heitkamp, Vilsack has made a career of catering to the whims of corporate agriculture giants – some of whom he has gone to work for – while failing to fight for struggling family farmers at every turn," said Food & Water Watch Policy Director, Mitch Jones.
"America needs an agriculture secretary that will finally prioritise sustainable family farming and national food security over corporate profits. Tom Vilsack has proven he will not be the agriculture leader we need."
The Center for Food Safety echoed these views. Policy Director Jaydee Hanson, said: "The possible selection of Former Secretary Vilsack for President Biden's Agriculture Secretary is a huge step backwards in our urgent need to support agricultural systems that protect public health, the environment, and mitigate the ongoing climate crisis.
"While serving as Secretary under President Obama, Mr Vilsack supported chemically-dependent industrial agriculture that resulted in millions more pounds of pesticides released into the environment, contaminating our water and soils and harming human health and wildlife.
"CFS has deep concerns about Mr Vilsack's conflict of interest. During his tenure as the Governor of Iowa, Vilsack was twice named 'Governor of the Year' by the biotech industry. Since leaving the USDA, he has represented corporate dairy operations in promoting their exports. Vilsack is not what the USDA and our country needs to help make US agriculture more sustainable and resilient in the time of climate crisis – 'bigger is better' is surely not the answer."
It's not clear who President-elect Biden will pick to head up the USDA, with other candidates, such as the Food & Water Watch-endorsed Marcia Fudge by no means out the race. Yet, if Biden does pick Vilsack, it will continue a trend of steady, orthodox appointments by the former Vice-President. Whether that's what American agriculture needs after an unorthodox Trump administration, or if a more ambitious appointment is necessary is being debated across the country.