Time to wave goodbye to single-use eating utensils
In this article, New Food discusses the upcoming ban on single-use plastic cutlery and how the industry has been making sustainable swaps in the months leading up to October 2023.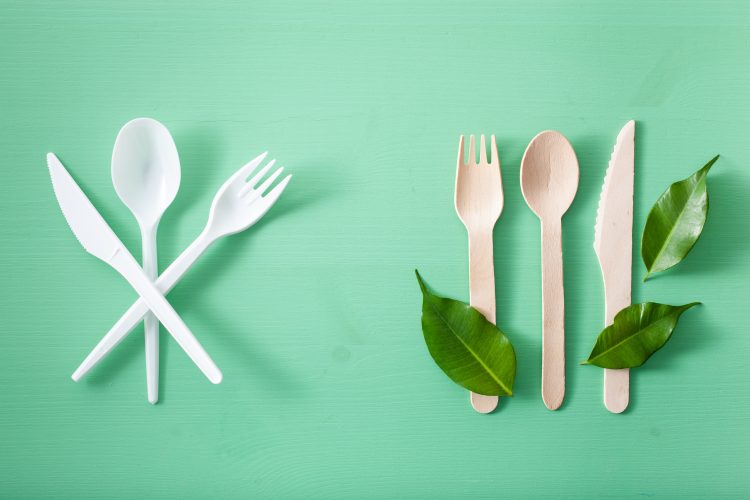 It should already be on your radar that back in May 2023, the UK Government announced that there would be a ban on single-use plastics, including plates, bowls, trays, containers, cutlery and balloon sticks.
Single-use cutlery has been offered with food items for decades, from takeaway market stalls to with supermarket meal deals, Brits have become very familiar with eating with a plastic fork or uploading a picture of their "on-the-go" meal served on a plastic plate to social media.
However, just because it became commonplace, doesn't mean that it wasn't having an impact on the environment. In fact, according to the Food Standards Agency (FSA) the global food industry's reliance on single-use plastics has been having "large negative impacts on the environment" and each year in the UK 2.5 million metric tons of plastic waste is generated.
Time is now ticking down and come 1 October 2023, food businesses will no longer be allowed to supply, sell or offer the aforementioned single-use plastic items in England.
Changing legislation
Hoping to reduce the amount of plastic being wasted as a result of food businesses offering single-use plastic eating utensils, the UK Government informed the industry that the ban it is imposing applies to a variety of circumstances, including:
online and over-the-counter sales and supply
items from new and existing stock
all types of single-use plastic, including biodegradable, compostable and recycled
items wholly or partly made from plastic, including coating or lining.
Taking matters seriously, the UK Government has also made people aware that come the implementation date, local authorities will be carrying out inspections to ensure that rules are being followed. And, should the law be broken, inspectors will be able to order a business to cover the cost of the investigation.
More harm than good
When it comes to single-use plastic eating utensils, while some may argue that they are cheap and convenient, Business Waste has explained that their disposal is "problematic".
"They don't break down and can leach chemicals, adding to pollution if they end up in landfill. Even though most single use plastics are recyclable only 10 percent of single use plastic items are recycled," said Business Waste.
But does this convenient form of cutlery have a quick, green fix? Well, advice from Somerset Council has stated that certain items can be swapped, including opting for wooden or bamboo cutlery for takeaway food, offering metal cutlery instead of plastic for guests eating inside a restaurant and investing in plates and bowls that are reusable.
However, making these adjustments costs businesses time and money, and with many food outlets having gotten used to offering single-use cutlery to create a dining experience that works in this faced-paced world, sustainability must be kept in mind rather than convenience when making these adjustments.
Out with the old and in with the new
While single-use plastic eating utensils are being banned from 1 October in England, there is no legislation to prohibit the offering of wooden cutlery replacements. However, New Food recently reported on a study that had been carried out in China which revealed "green nudges" on takeaway delivery apps prompted the share of no-cutlery orders to increase by 648 percent.
In response to this, Adam Herriott, Senior Specialist at the Waste and Resources Action Programme (WRAP), told New Food: "It's great to see other countries looking at policies to limit single use plastics but the UK is leading the way with the UK Plastics Pact and other counties including India and Europe have the same models. It would be great to see more countries using this blueprint."
Seeing the benefits of utilising "green nudges" to encourage consumers to opt for reusable cutlery, Herriott went on to say that "'green nudges' are one of many useful tools that can be used to help encourage positive behaviour change.
"WRAP supports food delivery platforms in reducing their customers environmental footprint and minimising the resources they use," continued Herriott.
More recently, New Food reported that discount supermarket Aldi would no longer be offering single-use wooden cutlery with its "Food To Go" range. While there is no legislation opposing food businesses offering wooden cutlery, Luke Emery, Plastics and Packaging Director at Aldi, said: "At Aldi, we are constantly reviewing ways to become more environmentally friendly, and this is another positive change to help us make a difference.
"This will result in a significant reduction in single use materials and help customers to make more environmentally friendly choices," continued Emery.
Meanwhile, WRAP's Herriott noted that the charity is "not calling for a blanket ban on all single use eating utensils/cutlery as we understand there may be occasions where they might be necessary". He did however tell New Food that WRAP believes that it customers that "should be encouraged to use reusable alternatives and cutlery from home where appropriate".
One step away from single-use plastic, one giant leap for sustainability
The impending ban on single-use plastic cutlery in the UK marks a significant step toward a more sustainable and environmentally responsible future.
With October 2023 right around the corner, the food industry is undoubtedly undergoing a transformation, moving away from the convenience of disposable plastics in favour of more eco-friendly alternatives.
However, this transition is not only driven by regulatory changes but also by a growing awareness of the impact of single-use plastics on the environment.
While some could argue that single-use plastic is convenient, it's important to recognise that the disposal of these items poses significant challenges, with most of them ending up in landfills and contributing to pollution. The shift towards other options, such as wooden or bamboo cutlery, is not without its challenges for businesses, but it reflects a commitment to sustainability over convenience.