It's the most wonderful (expensive) time of the year!
After a year of soaring food inflation rates, could this year's Christmas dinner be your most expensive yet? New Food's Grace Galler investigates…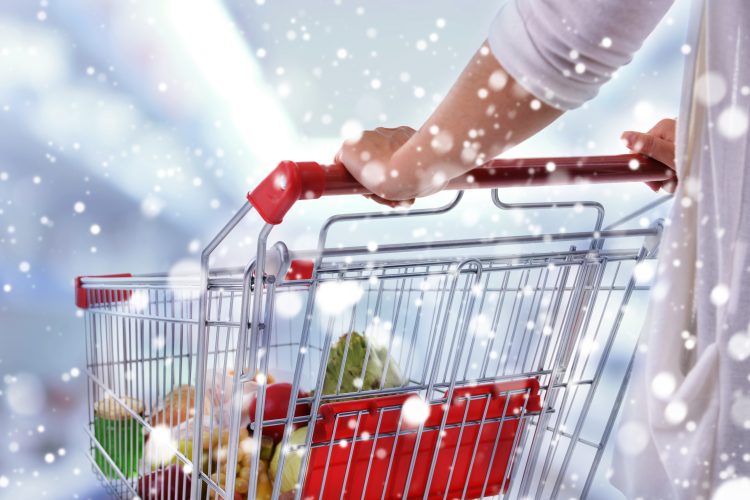 Another year is nearly over but December marks the end of a 12 month period with some of the highest food inflation rates on record.
The price of many food and beverages items have risen across the board and unfortunately, although snow has fallen in the UK this month, food prices haven't.
So how much will your Christmas roast dinner cost this year? Does it depend on what shop you go to? Or is no supermarket on Santa's nice list when it comes to keeping ingredients affordable?
UK food inflation continues to break records at 45-year high
The rise of the roast
Roast dinners are the traditional Christmas meal in the UK. For our global readers they are typically comprised of turkey, pigs in blankets, roast potatoes, Yorkshire puddings, an assortment of vegetables, cranberry sauce and gravy. But this familiar December grocery list for many Brits is likely to have a somewhat unfamiliar price tag this year.
According to research carried out by RIFT Tax Refunds, the average cost of a family roast dinner in 2022 has increased by almost 20 percent since last December. As well as this, it has noted that the cost of cooking has soared by 96 percent.
The research has also claimed that last Christmas, the average price of a Christmas dinner for four people was an estimated £20.12 however, this year the price is expected to rise to £24.07, marking a 19.6 percent increase.
What's more, according to the Trades Union Congress (TUC) the cost of items that would usually make up a Christmas dinner have risen three times faster than wages in 2022. To put things into perspective, TUC claims that if wages had gone up by as much as the cost of a turkey, a worker receiving the average wage in the UK would have £76 per week extra in their pay packet.
Analysing different ingredients, cranberry sauce and gravy granules have been subject to the greatest price increase, with the research alleging that they have both increased by 33 percent. This means that, for a family of four, cranberry sauce now costs £1.20 while gravy costs £1.85.
The average price of potatoes has also gone up, with the research noting a 19.9 percent increase this year. What's more, turkey prices have increased by 19.7 percent meaning enough turkey to feed four people now costs £14.91.
Other noteworthy price increases for Christmas dinner ingredients include Brussel sprouts (11.9 percent), carrots (11.9 percent), parsnips (11.9 percent) and Christmas pudding (12.4 percent).
Although it isn't a food item, the price of Christmas trees has also sky-rocketed, up to an average of £42.31 after rising by 12.9 percent since December 2021.
Commenting on how food inflation will affect Christmas meal consumption, Frances O'Grady, General Secretary of TUC, said: "Christmas should be a time for celebration. Everyone should be able to enjoy turkey and all the trimmings while they relax with their family.
"But soaring food and energy prices mean many families will struggle to afford the festivities. And the fact is many workers are dreading the new year."
The cost-of-cooking crisis
It isn't just the rising cost of ingredients that Brits must contend with, it's also soaring energy prices.
New Food previously reported on Brits changing their shopping habits in order to help them navigate rising energy costs, with a key measure being taken including opting for canned instead of fresh food.
The RIFT Tax Refunds research has revealed that, since last Christmas, the price of energy has gone up by 95.8 percent from £1,277 to £2,500, meaning it will cost significantly more to cook your roast dinner than it did last year.
Government changes on the wishlist
Calling on the UK Government to make urgent changes to that Christmas can return to being 'the most wonderful time of year', O'Grady said: "Ministers can no longer ignore the crisis facing working families. The government needs to shield families from the misery of the coming recession.
"That means raising the minimum wage to £15 an hour as soon as possible. It means a proper pay rise for our dedicated public sector workers. And it means getting wages rising across the economy for everyone."
But how likely is this? With more Brits than ever relying on food banks (and the Trussell Trust supplying 2.2 million three-day emergency food parcels between 2021-2022,  an increase of 14 percent compared to pre-pandemic levels in 2019/20), consumers may have less faith in the UK Government to deliver the gift of food price deflation.
The IGD (a grocery insight provider) has forecasted that the rate of food price inflation will peak at 17-19 percent in early 2023, then begin to slow over the next 12 months, suggesting that Brits will still feel the impacts of food inflation in the coming months.
The IGD has also highlighted that food price inflation will be very broad, though heightened pressure on household budgets will come from meat, fruit and vegetables, dairy and bread.
With food inflation potentially still on the horizon next year, Brits could have a slightly different Christmas this year keeping expenditure in mind. However, those who don't like cranberry sauce may be in luck this festive season.