It's a date: what goes into creating a product for Ramadan?
As the Muslim world celebrates the holy month of Ramadan, New Food spoke to nut manufacturer, Besana, about a new product it has designed specifically for the festival.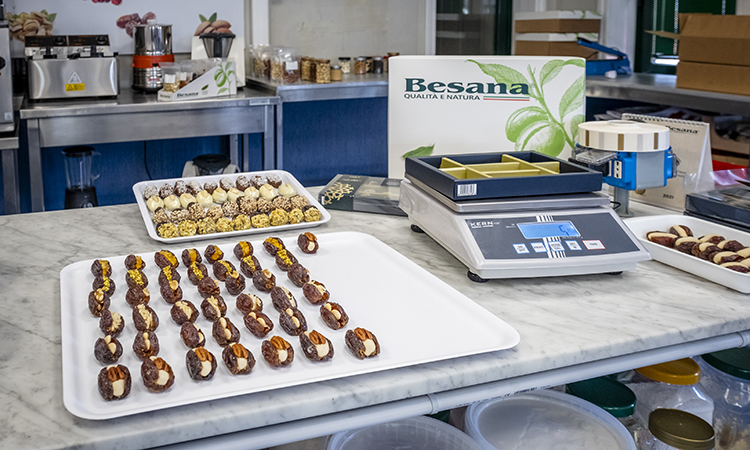 Besana's new product is specifically deigned for Ramadan
Ramadan is one of the most important periods of the Muslim calendar. For the nearly two billion Muslims around the world, it is a month of prayer and reflection, with the fast at the centre of the festival.
New Food spoke to Rita Iacoviello (RI) Research and Development Director at Besana on the nut manufacturer's latest product, tailored especially for Ramadan.
Q: What is Ramadan?
RI: Ramadan is a festival held during the ninth and holiest month in the Islamic calendar. It is one of the Five Pillars of Islam, principles considered by Muslims to be mandatory, foundational acts ordered by Allah, or God. Throughout the month, Muslims are encouraged to be spiritual, charitable, and express self-control and kindness. At night, Muslims attend mosques for a special prayer (Taraweeh) held only during Ramadan.
During the festival, Muslims do not eat or drink during daylight hours. They have an early morning meal before dawn (suhoor or sehri), fast during the day, and finish with an evening meal (iftar or fitoor). Muslims view their fast as a special act of worship, an opportunity to be closer to God, and a method of becoming more compassionate for and understanding of those in need.
Q: Why has Besana launched a product specifically in line with Ramadan?
RI: For years, Besana has been creating bespoke products for celebrations such as Christmas, Easter, Diwali, Ramadan and the Chinese New Year. Besana specialises in the development of intricately composed items that respect specific customs and culinary habits. Consequently, we optimise our fillings and chocolate coatings. Our Medjool Date Selection, 'Ramadan Kareem', has been launched in partnership with M&S for a second consecutive year.
Q: How is the product suited to those celebrating Ramadan?
RI: Ramadan Kareem is an indulgent selection of topped, filled and chocolate-coated Medjool dates. Dates have many health benefits for fasting Muslims. Dates are high in sugar, which – contrary to what is normally the case – is a good thing, as blood sugar can become low during the fast. A strong source of sugar is a necessary part of keeping the community energised during the holy festival of Ramadan. When breaking the fast in the evening, dates can also help with digestion and prevent an upset stomach due to the consumption of vast amounts of food after forgoing eating for such a long period.
Q: What research was involved in the creation of the product?
RI: The date box was created after extensive research focused on specific aspects of Ramadan, analysis that we also carry out for other festivities. The selection is composed of several richly flavoured products. Dates originate from the Middle East and North Africa, and are a typical food consumed during Ramadan. We have filled them with special nut and fruit mixes, making them a perfect treat for the festival.
Q: Should anything be avoided (eg, particular ingredients) when creating a product for Ramadan?
RI: While designing a product specifically targeted at the Muslim community, serious considerations must be made about the exact ingredients. A good way of looking at the process is that we should take as much care as we do when considering allergies and the health benefits of our products. Our product has been customised specifically for Ramadan, and is therefore suitable for Muslims to eat.
Q: Why are dates so intrinsically linked with the festival?
RI: Dates hold a lot of significance in the Islamic faith – the Prophet Muhammed (peace be upon him) is quoted as saying "when one of you is fasting, he should break his fast with dates". Dates therefore have a distinct spiritual significance. In addition, the hot climate of the Middle East has provided the perfect conditions for date palms for thousands of years. We are proud to be facilitating the long-standing spiritual tradition for the Muslim community across the UK.
Q: What considerations did you have when designing the packaging for the product?
RI: While designing the packaging, we had two main goals – to display the delicious, handcrafted dates to potential customers and to create a worthy product to sustain Muslims during their holy festival.
Our delicious selection is neatly packed within a square 350g tray, making it the perfect gift box for Muslims during the festivity. The transparent cover provides a glimpse of the bespoke product, while the dark green sleeve evokes the holy colour of Islam.
Q: Is Besana working on any other products for Ramadan or other religious festivities?
RI: Besana is constantly developing new ideas for other world festivals – we have been working on the Christmas range since the beginning of the year. After the positive experience with the Ramadan Kareem box, we will actively continue working on product lines for other religious festivities worldwide, among which, as mentioned before, include Diwali and the Chinese New Year, to name a few.
Biography

Rita Iacoviello has more than 20 years of international experience in Quality and R&D teams in the food industry. Her passion for bringing new products and experiences to consumers with an eye on emerging trends has helped create innovation programmes for multiple global brands and leading strategic and breakthrough innovation projects. She has also built up a wealth of experience in developing health and wellness propositions and shaping and leading the nutrition improvement programme across different product portfolios.