Taking on e-commerce food crime
Julie Pierce, FSA Director for Wales, Information and Science, responds to Prof Chris Elliott's call to share what the government is doing to regulate the online food industry.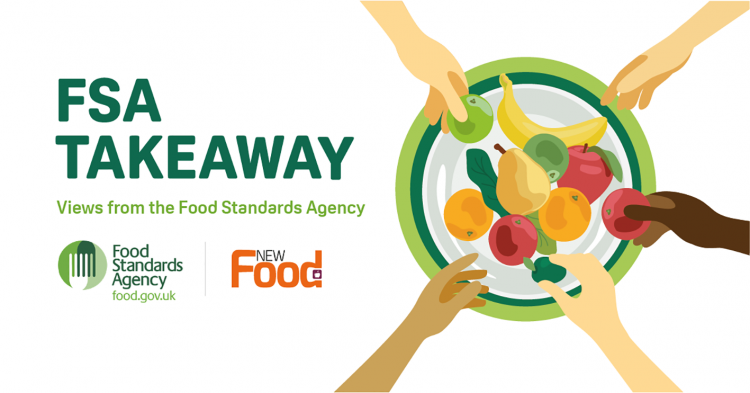 In his New Food column last week, our long-time friend Professor Chris Elliott asked us to share what we're doing to regulate the online food industry and to protect people from the negative impacts that food sold in this way can present. He's quite right to be concerned: the trend for food sold over the internet is both growing and changing at a rapid rate. Finding a neat regulatory answer is difficult.
Online platforms have lowered the barriers to entry of the food market, and COVID-19 has increased the number of people selling food from home.
According to the Office of National Statistics, the proportion of total sales that took place online was 10 percent higher between March-August 2020 than in 2019. Food store online sales were up by 79.3 percent in 2020.
So, we do have concerns about the proliferation of unregistered businesses on online platforms. While we don't have a silver bullet, we are working in three areas to make a difference. These are:
Registration
Collaboration
Enforcement
How the FSA is helping to combat online food crime
Any food business or individual that is selling food must register with the relevant local authority – whether they're opening a café in the high street or using an online platform to advertise or sell food. Registration is a legal requirement when selling food, be it online or from more traditional premises. Without it, local authorities cannot assess the nature of the business, provide appropriate advice, or prioritise a first inspection to assess compliance. If sellers don't follow the rules, they may be fined, imprisoned for up to two years, or both.
We are doing two things in this space. We are taking steps to raise awareness of the requirement to register and making it easier to do so. Our recent campaign, Here to Help provides guidance and promotes best practice to support food businesses to stay compliant with food hygiene and safety requirements. Registration is a key element of this.
We have also been rolling out our digital Register a Food Business tool, which allows businesses to register digitally with their local authority using a smart phone, tablet or PC. It's a key part of our approach to make it easy for businesses to do the right thing, and to make it more straightforward for local authorities to identify and focus on the highest risk businesses.
More than 187 local authorities are now using the new Register a Food business system. We want all businesses, wherever they are based to have access to this technology. But even if a local authority is not using the new service, businesses must still register directly with their local authority in the traditional way.
During the pandemic we have seen 33,720 businesses registering through Register a Food Business; and those that are operating from domestic settings have risen from only 30 percent pre-Covid to almost 45 percent in January 2021.
We are also acutely aware of the long-term pressures on local authorities – and not just as a result of responding to the pandemic. In some cases, local authorities have already been feeling the pinch with less money and fewer people with pressures on resource made worse by COVID-19. This brings us onto our second initiative around collaboration.
We have already worked closely with the key aggregators in the food sector, Uber Eats, Deliveroo and Just Eat all use our flagship Food Hygiene Rating Scheme (FHRS) to determine whether they will allow businesses onto their platforms. This drives up standards and is good for consumers and business, as a higher rating attracts more customers.
We want other platforms to work with us and take responsibility for the food businesses selling through their sites. We need them to help us get these businesses registered and work with us as we explore ways that digital technology can help provide assurance to consumers that retailers and manufacturers will continue to provide food that is safe and what it says it is.
The NFCU's role
Prof Elliott also mentions our National Food Crime Unit (NFCU) which has been working alongside many of the platforms to enforce rules when dangerous and illegal products are being sold online. The NFCU regularly takes down dangerous or damaging products and shares intelligence about possible upcoming threats to help the platforms remove or to stop these products from ever being sold on the sites.
The NFCU has also worked with local authorities to target the sale of illegally imported products of animal origin marketed on social media platforms, resulting in substantial seizures. Several of the NFCU's current investigations relate to criminal sales which are enabled by e-commerce, whether on the surface internet or more covertly on the Dark Web.
Conclusion
Online marketplaces represent more choice for the consumer and enhanced opportunities for businesses and individuals, especially in the wake of COVID-19. To respond to this change, our job as a regulator is to innovate alongside industry and to identify problems in the food system as early as possible.
We are working with local authorities and online businesses to facilitate an evolution of the traditional monitoring and enforcement tools into the digital world. We must make sure consumers have the information they need to make informed choices when buying food online to keep themselves and their families safe.
About the author
Julie Pierce drives for the use of modern digital approaches and technologies, within the agency, local government, and across the food system. She has recently been given responsibility for Science and, again, is pushing for modern, data enabled approaches to our research.
Julie is a member of the FSA Executive and is the Director with oversight responsibility for the FSA in Wales.
Previously, Julie was the CIO at Defra. She spent much of her earlier career in the private sector implementing technology enabled change programmes as a partner at PricewaterhouseCoopers in financial services, pharmaceuticals and defence, as well as for central government, both in the UK and mainland Europe.