Major confectioners to crowdsource ideas to help families snack responsibly
Mondelez International, Ferrero UK and Mars Wrigley Confectionery UK have thrown their weight behind Be treatwise, an initiative aimed at helping the nation have a balanced approach to treats.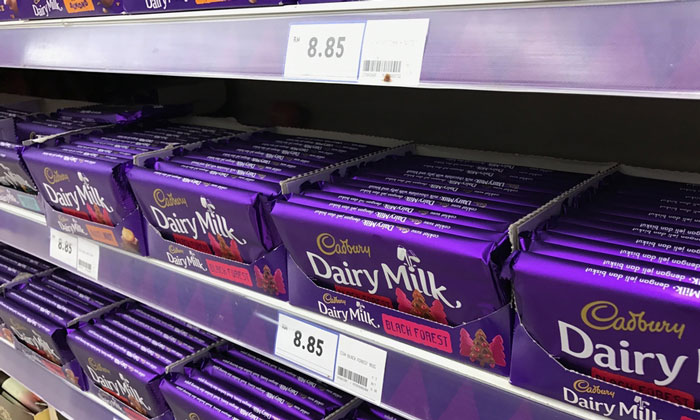 GIANT: Mondelēz International bought Cadbury in 2010
The British arms of three major confectioners have announced they are crowdsourcing ideas for measures the industry can take to help families snack more responsibly.
Mondelez International, Ferrero UK and Mars Wrigley Confectionery UK announced last week they were coming together behind Be treatwise.
They have said they will crowdsource ideas with parents, grandparents and health experts and then aim to trial at least one of the new measures in the UK market. A panel of independent experts will participate in reviewing its effectiveness.
Glenn Caton, the Northern Europe President of Mondelez International commented on the cultural history chocolate has had in Britain. He said: "Chocolate has had a special place in our lives for centuries, with the first chocolate bar created right here in the UK in 1847. Most of us know that chocolate should be enjoyed occasionally, as part of a balanced and active lifestyle but yet the public health challenge remains.
"With the launch of this initiative, we want to get to the heart of the everyday realities parents face and how we can help them adopt better treating behaviour."
Pieraldo Oldano, CEO, Ferrero UK added: "There is no such thing as good or bad foods, only good or bad diets. We all have a role to play in addressing the challenges of modern society and are committed to doing more where we can.
"We are proud to be taking a collaborative approach to help support families in understanding the role of treats in a balanced and varied diet, bringing extra enjoyment to those special moments in life."
In addition to the crowdsourcing, a redesigned Be treatwise label will start to appear on the packaging of certain products and marketing from the three companies, reminding people that these products are treats intended for occasional enjoyment.
The label was originally developed by Cadbury in 2006, with Ferrero UK and Mars Wrigley Confectionery UK now looking to adopt it. Other companies that offer treats that have a portion size of 250 kcal or less are welcome to join the initiative.
Tim Rycroft, Food and Drink Federation (FDF) Corporate Affairs Director said: "The Be treatwise initiative is a great example of how food and drink manufacturers are looking to engage with consumers around healthier behaviours and reacting appropriately in order to meet these needs.
"Our industry is committed to helping people choose a balanced lifestyle and make informed decisions around the foods and drinks they love."