Heinz unveils Culinary Tomatoes range
Heinz is launching its new Culinary Tomatoes range which uses "only the finest Heinz tomatoes".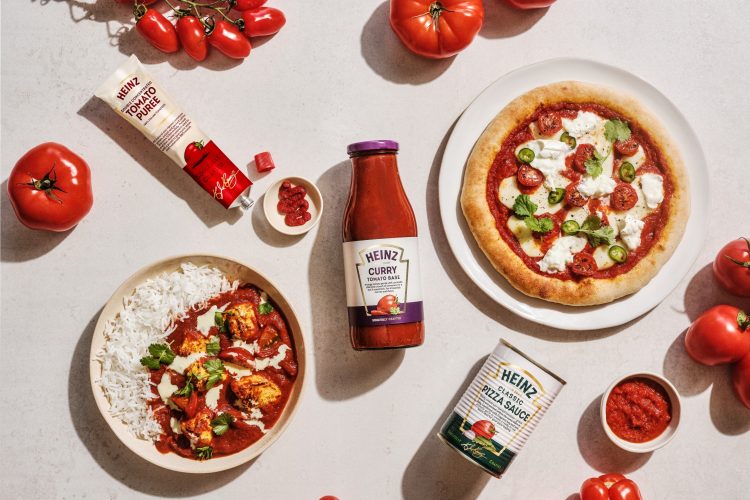 Shaking things up, Heinz is launching "Culinary Tomatoes", a new range that it says only uses its "finest" tomatoes which have been "sun-ripened and grown in Italy for unparalleled flavour".
The range includes products from chopped and peeled tomatoes, a pizza sauce and tomato puree, as well as a range of tomato bases for cooking sauces (passata, chilli, curry and frito).
Hoping to bottle convenience for cooks around the world, Caio Fontenele, Heinz New Ventures Director, explained: "We're delighted to give Heinz tomato lovers even more access to our finest tomatoes, while offering inspiration for cooks to create new and delicious recipes in their kitchens.
"We've developed our brand new tomato collection to offer something for everyone, regardless of their cooking skills. For those who love cooking from scratch, we have our delicious Heinz tomatoes in peeled, chopped or puréed formats. And for those who need an extra culinary hand and want to skip the basic preparation, we have our tasty, ready-to-use tomato based cooking sauces."
Fontenele also advocates that the new Heinz Passatas are "perfect for creating classic pizzas and pastas, while our Chilli and Curry bases will help home cooks to explore cuisines, beyond Italian. We also have our signature Heinz Tomato Frito, containing fresh garlic and onions, cooked in olive oil to extract the best flavour, and already a success in other European countries".
Discussing Heinz's tomato history, Fontenele continues: "When it comes to tomatoes, it just has to be Heinz. Ever since Henry J. Heinz first grew the seeds for the tomatoes that would become a staple in Heinz products across the world from our iconic Heinz Tomato Ketchup, Heinz Cream of Tomato Soup, to our new Heinz Pasta Sauces, we've been truly in love with our tomatoes."
The launch of the Culinary Tomatoes range is part of Kraft Heinz's larger transformation to bring insight-driven innovation to consumers "faster than ever before". What's more, Heinz has said range has no added preservatives, additives, or sugar.
 The range is currently available at ASDA stores across the UK but will reportedly be rolled out to other retailers later on in 2023.