UPSIDE Foods makes history with first consumer sale
Cultivated meat company UPSIDE Foods has made history by making its first consumer sale of cultivated meat in the US.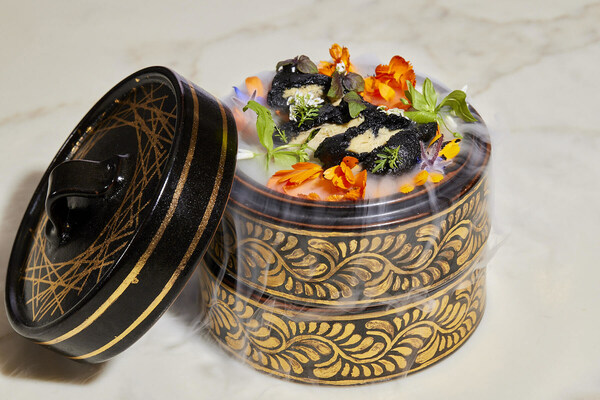 UPSIDE Foods' Cultivated Chicken Dish at Bar Crenn (PRNewsfoto/UPSIDE Foods)
As a landmark moment in the food industry, UPSIDE Foods has made history by launching at Michelin-starred Bar Crenn in San Francisco, California. Here, its cultivated chicken was available to consumers for the first time, and the  first consumer sale of cultivated meat in the US was completed.
New Food has kept its readers updated with the company's journey in recent months. On 1 July 2023, it started offering its whole-textured cultivated chicken to event attendees.
The chosen attendees were invited following winning UPSIDE's social media context. Hosting the meal was Chef Dominique Crenn and UPSIDE Founder and CEO Uma Valeti.
UPSIDE Foods has announced that its cultivated chicken will be available at Bar Crenn through a series of ongoing UPSIDE dinner services, starting later on in 2023.
Commenting on the historic moment, Valeti said: "The landmark sale of UPSIDE's cultivated chicken at Bar Crenn officially marks cultivated meat's debut into the US market.
"It represents a giant leap towards a world where people no longer have to choose between the foods they love and a thriving planet. I can't wait for more people to get their first bite – it's a magical moment that inspires an exciting world of new possibilities."
The cultured chicken was fried in a Recado Negro-infused tempura batter and was accompanied by a burnt chili aioli.
The company has said  that the dish "reflects the global benefit that Chef Crenn sees in cultivated meat with UPSIDE Chicken from the Bay Area in California, tempura from Japanese traditions, and an infusion of Recado Negro from Mexico's Yucatan".
"It's truly an honour to serve UPSIDE's cultivated chicken at Bar Crenn and introduce cultivated meat to the US," said Chef Dominique Crenn.
"It's the first time meat has made it back on my menu since 2018, because UPSIDE Chicken is the first meat that I feel good about serving. From its exquisite flavour and texture to its aroma and the way it cooks, UPSIDE Chicken is simply delicious and it represents  a significant step towards a more sustainable and compassionate food system."
In addition to the meal, contest winners were also given a tour of UPSIDE's Engineering, Production, and Innovation Center (EPIC).
Following the launch event, UPSIDE's cultivated chicken will reportedly be available at Bar Crenn through ongoing UPSIDE services, commencing later this year.