Meat tax backed by Beyond Meat boss
The tax would, according to Ethan Brown, head of the meat-substitute company, help drive down the price of plant-based alternatives, though Prime Minister Boris Johnson has expressed his reluctance to enforce such a levy in the past.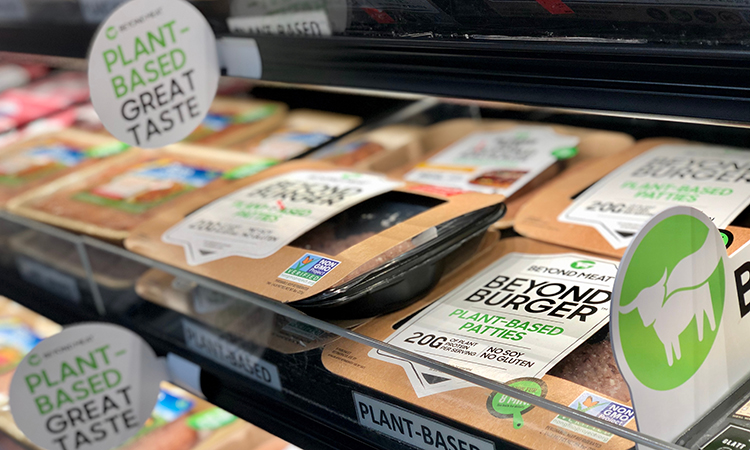 Beyond Meat is well known for its plant-based burgers
Brown, who is CEO of Beyond Meat and based in the US, has signalled his approval of a "pigouvian tax" on products that he claims negatively affect society, such as meat. 
Brown believes a tax on meat could influence people to reduce their meat consumption, and help boost investment in plant-based protein alternatives.
He claimed that 93 percent of consumers purchasing Beyond Burger are still buying animal protein. "That says we're getting more and more penetration into the broadest swath of the market," he told the BBC.
Despite still consuming meat, he stressed that people are "hearing this information about their health or maybe hearing about climate, or maybe uncomfortable with factory farming," so are "deciding to cut down on their consumption of animal-based products."
In comparison to animal meat, plant-based meat can often prove more expensive due to the ingredients that are used, for example,  some of Beyond Meat's products use mung beans coloured with substances – like beetroot juice. Brown explained that cost, taste and texture are important elements that the company must perfect – though it is his belief that over time prices will decrease.
"As we scale, we will begin to be able to underprice animal protein – if you look at our facilities, and you look at the facilities of say, some of our plant or animal-based competitors, we're still a very small company," Brown told the BBC, and stressed that this would change.
A meat tax would not only drive down the price of plant-based products however, as many hope it would help achieve some of the world's ambitious climate goals. 
In response to environmental issues, the UK Government's advisory body on climate change has urged ministers to advise the public to lessen their meat consumption. The Climate Change Committee (CCC) has suggested that people should be asked to consume 20 percent less meat and dairy by 2030.
Brown claimed a study from the University of Michigan found that in comparison to a burger made of real animal meat, Beyond Burger uses 99 percent less water, and emits 90 percent fewer emissions in the production process.
He told the BBC that these benefits are important for the younger generation, in particular, "because they are going to have to live in this environment".
He added that to help the climate, "you can start by just doing something really simple, which is changing the protein at centre of your plate."
However, Prime Minister Boris Johnson has remained reluctant to introduce such a levy. A recent study from the University of Bristol found that the tax would cost the economy almost £250 million a year, a cost which the researchers claim outweighs the benefits to the climate. 
Johnson's approach towards the meat tax echoes that of the introduction of a sugar and salt tax , which he, along with a multitude of others , had mixed feelings about. He stressed that he was not "attracted to the idea of extra taxes on hard-working people."