Wahaca brings its menu to life with AR technology
Mexican restaurant group Wahaca intends to make its menus interactive by projecting digital information, such as allergens and sustainability details, through the use of AR.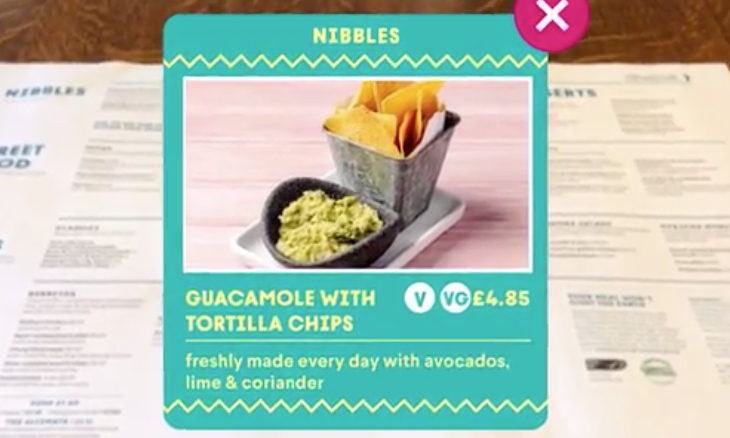 Poplar Studio, a 3D and AR creative platform, has joined forces with Mexican restaurant group Wahaca on a new augmented reality (AR) menu.
The studio says the Web AR effect will enable customers to interact with the menu by scanning a QR code, which has been printed on more than 60,000 physical Wahaca menus, with their smartphone. 
The experience will project AR information on top of existing physical menus which will not only allow customers to navigate the menu, but also access pictures of dishes, descriptions and even additional information such as ingredients, allergens and sustainability practices.
"We're delighted to be working with Wahaca – a pioneer in the food and drink industry – on bringing its menus to life. AR is the perfect technology for restaurants looking to enhance their customer experience in unique and exciting ways. We believe interactive menus are just the beginning. It's great to see Wahaca taking the initiative to engage customers through the use of innovative technology," commented Poplar Studio CEO David Ripert.
Wahaca's Co-founder Mark Selby added: "At Wahaca we have always sought to inspire our guests, both in the restaurant with our food and service and in the wider world. We're very excited about collaborating with Poplar Studio as this AR experience brings our menu to life to visually inspire our customers about our food, ingredients and sustainability."
The AR menu is also being rolled out with a content management system (CMS), meaning Wahaca will be able to change the augmented information as and when necessary, ie when items are removed or added to the menu.  
Poplar Studio says the AR experience will also be linked to a digital payment system to enable contact-free payments directly from the customers table, which it hopes will enhance customer experience while keeping customers and staff safe.