FDA study analyses effectiveness of cleaning methods to remove allergens
FDA conducted the study to investigate the impact of existing recommendations for wiping and cleaning food-contact surfaces on removal and transfer of food allergens.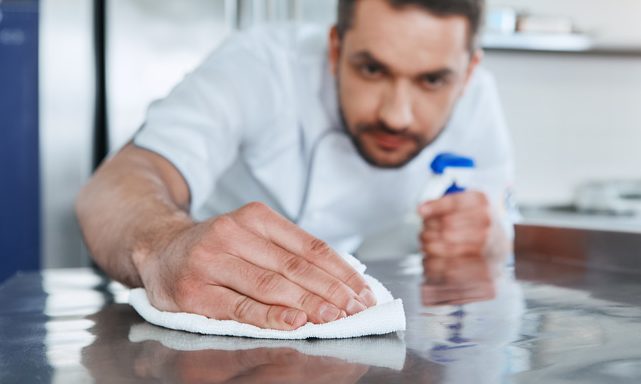 The US Food and Drug Administration (FDA) has published a manuscript titled Allergen Removal and Transfer with Wiping and Cleaning Methods Used in Retail and Food Service Establishments as part of its investigative study into cleaning methods and allergen removal. 
Allergen cross-contact means the potential, unintentional incorporation of the allergen into food, which can be life threatening in some cases. Existing FDA Food Code recommendations for wiping and cleaning food-contact surfaces have focused on preventing microorganisms such as bacteria and viruses from contaminating foods. To determine the effectiveness of these wiping and cleaning recommendations at preventing allergen cross-contact specifically, FDA conducted the study which set out to investigate:
Allergen removal from surfaces by wiping with paper wipes, terry cloths and alcohol/quaternary ammonium chloride (quat) sanitising wipes
Cleaning of contaminated surfaces using a wash-rinse-sanitise-air dry procedure
Allergen transfer from contaminated wipes to multiple surfaces.  
Food-contact surfaces (stainless steel, textured plastic and maple wood) were contaminated with peanut-, milk- and egg-containing foods, and subjected to various wiping and cleaning procedures for analysis. 
Key findings from the study included:
Overall, the nature and amount of allergen on a surface, as well as the type and state of wipe cloth, food-contact surface texture and material composition, influenced the effectiveness of wiping and cleaning on removal and the extent of transfer on surfaces
Full cleaning (using a wash-rinse-sanitise-air dry method) as recommended in the FDA Food Code was effective at removal and minimising transfer
Pre-scraping food from surfaces prior to full cleaning aided removal
Wet cloths/wipes and alcohol/quat wipes were more effective in allergen removal from surfaces than dry wipes
Storing cloths in sanitiser solution minimised transfer between surfaces
Allergens were more difficult to remove from textured plastic than stainless steel or wood surfaces.