European honey producers feel the sting after worst harvest in decades
One of the world's largest farming interest groups calls for action from European Commission as EU honey harvests fall by up to 80 percent.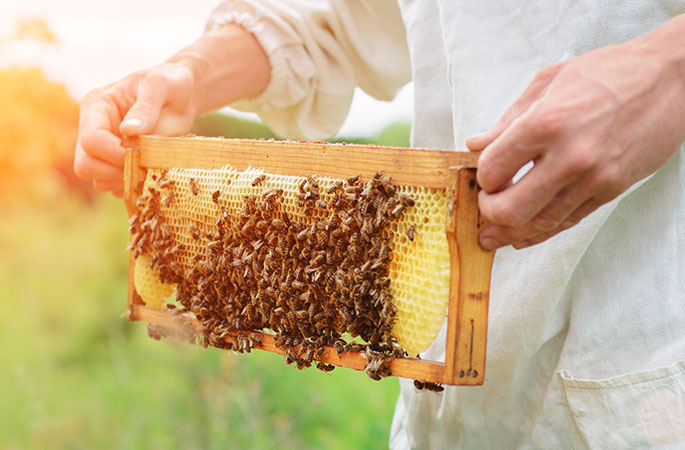 Honey producers are calling for action after a below-par 2020 harvest.
One bad year has followed another for European beekeepers, as 2020 sees a 40 percent decrease in honey harvests.  
Due to heavy rain and floods in Central and Eastern Europe, combined with a crippling drought in July, the situation European beekeepers have found themselves is worryingly unique. As most of the main producers are located in Eastern and Southern Europe, the Copa-Cogeca Honey Working Party expects an unprecedented drop in production with the near absence of certain honeys from these regions, including acacia honey.
In Hungary alone, Copa-Cogeca reports that the acacia crop (acacia honey remains in liquid form for longer than traditional honey and is therefore extremely popular) was only 10 percent of the normal harvest. In Austria, top honey-producers are claiming that such bad harvests have not been registered in decades. The farming interest group has also reported harvest drop-offs in Portugal (-80 percent) and in Italy (up to -70 percent and –80 percent in the South).
The worries do not end with harvest volume however. Limited availability should see a rise in honey prices, but the reality is somewhat different; price points are actually falling across the main importing countries in the EU.
Etienne Bruneau, Chairman of the Honey Working Party at Copa-Cogeca, expressed concerned: "Last year we were already sounding the alarm by asking the European Commission to set up an emergency action plan. It is clear that the situation is not getting better, it is getting worse. People need to understand that we are currently talking about the survival of 10 million hives in the EU.
"Ten million hives that enable 650,000 beekeepers to make a living, millions of farmers to pollinate their crops and everyone to benefit from the ecosystem services provided by bees. This situation is therefore threatening well beyond the stakes of our sector!"