USDA announces steps forward for America's agricultural sector  
USDA has announced that America's farmers are to benefit from major innovations from scientists and researchers as well as from the recently announced United States-Mexico-Canada Agreement.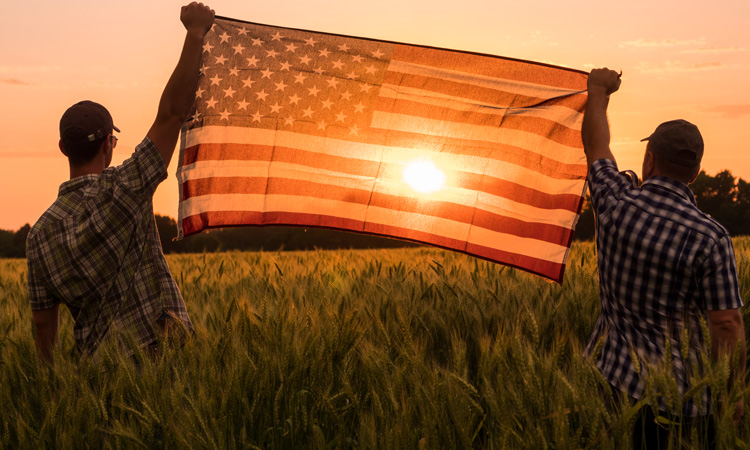 The US Department of Agriculture (USDA) has released its annual Technology Transfer Report which highlights agricultural innovations from scientists and researchers that are said to be solving major problems for America's farmers, ranchers, foresters, and consumers; and creating opportunities for American businesses to thrive.
"The outcomes and impacts in this comprehensive report represent a tremendous amount of scientific excellence and creativity in finding solutions to complex problems," said Deputy Under Secretary Scott Hutchins, who leads USDA's Research, Education, and Economics mission area. "The value-added innovations highlighted in this report are an example of the strides USDA is making to bring forth the vision set by the USDA Science Blueprint and USDA's Agriculture Innovation Agenda that Secretary Perdue announced earlier this year."
New agricultural innovations showcased include development of 'USDA Red,' the world's first red-leaf spinach that reportedly has 53 percent higher antioxidant capacity, and a new, responsive, web data collection system for the 2017 Census of Agriculture that enhances the web experience for agricultural producers responding to Ag Census surveys.
Other highlights from the report include:
Testing more than 10,000 pesticide samples and generating more than 2.5 million data points
An aerially delivered biodegradable "bait cartridge" system designed to target brown treesnakes
New technology to mass produce and release parasitoids for controlling Asian citrus psyllid, a pest of citrus-growing areas in the United States and vector of a bacterium that causes citrus greening disease or Huanglongbing
New freezing technology that retains fresh-like fruit quality when thawed. The method uses 70 percent less energy compared with conventional freezing methods and shows promise to transform the $54 billion US frozen foods market
Expansion of a Public Health Information System Export Module, which allows industry to file electronic export applications and receive electronic certification
Geospatial decision support products used for rapid response to assess flooded areas and identify potential crop losses
Development of a Specialized Lure and Pheromone Application Technology (SPLAT) designed for use as an integrated pest management (IPM) solution to target agricultural pests
Development of a Conservation Assessment Ranking Tool (CART) that modernises and streamlines USDA conservation planning and programme delivery, reduces workload on field staff, and improves the customer experience by creating an efficient application process.
United States-Mexico-Canada Agreement (USMCA)
The USDA has also announced that the United States-Mexico-Canada Agreement (USMCA) has entered into force, replacing NAFTA. USMCA is a thought to be a better deal for America's farmers, consumers and workers that will set them up for success in the future. US Secretary of Agriculture Sonny Perdue penned an oped in the North Carolina Fayetteville Observer saying, "USMCA creates more market access for farmers from across our nation to sell their wholesome and nutritious products to our closest neighbours. This is a better deal for America that will grow our economy and put more money in the pockets of American families.
"USMCA eliminates Canada's unfair Class 7 milk pricing scheme that was creatively developed to allow unfairly low-priced Canadian dairy products to undersell US products in Canada and in third-country markets. United States poultry and egg producers will also see expanded access to Canada's market, directly benefiting American producers in states like Iowa, Georgia, Arkansas and California.
"It includes rules to address all agricultural biotechnology, including gene editing, in support of 21st century innovations in agriculture. The agreement also improves the flow of trade with new and enforceable rules to ensure that sanitary and phytosanitary measures to protect human, animal, or plant life or health are science-based and transparent.
"USMCA also updates the rules of origin for processed fruits to ensure preferences benefit US producers. Most importantly, the new agreement maintains the tariff-free access for nearly all US agricultural commodities shipped into Mexico and Canada, providing America's farmers and ranchers continued market access.
"The implementation of this deal sends a strong signal to other important export markets such as the United Kingdom and the European Union that President Trump and Congress are serious about pursuing and enacting future agreements that create better economic opportunities for all parties involved. The United States is open for business, and our farmers are ready to export more of their wholesome and nutritious products to consumers around the world."