Sampling Veggie Steaks in the New Food kitchen
The Vivera Veggie Steak, made from wheat and soy, has enjoyed widespread press coverage this week on the back of news that 400 branches of Tesco have begun stocking it. But with the growth in the UK veggie ready-made sector meaning a flood of products to market, what's new about this product?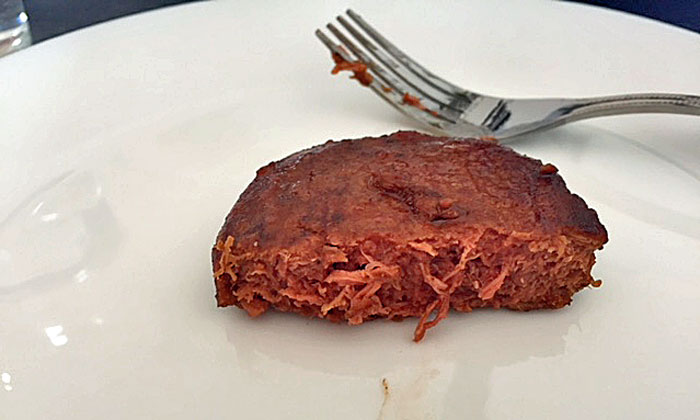 MEDIUM RARE? The plant-based steak went on sale in Tesco stores this week
Arguably it's the first time we've seen a major UK retailer stock up on a product that actively aims to imitate meat in its texture, smell and taste – even its 'bloody' pinkness, thanks to plant-based colourants. Given its open aim is to mimic meat, Vivera Veggie Steak's primary market would appear to be the growing numbers of consumers who are keen to cut down on meat-eating for health and sustainability reasons.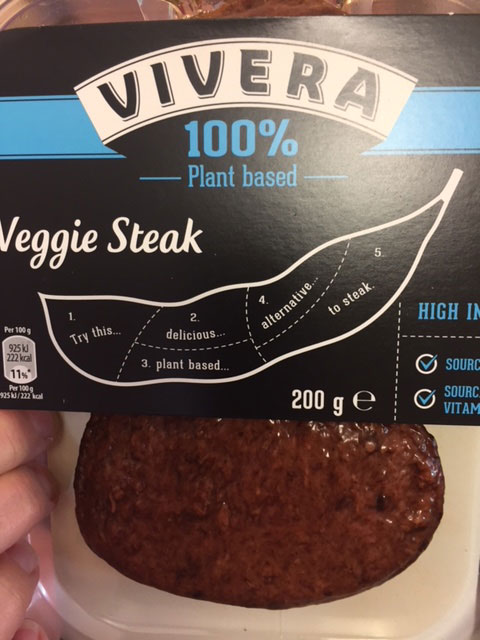 In a statement to Plant-based news, Vivera's Gert Jan Gombert emphasised that in his company's case, large-scale production of the veggie steaks would ensure supply could meet growing demand, and that:  "The smell, taste and bite can hardly be distinguished from real steak and we are convinced that this product will meet a large need of consumers. It is very important that we eat less meat, both for our own health, animal welfare and for our planet. Innovative and high-quality plant-based products can make a significant contribution here."
So what did the New Food team make of the product? While the smell and look of the product – once cooked (five minutes in olive oil) was appetising – we felt the Veggie Steaks were more akin to hamburgers in form than steak. Consistency echoed that of a cheap meat-based burger, but the taste was pleasingly savoury and undoubtedly 'meaty'. Those in the team who aimed for a meat-free day once a week said it was a definite improvement on Quorn and that they'd be happy to see the steaks on their plates on a regular basis. A long-term veggie declared it one of the best new options he's tasted recently. At £2.99 for 2 x 100g steaks,  the price point compared favourably with similar offerings in the sector. Would we eat them again? Yes –  especially outside on a summer's day, with a bun and ketchup…