What is driving the alternative protein ecosystem forward?
ADM's Jacquelyn Schuh explores how the alternative protein landscape is transforming to meet global demand, with evolving consumer preferences and innovative technologies at the forefront.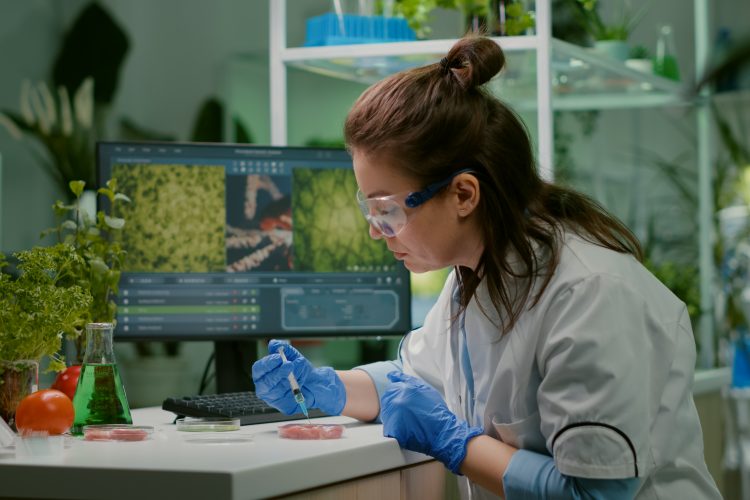 Fuelled by a rapidly growing global population, environmental concerns, as well as health, wellness and nutrition considerations, expanding the protein landscape is increasingly crucial to meet the ever-growing needs of our food system, as well as evolving consumer demands.
New advancements in technology, in addition to continued investment, research and development, have made expanded protein options – including animal-based, plant-based and novel sources – a reality. This is no small feat and is dependent on several factors. By anticipating the next wave of advancements, understanding consumer needs, building a bridge to better nutrition and taking a tailored approach to accessibility, the food industry is well-equipped to move the protein ecosystem forward.
Anticipating a new wave of innovation

Globally, modern plant product consumers – defined as flexitarians, vegetarians or vegans – are increasingly more open to trying protein from a variety of plant-based sources and those produced or in combination with next-generation technologies1. On top of that, these consumers are progressively placing less importance on the specific protein source itself as they have in the past1 – pointing to new possibilities for novel sources and blends of protein ingredients to meet nutrition, taste, sustainability and functional needs.
For instance, hybrid solutions that combine familiar sources, like soy protein, with new processes, like precision fermentation or cell cultivation, can help encourage consumer acceptance and adoption of new and expanded protein options. Research shows that when asked about interest in more novel or next-generation science and technological advancements, global plant product consumers are most interested in trying plant-based products with plant-based novel ingredients, followed by hybrid alternative options (a combination of familiar and new technologies), followed by fermentation-derived sources1.
Hybrid solutions of plant-based proteins and fermentation-derived proteins combined are highly anticipated to be what's next in alternative protein development, after novel advances in scaling new or lesser-known sources, such as algae, lupine and navy bean with animal proteins. At the same time, fermentation-derived proteins show promising advancements, with many consumers recognizing fermentation as a typical food process. Looking further into the future, cell-cultivated proteins are anticipated to be key in solving seemingly impossible challenges in taste, nutrition and texture in formats like steak, fish, cheese and more.
Research also shows that these technologies do not sit in isolation, meaning consumers look at them within the context of the actual foods and beverages they consume. For the technology to be successful, it has to be used in a segment that is relevant to consumers or solves an issue or unmet need2. Further, consumers are also more likely to try products made by new technologies, such as precision fermentation or cellular agriculture, if they demonstrate to be high in nutritional value, safe, low in price and good for the environment.3
Championing consumer adoption and acceptance

If the technologies and innovations of tomorrow are to succeed, it's vital for food technology companies to focus on the success of alternative proteins today, which largely hinge on the high expectations for taste, texture and nutrition, as well as how they appeal to and are accepted by consumers. This comes at a time when approximately 60 percent of the global population and 54 percent of consumers in EMEA report following plant-forward lifestyles1.
In addition, research shows that taste, texture and nutrition must continue to advance to encourage consumer retention. For example, ADM's proprietary research indicates that among global and UK plant product consumers 73 percent and 69 percent, respectively, believe that taste and nutrition are equally important in final food and beverage applications.1 Global plant product consumers are also stating that improved taste and texture is motivating them to consume more plant-based products1, as manufacturers create offerings with favourable sensory attributes, with taste and texture being a top five motivator for consumption of meat and dairy alternatives.1 Concurrently, environmental concerns and animal welfare are significant drivers for UK plant product consumers, especially when considering meat and dairy alternatives.1 Brands that can check each of these boxes – the sensory experience, nutrition, sustainability – will find themselves succeeding with discerning consumers in EMEA.
Consumers are also increasingly interested in new protein options and base their familiarity off what is currently showcased in alternative products on the shelf. In the UK, consumers show high levels of awareness of mainstream plant-based protein types, including chickpea (75 percent), soy (70 percent), almond (70 percent), oat (69 percent) and peanut (68 percent).1 Plus, UK consumers also indicated consuming these protein sources at higher rates.
These mainstream sources are both well-known and commonly used in today's formulations, and they help enhance the sensory experience and improve the nutritional value of alternative offerings. This continued refinement is crucial to setting the foundation for the future innovations that come next. While many consumers still fall back to what they find the most familiar, hybrid alternatives are fusing together the familiar and new, focusing on combining animal-based and plant-based proteins or more recognizable plant-based proteins like soy with emerging plant-based ingredients and plant proteins, such as mycoprotein, lupine, quinoa, sorghum, amaranth or navy bean. Hybrids can also aid in consumer understanding and acceptance of new sources, science and technologies, including precision fermentation and cell cultivation, as a way to make them more approachable, while using the best qualities of each protein to optimize taste, texture and nutrition.
Building the bridge to better nutrition

Through new protein options and advancements in technologies and formulations, alternative protein developments are taking place that can help address calls for nutrient dense foods and beverages, tailored nutrition offerings, as well as ingredient diversity. These attributes are highly sought-after by consumers. When asked what attributes they'd like to see in future formulations, 44% of global plant product consumers expressed a desire for plant-based products with an elevated nutritional profile, which has increased in consumer interest since 2020.1
In a similar vein, health and nutrition remain the top motivators for consumers globally. Markedly, 50% of global plant product consumers and 44 percent of UK consumers note a strong interest in plant protein sources with additional health benefits.1 Following closely behind is interest in food safety certifications, as well as processing, sourcing and harvesting transparency.1 Each of these aspects must be addressed to capture these shoppers' attentions. With that, many consumers are focusing on consuming alternative and plant protein products that showcase ingredient transparency on product labels while delivering on added protein, as well as weight management and digestive support and other complementary health attributes.1
Food manufacturers can also leverage specific plant proteins from well-known sources, such as soy, to develop nutrient-dense solutions that not only taste great but also deliver nutrition and wellness support. In fact, soy is one of the few non-animal proteins that is a "complete protein" with a Protein Digestibility Corrected Amino Acid Score (PDCAAS) of 1. Manufacturers that create multifunctional alternative protein offerings that incorporate ingredients like fiber, microbiome-supporting solutions, botanicals and more, can help meet consumer demands for expanded nutrition optionality and dietary diversity.
Tailoring protein accessibility
Taking a regionalized approach through locally sourced protein solutions and expanding regional capabilities is fundamental to helping address specific local needs. Preferences for formats and types of plant proteins also varies across countries and regions, which have their own criteria for alternative proteins to be adopted.
These regional and cultural nuances play a key role in understanding the relevance foods and beverages have among consumers, as well as consumers' openness to try products made with next-generation technology. This indicates that preferences in the alternative protein market are highly influenced by a combination of how relevant the food and beverage segments are within a region, and whether consumers want to solve an unmet need that will drive their interest toward new and novel technologies and sources.
Furthermore, the industry can help solve nutritional, accessibility and sustainability challenges throughout different regions by leveraging and elevating locally sourced solutions and regional capabilities. This presents an opportunity for brands to develop tailored, affordable applications for and by local markets, while also fostering local and regional agricultural, production and technological capabilities to help scale novel protein sources faster.
The alternative protein space is witnessing a dynamic and transformative shift. While there are challenges to overcome, including sensorial and nutritional attributes and scaling up production, working with a global partner is an integral piece in delivering expanded protein options and supporting a path forward for a more secure and sustainable food system.
References
1ADM Outside Voice℠, Global Protein Consumer Discovery Report, January 2023
2ADM Outside Voice℠, Global Next Gen Protein Report, March 2023
3The Hartman Group, Food & Technology, 2022
About the author
Jacquelyn Schuh is the Global Protein & Savory Marketing Director at ADM, leading global marketing strategy and execution for the savory sector, along with protein product marketing within the global foods division. Before joining ADM, Schuh held multiple roles within the marketing team at Kerry. Schuh holds a Bachelor of Business Administration in Marketing, Spanish and Supply Chain Management from the University of Wisconsin-Madison.
Related organisations
Related regions