Owner of Slug & Lettuce to charge more at peak hours
Stonegate Group, owner of Slug & Lettuce and Yates pubs, has said that it will be using "dynamic pricing", charging more for drinks during busy hours, reports claim.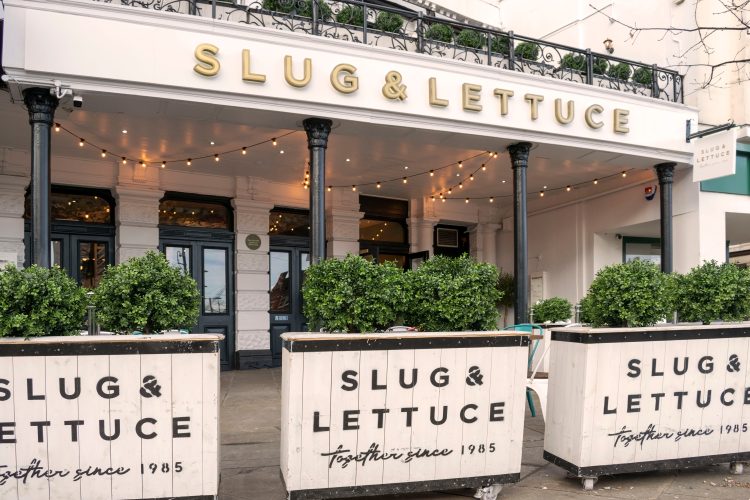 Stonegate Group, the owner of popular pub chains Slug & Lettuce and Yates, has revealed that it will be charging its customers more during peak hours, according to latest reports.
The BBC has found that Stonegate Group will be using "dynamic pricing" in the evenings and during weekends at "800 of its 4,000" pubs. It has also revealed that Stonegate "will charge about 20p more per pint", though price adjustments to other alcoholic beverages have not yet been disclosed.
The price increases are reportedly being put in place to "reflect the higher costs" that Stonegate Group has been contending with, and also covers garnering "extra security", according to the BBC.
In response to New Food, a spokesperson from Stonegate Group said: "Stonegate Group, like all retail businesses, regularly review pricing to manage costs but also to ensure we offer great value for money to our guests.
"Across the managed business our dynamic pricing encompasses the ability to offer guests a range of promotions including happy hours, 2-for-1 cocktails, and discounts on food and drink products at different times on different days throughout the week.
"This flexibility may mean that on occasions pricing may marginally increase in selective pubs and bars due to the increased cost demands on the business with additional staffing or licensing requirements such as additional door team members," the spokesperson continued.
Though the spokesperson claims that price increases "may marginally increase" in "selective pubs and bars", the decision appears to have caused a stir on social media. However, will the reasoning for price hikes strike a chord with other pub chains and inspire them to implement similar strategies?
From "Happy Hour" to mixed emotions
With 80 Slug & Lettuce venues across the UK, the bar chain currently offers deals on its alcoholic drinks and mocktails, including 2-for-1 cocktails at certain times of day depending on location.
The prices of cocktails on the its menu vary according to each pub, with Slug & Lettuce's St Paul's, London branch currently offering the popular Pornstar Martini for £13.50, while its Blackpool venue sells the same drink for £12.00. However, it it uncertain whether there will be additional price differences following the implementation of Stonegate's "dynamic pricing".
Stonegate Group's Slug & Lettuce pubs currently offer a "Happy Hour" which involves an allocated time during the day whereby certain beverage prices are reduced.
However, with the reported "dynamic pricing" expected to increase prices of drinks on offer at peak times, consumers may be wary when they choose gather and socially drink with friends and family so as to keep costs down amid the cost-of-living crisis.
According to Statista, the most popular time of week for Brits to visit a pub is on Friday or Saturday, with over half of respondents to its survey selecting these days. Meanwhile, a quarter of respondents noted they visited the pub on Wednesdays or Thursdays.
Stonegate Group has said that UK consumers will be made aware of the new increased pricing via notices in the affected pubs, according to the BBC.
But will this decision leave a bitter taste in consumers' mouths? In London alone there are four Slug & Lettuce venues. With London being a popular destination for consumers to take part in "Thirsty Thursdays", a day where many cooperate workers tend to drink after work with colleagues, will they be more likely to take their evenings elsewhere so as to avoid paying a higher rate for drinks at peak times? Or will they take the reasoning into account and be willing to pay more for drinks understanding recent challenges in the hospitality sector?
Last year, New Food reported that a third of hospitality businesses could go bust by 2023, with 35 percent of respondents to a survey were "expecting to be operating at a loss or be unviable by the end of 2022".
Fast forward to the autumn of 2023, the hospitality sector in the UK still appears to be recovering from the effects of the COVID-19 pandemic, with Deloitte stating that although "the impact of the pandemic [is] expected to recede by Q3 2023, issues related to surging inflation are rising" within the sector.
Explaining the logic
Price increases during peak times are not an unfamiliar concept. The National Rail charges more for train tickets during busy commuting hours and offer "off-peak" and "super off-peak" tickets at "less busy times on weekdays and all day at the weekend".
However, by implementing "dynamic pricing" in its pubs, Stonegate Group could putting consumer trust at risk. In fact, a tweet branding the decision a "rip off", garnered 11,800 views and 41 likes in less than 24 hours.
However, as explained to New Food, there is reasoning behind the implementation of "dynamic pricing", with the Stonegate spokesperson claiming the decision is due to "the increased cost demands on the business with additional staffing or licensing requirements such as additional door team members".
While Stonegate has claimed that the higher rates at peak times will still allow it to offer discounted rates at less busy times of day, such as its "Happy Hour" and its 2-for-1 deals, overall footfall may take a hit though it is uncertain to what degree it will be affected in the coming months.
Keep up to date on New Food in the coming weeks to hear industry feedback regarding Stonegate's decision.
Related organisations
Related regions