Kicking the salt addiction
In an interview with Knorr's Global Vice President, New Food finds out how the well-known stock cube brand is helping to reduce consumer salt intake and promote healthier choices.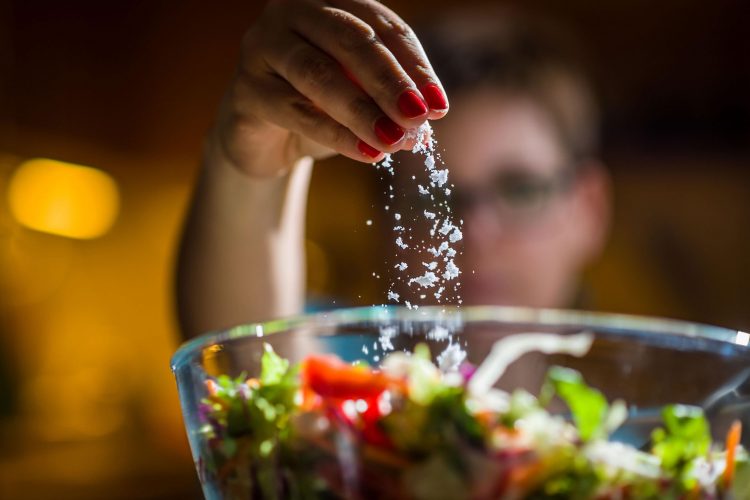 Following the launch of its new Zero Salt Bouillon cube, Bethan Grylls interviewed April Redmond, Global Vice President of Knorr, at Unilever to find out why we're so addicted to salt, how reducing our intake can help our health, and the challenge of creating a salt-free stock cube.
Q: Why do we consume so much salt?  
A: Salt is a well-known ingredient and has been used to preserve and flavour food for thousands of years. Our bodies need a little bit of salt, however, most of us consume almost twice the WHO recommended maximum level of intake of 5g per day.1 Five grams per day is equivalent to just under a teaspoon of salt; our salt preference has become a habit. 
New European research by Knorr* reveals we overly rely on salt to flavour our food:  
Almost half of us (45 percent) use salt when cooking, even before tasting 
More than half of us (52 percent) admit we rely on salt to add flavour.
Interestingly, by moving to a lower salt diet, in six to eight weeks we will become used to a less salty taste.2
Q: How will salt reduction help improve consumer health? 
A: High salt consumption contributes to high blood pressure and increases the risk of cardiovascular diseases, such as strokes and coronary heart attacks. Given that most of us consume nearly two times the recommended maximum daily salt intake, any reduction will help to reduce the risk of cardiovascular disease.   
Eighty-five percent of Unilever's Global Foods portfolio will help consumers reduce their salt intake to no more than 5g per day, by 2022. This commitment is part of Unilever's Future Foods ambition. We aim to reach this goal by reformulating current recipes where possible and introducing innovations.  
Q: What kinds of alternatives are consumers looking at to add flavour and what's driving this?
A: Based on the new European research by Knorr, we over rely on salt when it comes to unleashing flavour. However, over three quarters (77 percent) of us are interested in exploring different ways to flavour dishes rather than adding salt.  
Based on earlier analysis by Unilever, we're innovating to replace salt with other flavourful ingredients. The most popular choices for this are seasonings and herbs.   
Q: Describe a challenge that you overcame when creating this Zero salt stock
A: Salt has two important roles in stock cubes. It enhances flavour and helps form the cube's structure. Therefore, no salt meant our team needed to find new ways to boost flavour and to structure the cube. Firstly, we came up with a carefully assessed blend of vegetables, herbs and spices to deliver a fresh, rich taste. Secondly, we invented a new matrix of structuring ingredients with optimum ratios, which allowed our sourcing units to operate at a high standard of quality.   
Q: How does taste influence Knorr's portfolio?
A: There are thought to be at least five basic qualities of taste: sweet, sour, salty, bitter and umami. In conventional stock cubes, the salt strengthens other flavours. Our team of food experts and chefs carefully selected herbs and spices to ensure they touched all the five senses the human tongue can receive.
By finding the right balance of vegetables and spices, and meat for the chicken and beef cubes, we unearthed a way to provide rich salt-free flavour, whilst completely free from artificial colours and added MSG.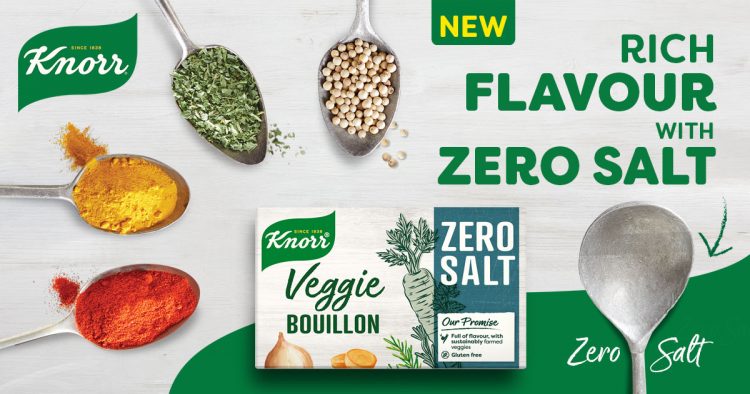 Q: Tell me about the new cubes Knorr has launched and how you see these selling in comparison to your more traditional stocks?
A: Knorr's Zero Salt Bouillon range brings a fresh approach to adding rich flavour when cooking. Crafted with a unique blend of vegetables, herbs and spices, including rosemary, nutmeg, lovage and turmeric, the stock cubes add a rich flavour while allowing cooks to decide if and how much salt to add. 
The new range is made from high-quality ingredients that reflect our ambition for a sustainable food-chain: free-range chicken, beef from responsible farms and sustainably grown vegetables. The cubes are available in these three variants: chicken, beef and vegetable. 
Our traditional stock has been loved by home cooks for more than 100 years, providing rich flavour to our favourite meals. The new Zero Salt range is a great addition to our current bouillon and stocks portfolio, offering an alternative for health-conscious cooks, allowing salt intake to be controlled.   
Q: How else is Knorr addressing health (future work)?
A: Knorr is Unilever's biggest food brand and its purpose is to 'Reinvent food for humanity' and play a leading role in fixing the broken food system. The brand is passionate about flavour and uses its products, recipes and tips to make it easy and tasty for people to eat in a way that is better for them and the planet.
Towards that end, Knorr recently launched the 'Eat for Good' campaign to help everyone change the world by changing what's on their plate. Knorr aims to get food that is good for people and the planet on seven billion plates by 2025. Through this campaign, the brand is using the power of flavour to drive three big shifts in what and how people eat – more variety, more plants and less meat, more foods grown sustainably.
These shifts are called out in Knorr's Future 50 Foods report, highlighting the foods that are nutrient-rich and can be grown with a lower environmental impact, so they're better for us and the planet. This report was written in partnership with non-governmental organisation WWF-UK and other experts. It includes 50 foods varying from the more familiar, such as spinach, kale, orange, beans, tomatoes and walnuts, to foods that are known only in some regions, such as Bambara groundnuts, Marama beans and Fonio. 
Knorr's commitments are part of Unilever's global Future Foods commitments, that help people transition towards healthier diets and to help reduce the environmental impact of the global food chain.  
References
Information on Knorr's research
*Knorr gathered insights into European cooking habits by surveying a total of 6,364 adults across six different European markets: UK, Germany, Italy, Netherlands, Belgium and Switzerland. The online study was conducted by Toluna with a sample size of at least 1,000 respondents per market and was fielded in November and December 2020.