Major meat supplier investigated by Food Standards Agency
A company that supplies meat to schools, care homes, pubs and restaurant chains has been ordered to stop sending out produce after a unannounced inspection uncovered food hygiene problems at a midlands plant.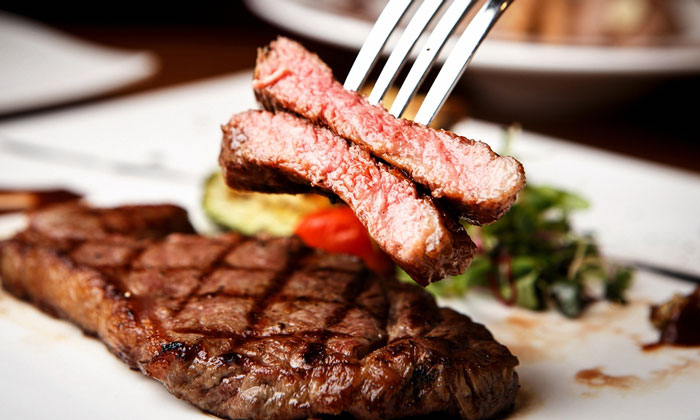 STEAK NIGHT: Steak inexplicably went off the menu at Wetherspoon pubs on Tuesday night
The Food Standards Agency has announced that it is investigating a major meat supplier after 'becoming aware' of serious non-compliance with food hygiene regulations at one of its sites.
The FSA inspected Russell Hume's Birmingham site on January 12 and yesterday released a statement saying that as a result of what it had found, it had 'stopped any product from leaving their sites'.
Russell Hume supplies meat to restaurants, pubs, schools and care homes, including the pub chain JD Wetherspoon and Jamie Oliver's restaurants. Before the FSA's announcement yesterday, Wetherspoon had withdrawn steak from the menu on its promotional weekly steak night drawing the attention of the. Jamie Oliver's restaurants switched suppliers, also before the news became public.
The FSA said that it had made the decision due to concern about the poor practices in place at the Birmingham site, and that, along with Food Standards Scotland, it would now investigate all Russell Hume site and other locations where its 'product' is stored. The ban on products leaving Russell Hume's sites will be in place 'until the business can provide assurances that it is complying with the relevant legislation'.
The FSA added that there 'is no indication that people have become ill from eating meat supplied by Russell Hume' and that the business was co-operating with its investigation and is currently reviewing its procedures and retraining staff.
Kath Dalmeny, Chief Executive of the Sustain food and farming alliance, said: "Our meat supply has far too often been the source of alarming revelations over recent years – poor hygiene; contamination with food-poisoning bugs; out-of-date meat being mislabelled or deliberately re-labelled; cruel transportation of animals; bad working conditions; and deliberate substitution of one meat for another, such as in the 'horsegate' scandal. Our food inspectors need to be ever more vigilant and well-staffed to be able to identify cheats, contamination, poor welfare and disease.
"There has been a nasty trend over the past decade for policy-makers and the Government to dismiss food standards as 'red tape', to push for industry self-regulation and private inspection, partly as an excuse to slash vital food safety budgets."
Related topics
Related organisations
Related regions