Chlorinated chicken and hormone-treated beef in 'top ten' risks of transatlantic deal
The divisive subject of chlorinated chicken sits alongside hormone-treated beef and brominated vegetable oil in a food charity's top ten risks of a US trade deal.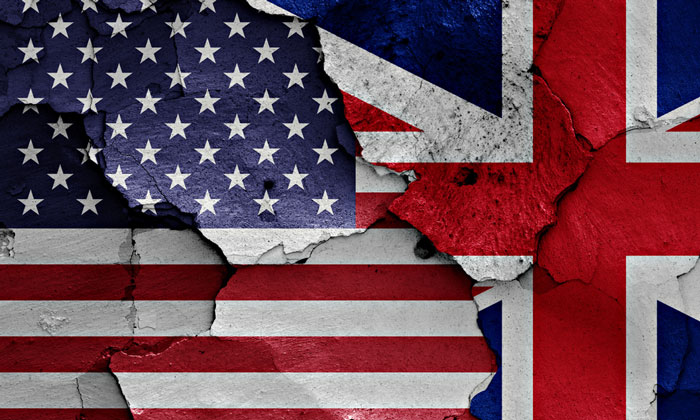 TRANSATLANTIC: Preliminary and unofficial talks have already been held between UK and US representatives over what a future trade deal might look like
A charity campaigning for 'healthy, humane and sustainable food and farming' has put out a list of 10 key food safety 'risks' it believes could arise if Britain strikes up a trade deal with the USA after leaving the European Union.
The Soil Association's Top 10 Food Safety Risks Posed By A Future Transatlantic Trade Deal describes regulatory discrepancies between the USA and the EU and the rational behind Europe's tighter rules. 
First on the list for example is the well-publicised and divisive issue of 'chlorinated' chicken. This the document says, is where the US poultry industry 'uses acid washes to eliminate bacteria at the end of the meat production chain' rather than 'preventing infection in chickens across all stages of rearing and slaughter'. "Essentially, chemical washes hope to make up for inadequate hygiene on farms and abattoirs," it said.
The subject was addressed by Ted McKinney, Undersecretary for Trade at the U.S. Department of Agriculture, at a farming conference in Oxford. The trade official said that he was "sick and tired" about chlorinated chicken and that it simply wasn't true.
He said: "We would like all of British society to understand that is not a practice that's in use very much. The quality of our poultry, we'd put up against UK poultry any day of the week and twice on Sunday."
Other well-known issues the Soil Association raised were hormone-treated beef and genetically modified crops, both of which are more loosely regulated in the United States than they are in Europe.
Honor Eldridge, Policy Officer at the Soil Association, said: "British farming has a reputation for high food safety and high animal welfare. It is imperative that any future trade deal does not result in a dilution of these standards for consumers. Nor should any deal competitively disadvantage UK farmers.
"We welcome Michael Gove's assertion that the UK should not race to the bottom in competing with cheap imports, as well as his commitment to supporting environmentally-friendly farming practice. If the UK Government is to achieve its goal of improving and strengthening our food standards, future trade agreements must reflect these commitments. To this end, any future trade negotiations must be conducted transparently and with input from public stakeholders."
Responding to The Soil Association's 'top 10' risks, Pro-Vice Chancellor of the School of Biological Sciences at Queens University Belfast and New Food brand ambassador Professor Chris Elliot said: "The list is a mixture of quite long standing  issues around food safety and animal welfare.
"While each in turn needs a full analysis in terms of the real risks to the UK consumer the striking and overarching point is that we (UK) and them (US) has a very different agriculture and food system. Personally I want to see the UK explore and go onto implement a national food system which is based on integrity.  What we produce ourselves and allow to be imported into the UK should be base don this going forward."
Other issue flagged by the Soil Association were: 
Ractopamine in pork 
Chicken litter as animal feed 
Atrazine-treated crops  
Brominated vegetable oil 
Potassium bromate
Azodicarbonamide 
Food colourants